Joseph "Beau" Robinette Biden III died of cancer in May of 2015. As a result, his father, Joseph "Joe" Robinette Biden Jr., made reference to curing cancer in a public appearance in Iowa on June 11.
People understood the importance for the former Vice President in light of the death of his eldest son and namesake from brain cancer. The younger Biden had been the 44th Attorney General of Maryland and also served the United States Army as a Major in the Army Judge Advocate General's Corps.
---
Watch Biden's comments here.
However Donald Trump Jr. found Biden's vow to cure the illness that killed his son something to mock during President Donald Trump's Orlando MAGA rally. Trump Jr. has served in his family's businesses and once co-hosted a reality show with his father.
Watch the President's namesake here.
People found Donald Jr.'s mocking of Biden's loss in extremely poor taste.
Independent Senator Angus King of Maine called Donald Jr.'s comments mocking Biden "outrageous."
But his father, Donald Trump Sr., saw it as an opportunity to make his own claims about what illnesses he would cure if reelected.
As part of his MAGA rally speech, President Trump said:
"We will push onward with new medical frontiers."
"We will come up with the cures to many, many problems, to many, many diseases, including cancer and others and we're getting closer all the time."
"We will eradicate AIDS in America once and for all and we're very close."
Watch his remarks here.
People took exception to Donald Sr.'s boast coming on the heels of Donald Jr.'s mocking of Biden making a lesser vow.

@TheDemCoalition/Twitter
Many took to Twitter and tagged both Donald Jr. and Sr. with a message about both the son's mocking comment and the father's boast.
But some people had much smaller ambitions for the President.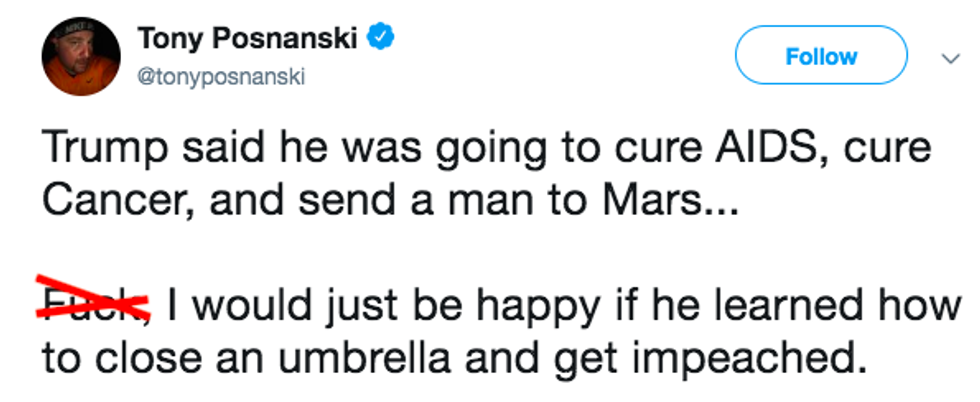 @tonyposnanski/Twitter
President Trump used the Orlando MAGA rally as a chance to officially kick off his 2020 presidential campaign. His announcement came on the heels of conservative leaning paper Orlando Sentinelendorsing "Not Donald Trump" in 2020 with a scathing editorial and Quinnipiac University's latest Florida poll results showing Trump behind all the Democratic frontrunners.