In the 1500s, an estimated 30 to 60 million North American bison —or buffalo— roamed the Great Plains of North America. But over hunting brought their numbers down to just 325 wild bison left in the United States by 1884.
But thanks to conservation efforts, the United States official national mammal recovered to 20,000-25,000 wild bison on public lands and at least 250,000 bison in private herds by the end of the 1990s. Much of the work was done thanks to laws like the Endangered Species Act (ESA).
---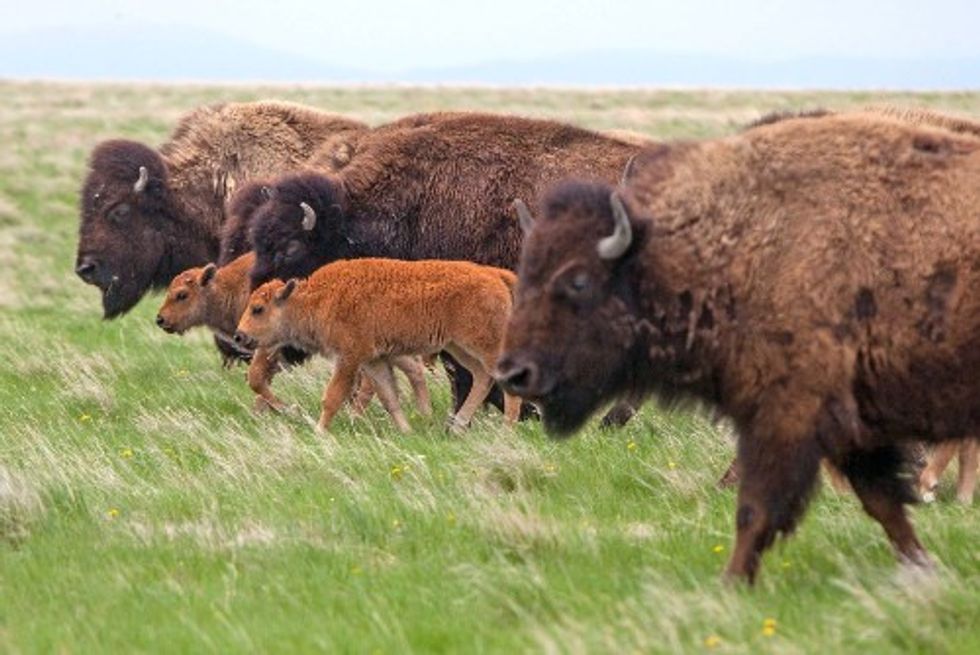 North American bison grave in South Dakota on the 777 Bison Ranch. (Facebook)
But industries like mining and oil drilling, see the ESA as a blockade to profits, not a tool for preserving the United States natural resources. To that end, the administration of President Donald Trump is proposing changes to the ESA.
The proposal, announced jointly by the Interior and Commerce departments, ends the practice of extending similar protections to species that are listed as either endangered or threatened. If approved, protections for threatened plants and animals would be made on a case-by-case basis.
The ESA defines an endangered species as "any species which is in danger of extinction throughout all or a significant portion of its range." While the definition of threatened is "any species which is likely to become an endangered species within the foreseeable future throughout all or a significant portion of its range."
Under the new Trump provisions, industry can destroy habitat of threatened species until they become endangered. Then one hopes their endangered status is discovered before they reach extinction.
Another portion of the proposal seeks to streamline environmental impact statements. At present, before a project, like an oil pipeline or strip mining, can begin an environmental impact assessment must be completed to gauge the effects on wildlife, plants and water tables. Industries with high levels of pollution, such as fracking and pipelines, argue the impact reviews harm their profits.
Trump's Interior Secretary, Ryan Zinke, faced criticism previously for decisions appearing to favor industry over natural resources. In particular, conservation groups and Native American tribes accused Zinke, and Trump, of reducing the size of Bears Ears and Grand Staircase-Escalante National Monuments to open the area for mining and oil drilling.
The proposed changes got pushback from Democrats Thursday.
"The Trump administration doesn't seem to know any other way to handle the environment than as an obstacle to industry profits," said Arizona Democratic Representative Raúl Grijalva, ranking member of the House Natural Resources Committee, in a statement Thursday.
If a single company can make a single dollar from the destruction or displacement of an endangered species, it's full speed ahead. The public doesn't demand this; this is part of the endless special favors the White House and Department of the Interior are willing to do for their industry friends."
And environmentalists agree. Brett Hartl, government affairs director at the Center for Biological Diversity stated,
This proposal turns the extinction-prevention tool of the Endangered Species Act into a rubber stamp for powerful corporate interests. Allowing the federal government to turn a blind eye to climate change will be a death sentence for polar bears and hundreds of other animals and plants."
"These regulations are the heart of how the Endangered Species Act is implemented. Imperiled species depend on them for their very lives," said Jamie Rappaport Clark, former director of the Fish and Wildlife Service in the Clinton administration.
Unfortunately, the sweeping changes being proposed by the Trump administration include provisions that would undercut the effectiveness of the ESA and put species at risk of extinction. The signal being sent by the Trump administration is clear: Protecting America's wildlife and wild lands is simply not on their agenda."
But Republican leaders, who have pushed for relaxed regulations for years, disagree as do members of the Trump administration. And this is not the first environmental law to be changed regarding United States wildlife.
In addition to shrinking several national monuments, the Trump administration's National Park Service announced the end of protections that prohibited the hunting of bear cubs, as well as wolves and pups, in their dens in Alaska's national preserves. President Barack Obama enacted the protections during his administration.
Reactions online were largely in favor of the environment.
"The signal being sent by the @realDonaldTrump administration is clear: protecting America's #wildlife & wild lands… https://t.co/GcDf87WQX9

— Defenders of Wildlife (@Defenders of Wildlife) 1532024372.0
@AP Trump is the enemy of all Living things.

— Andrew Newman (@Andrew Newman) 1532021532.0
@anewmanofficial @AP Everything he touches dies.

— John Gallup (@John Gallup) 1532022256.0
@AP https://t.co/K08op085hS

— Stephen Fletcher (@Stephen Fletcher) 1532021458.0
@AP So... they're moving all the Republicans to a preserve?

— Distopos (@Distopos) 1532021659.0
@AP Not satisfied with ruining just human lives, I suppose.

— Rachel / Seltzer (@Rachel / Seltzer) 1532021600.0
@AP @glomad67 Follow the money, this is what corporations have wanted so they can drill for oil, mine, develop, whe… https://t.co/eSw8YFQfqm

— kittymadgrrrr (@kittymadgrrrr) 1532023409.0
@AP @realDonaldTrump should get out of our house! https://t.co/14sfHTA31n

— DeeK (@DeeK) 1532021642.0
Interior and Commerce officials said the Endangered Species Act proposal will be published in the Federal Register soon. Anyone who wishes to comment may do so on a government website within 60 days after publication.