Companies design ad campaigns to reach their target consumer. So brands aiming for independent, empowered women might take a jab at President Donald Trump.
The Trump administration's record on women's rights is abysmal. The President's personal record with women is even worse.
---
The "grab 'em by the p***y" declaration over a hot mic whilst describing a record of sexual harassment and assault, payments of hush money to multiple women and allegations of sexual misconduct against the President by 25 more make him a likely target in any ad campaign aimed at women featuring the hashtag #StandForSomething.
But after Dhvani Activewear unveiled their ad campaign, First Son Donald Trump Jr. cried foul.  Referencing media coverage of the video created by Trump supporters and played at an event held at a Trump property—in which the President is depicted murdering media organizations as well as individual US citizens—Jr. tweeted:
"Hey [New York Times] and [mainstream media]. Since you had time to thoroughly cover a stupid and tasteless meme seen by 8 people with incredible outrage, I figured you should dedicate the same time and outrage to THIS BILLBOARD IN TIMES SQUARE you hypocrites!
Unless of course you're just full of sh**."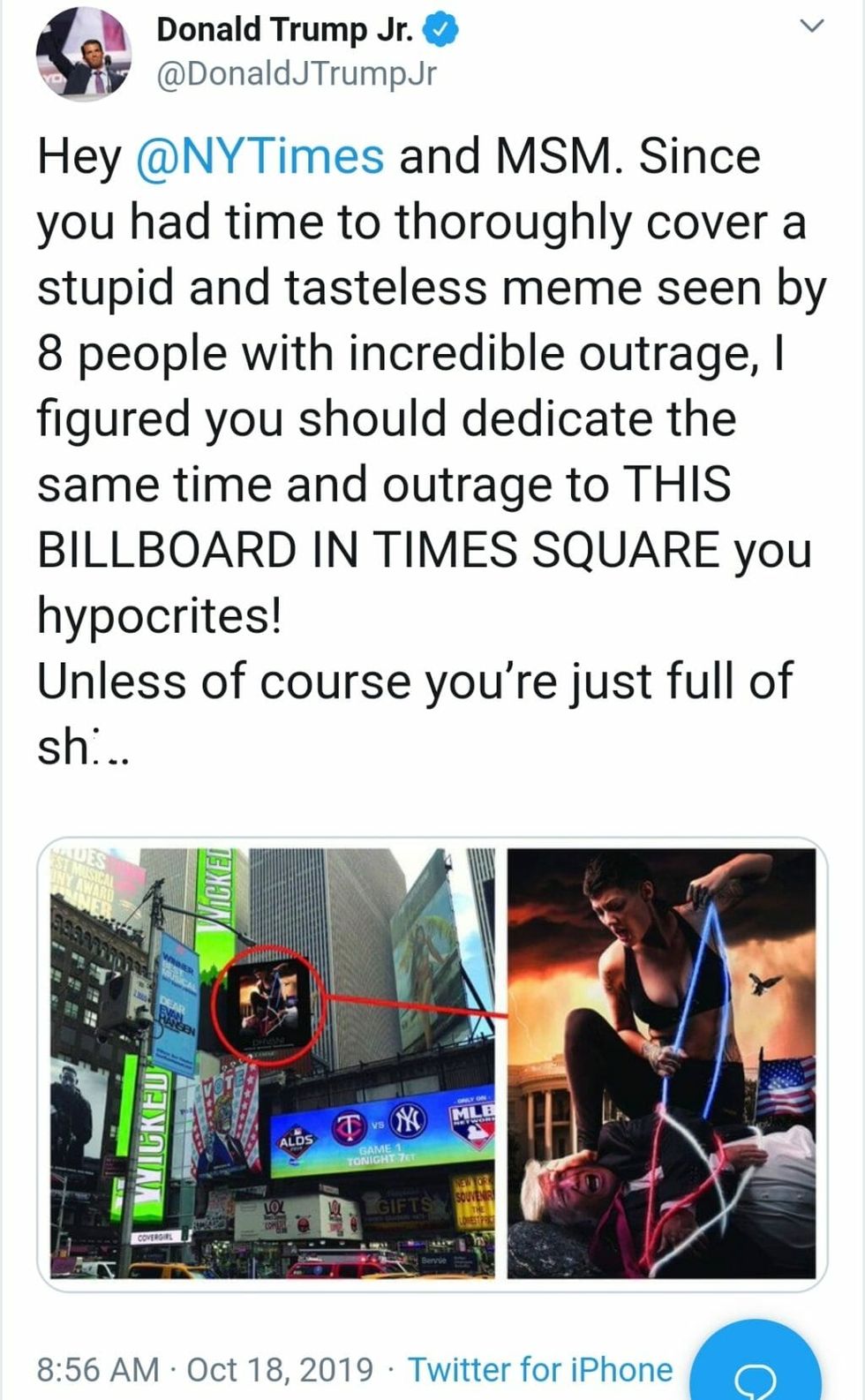 @DonaldJTrumpJr/Twitter
The company's Instagram account also features a President Trump lookalike. On their images, Dhvani Activewear stated:

@dhvaniwear/Instagram
In the various posts, they explain what issues they take exception with regarding the Trump administration.
It was a substantial list of grievances. Donald Jr.'s objections either missed them or did not care, however.
The video meme he compared the Dhvani images to was based on targeting people who criticized or fact checked the President.
A specific bone of contention highlighted by the activewear company was Title X rollbacks under Trump. Especially the "gag rule."
"Today, DHVANI is taking a stand against the Trump administration's Title X "Gag Rule". Established in 1970 with bipartisan support, the Title X program provides affordable birth control and reproductive health care to people with low incomes. Trump's Gag Rule, which directly opposes federal law, silences healthcare professionals, preventing them from providing information on where and how to access reproductive healthcare to over 4 million American women."
Dhvani Activewear also shared their Times Square billboard with an explanation for the thought process and reasoning behind it.
Despite his complaints on Twitter, Donald Jr. found few allies online outside the MAGA crowd.
@DonaldJTrumpJr @nytimes Yeah but he deserves it.

— salindava (@salindava)1571407446.0
@DonaldJTrumpJr @nytimes Actually, I'm seeing it all over the MSM. Might want to switch over to something other th… https://t.co/RmdJrSoZho

— Mark (BZQ that was) (@Mark (BZQ that was))1571431751.0
Although there were Trump supporters invoking God in the President's defense.
@harley0103 @DonaldJTrumpJr @nytimes Because never before have we had such a lawless criminal in office using tax p… https://t.co/GVCIN03p8m

— Aun'Austi-Bangz2019 (@Aun'Austi-Bangz2019)1571499591.0
@AunAusti @DonaldJTrumpJr @nytimes I'm thinking very clear. I don't listen to MSM. I listen to what the Lord say… https://t.co/GPj3KBQrap

— Libby Himes (@Libby Himes)1571503160.0
@harley0103 @AunAusti @DonaldJTrumpJr @nytimes Confidence in a faithless man? He is the furthest from what being a… https://t.co/wWwdxrVPQ6

— Lee Proctor (@Lee Proctor)1571594641.0
@lproctoruc @AunAusti @DonaldJTrumpJr @nytimes Well know that trump accepted a Christ so his past sins are forgiven… https://t.co/FCHtsLzqB7

— Libby Himes (@Libby Himes)1571603875.0
@insurancegrrl @DonaldJTrumpJr @tracybeanz @nytimes But trump's video pretending to kill journalists is what then?

— Maggie Marcarelli (@Maggie Marcarelli)1571450571.0
@DonaldJTrumpJr @nytimes That's horrible!! The disrespect New York gives to potus and he saved New York!!

— Alexandra Levine (@Alexandra Levine)1571403487.0
But many dropped off radar pretty quickly when questioned about their claims, leaving people to answer their own questions.
@AlexandraLevi20 @DonaldJTrumpJr @nytimes From what?

— FurryMurray 🆘 (@FurryMurray 🆘)1571408172.0
@CallerTime @AlexandraLevi20 @DonaldJTrumpJr @nytimes trump saved black people from living in trump buildings?

— tinfoil crown (@tinfoil crown)1571456731.0
@annie_mcgarry @AlexandraLevi20 @DonaldJTrumpJr @nytimes It's been 13 hours and she never got back with me on how he saved New York.

— FurryMurray 🆘 (@FurryMurray 🆘)1571457304.0
@CallerTime @AlexandraLevi20 @DonaldJTrumpJr @nytimes I wonder if she's confusing Giuliani with trump and has some… https://t.co/1aVbRPewhD

— tinfoil crown (@tinfoil crown)1571457609.0
People used the same reasoning the Trump administration has in the past—to support White supremacy and White nationalism—to support the billboard.
@DonaldJTrumpJr @nytimes That's called Free Speech. The people will decide if its inappropriate and react according… https://t.co/kwlWh58cQv

— RibelleGS (@RibelleGS)1571575237.0
Dhvani's CEO, Avi Brown—who identified the woman in the billboard as teacher and US Marine Corps veteran Michal Mesa—told the Associated Press:
"We are on the right side of history. The billboard is an expression of our First Amendment right. Its art is a symbol. We would never condone violence. This is about taking our country back."
Brown added in relation to the imagery of gags and tying Trump's hands:
"[President Trump] unilaterally has created a gag rule that you cannot refer patients with reproductive information about abortion, sex ed, and contraception. He's gagging doctors and nurses, and telling them what they can and cannot tell patients."
The book The Day the Women Got the Vote: A Photo History of the Women's Rights Movement is available here.