People may experience a sense of déjà vu when looking at the latest Time magazine cover. The artwork by Tim O'Brien also sets a record for the 95-year-old newsmagazine.
While other Time covers related to each other, this is the first time the magazine featured a series showing a sequence of events in the same setting with the same person: President Donald Trump.
---
While Trump may see his frequent covers as an honor, they hardly offer a flattering view of the 45th President. The September 3, 2018 cover is no different.
O'Brien's latest continues to show Trump's mounting troubles in the White House.
TIME's new cover: Trump is in trouble. Here's how much worse it could get https://t.co/IgjeHWr2cD https://t.co/hnUc7Njbxu

— TIME (@TIME) 1535027595.0
The first in the series of three Time covers—titled "Nothing to See Here"—depicted the President seated behind the famed Resolute Desk—a large 19th-century desk used by seven Presidents as the White House Oval Office desk. A storm rages while Trump sits seemingly unaffected.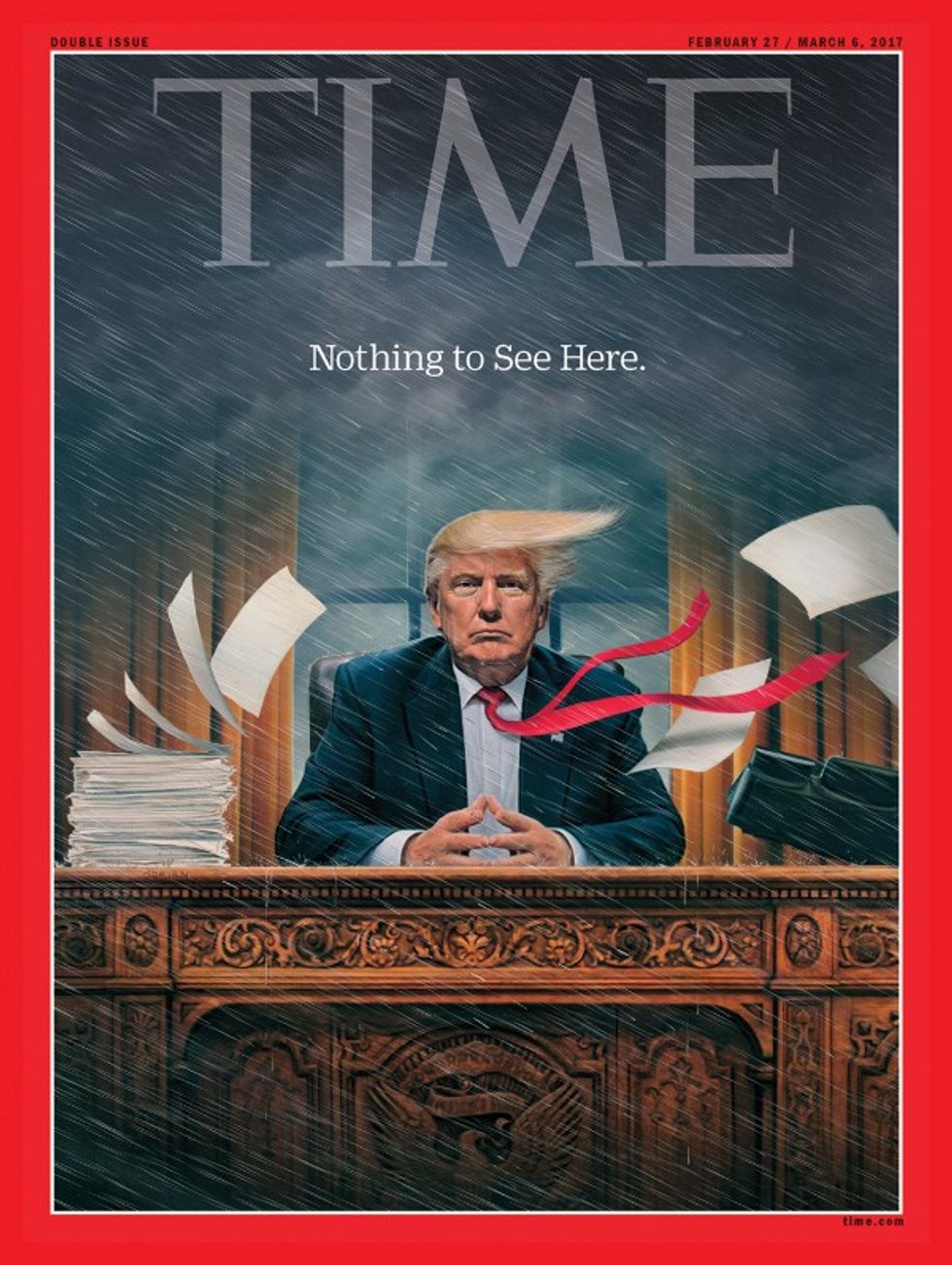 "Nothing to See Here" by artist Tim O'Brien (Time)
Describing his inspiration for the February 2017 cover, O'Brien stated:
"When I painted the 'Nothing to See Here' cover art, like many, I assumed the level of chaos could not last... as the never-ending flood of breaking news washed over the White House, and the firings, the scandals and the general mayhem filled each news cycle, I felt the storm metaphor was as relevant as ever."
Watch video of the creation of Nothing to See Here" below:
The second cover, "Stormy," came in April 2018 after the FBI raids on Trump long-time personal lawyer and fixer Michael Cohen. It is a nod both to the mounting issues being faced by Trump and a nod to Stormy Daniels—the pseudonym and preferred name of the dancer, actress, writer and director who performs in adult films.
The President again looks unfazed by the rising water and chaos around him, matching his strategy of denying or discrediting the truth.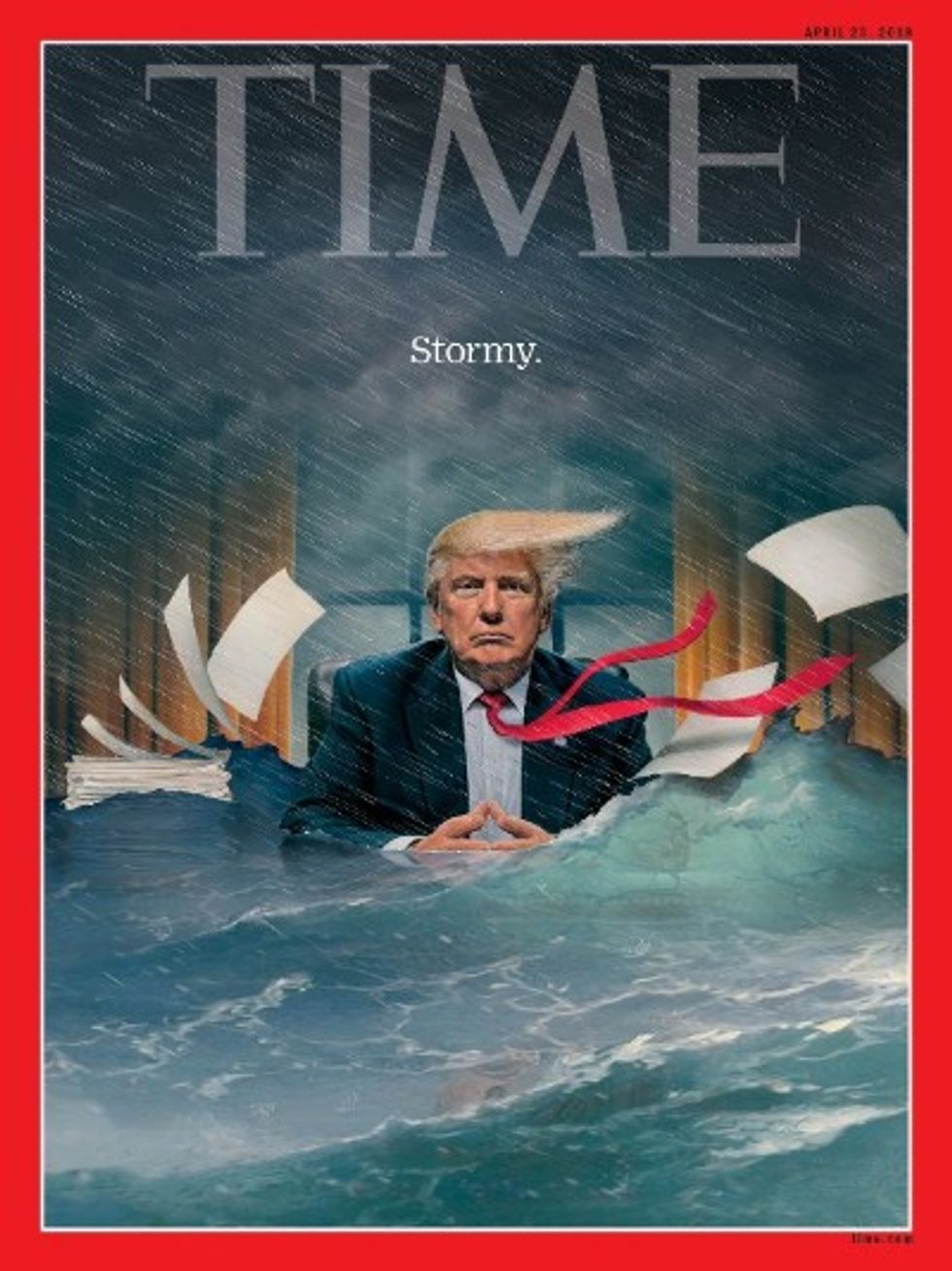 "Stormy" by artist Tim O'Brien (Time)
O'Brien's latest is titled "In Deep". While Trump no longer sits behind the Resolute Desk, he still keeps his head above water. In describing his latest artwork, O'Brien stated:
"I felt that it was too comical or perhaps morbid to see him sitting there. But to have him at the top suggests he's still fighting despite the deepening issues."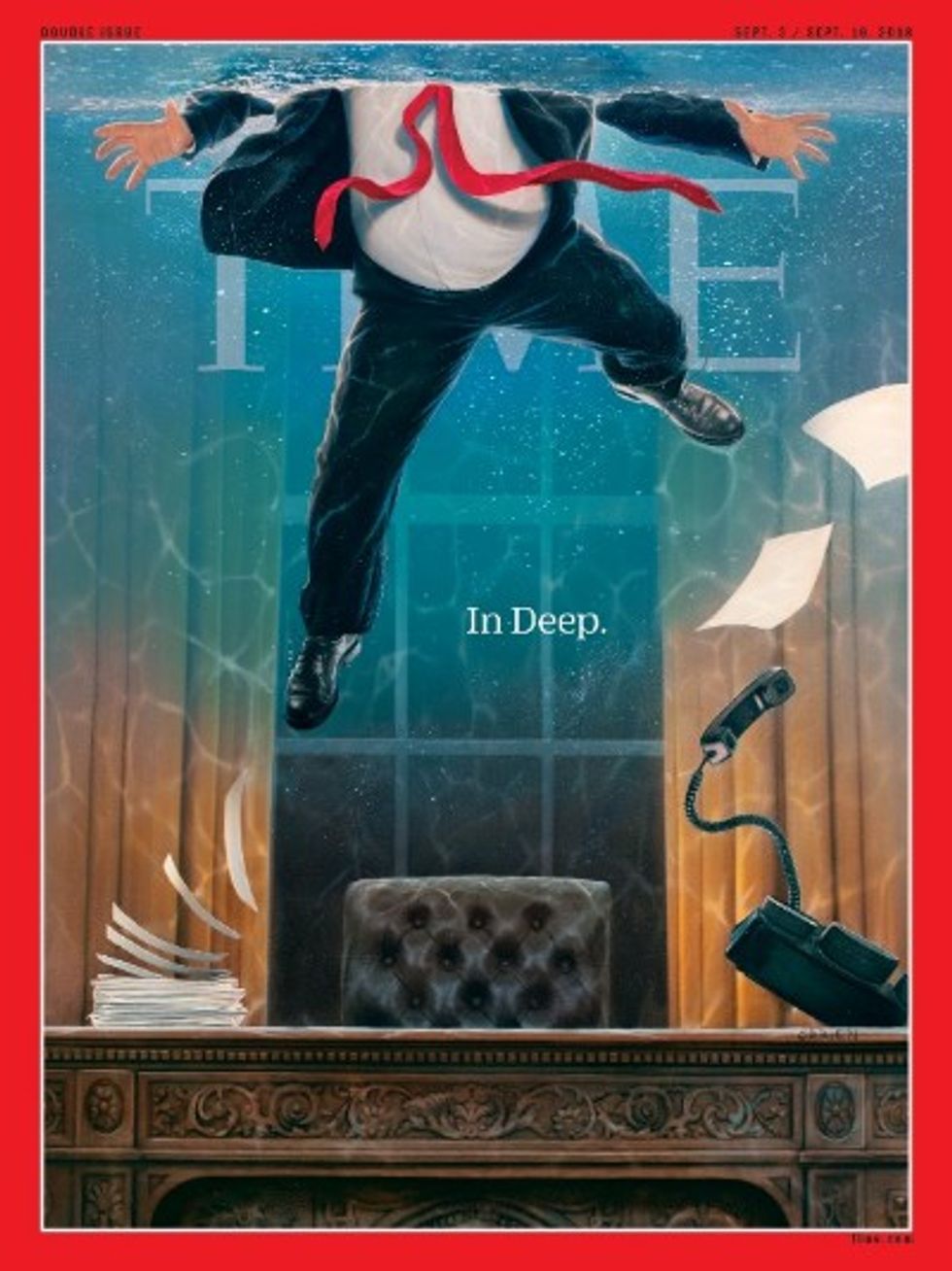 "In Deep" by artist Tim O'Brien (Time)
The latest O'Brien Trump cover comes after a tough week for the President. A jury found his former campaign manager Paul Manafort guilty on 8 charges and deadlocked on 10 other charges.
And that Trump fixer and lawyer who inspired the second cover, Michael Cohen, cut a plea deal with federal prosecutors implicating Trump as an unindicted co-conspirator in several crimes.
Reactions to the latest Time cover on Twitter range from admiration for O'Brien's artistic efforts to commentary on the man they depict as the following tweets show.
The detail accurately depicted in O'Brien's artwork cannot be overstated.
These three @TIME covers by Tim O'Brien over the past 18 months are pretty amazing. https://t.co/FhiL1sP3sY

— Matthew T. Hall (@Matthew T. Hall) 1534998706.0
Holy crap. @TIME Magazine's new cover. Wow. #ThursdayThoughts https://t.co/Bt6SR6Vb7h

— Holly Figueroa O'Reilly (@Holly Figueroa O'Reilly) 1535024600.0
New cover of Time Trump is drowning in his own Swampy Deep State #CultureOfCorruption #DavidPecker https://t.co/o57uqonMwO

— Mara McEwin (@Mara McEwin) 1535047022.0
Love the new Time cover! Brillant! https://t.co/TTIrq8bd3m

— Indivisible Network (@Indivisible Network) 1535048724.0
When's the last time a magazine told a story over 3 covers like this? @TIME's latest and the two that preceded it: https://t.co/PbG0lRiPnx

— Aman Batheja (@Aman Batheja) 1535027237.0
#ThursdayThoughts #InDeep Pretty sure this is one Time cover Trump won't be hanging up at the golf club https://t.co/1tyM8bqBml

— Shawn in Arizona 🌵 (@Shawn in Arizona 🌵) 1535028814.0
Although a few pointed out some details they think O'Brien got wrong.
Hands too big. At desk, not golfing. Papers on desk don't have colorful charts explaining simple things. Lack of pa… https://t.co/8TgPaF9Mn4

— Steve Marmel (@Steve Marmel) 1535028164.0
I can't wait for the next in this series of fabulous @Time covers. (Only quibble: Trump never has papers on his de… https://t.co/frOD7eoj08

— Mrs. Betty Bowers (@Mrs. Betty Bowers) 1535032840.0
While some wondered, if O'Brien continues the series, what would come next?
👇🏽 2018 in @time covers. What's next? https://t.co/vUdnKhixJN

— Xavi Ruiz 🇪🇺 (@Xavi Ruiz 🇪🇺) 1535045700.0
@mashable Can't wait to see the Time cover of @realDonaldTrump drowning, which should come next.

— Doug D (@Doug D) 1535037291.0
Time magazine has killed these Trump covers... Feb. 2017, Apr. 2018 & Aug. 2018. I can't wait for the next cover..… https://t.co/uc5N8jDbjv

— JOnas Bröther (@JOnas Bröther) 1535047851.0