President Donald Trump is getting a new look for the June 18 cover of TIME magazine. The image, courtesy of Brooklyn artist Tim O'Brien, shows the be-suited Trump gazing at his reflection in a mirror where he dons far more regal attire.
The story the King Trump cover depicts? According to TIME, it is the "political attacks launched by the White House on Robert Mueller, the special counsel investigating Russia's interference in the 2016 U.S. presidential election".
---
Ouch.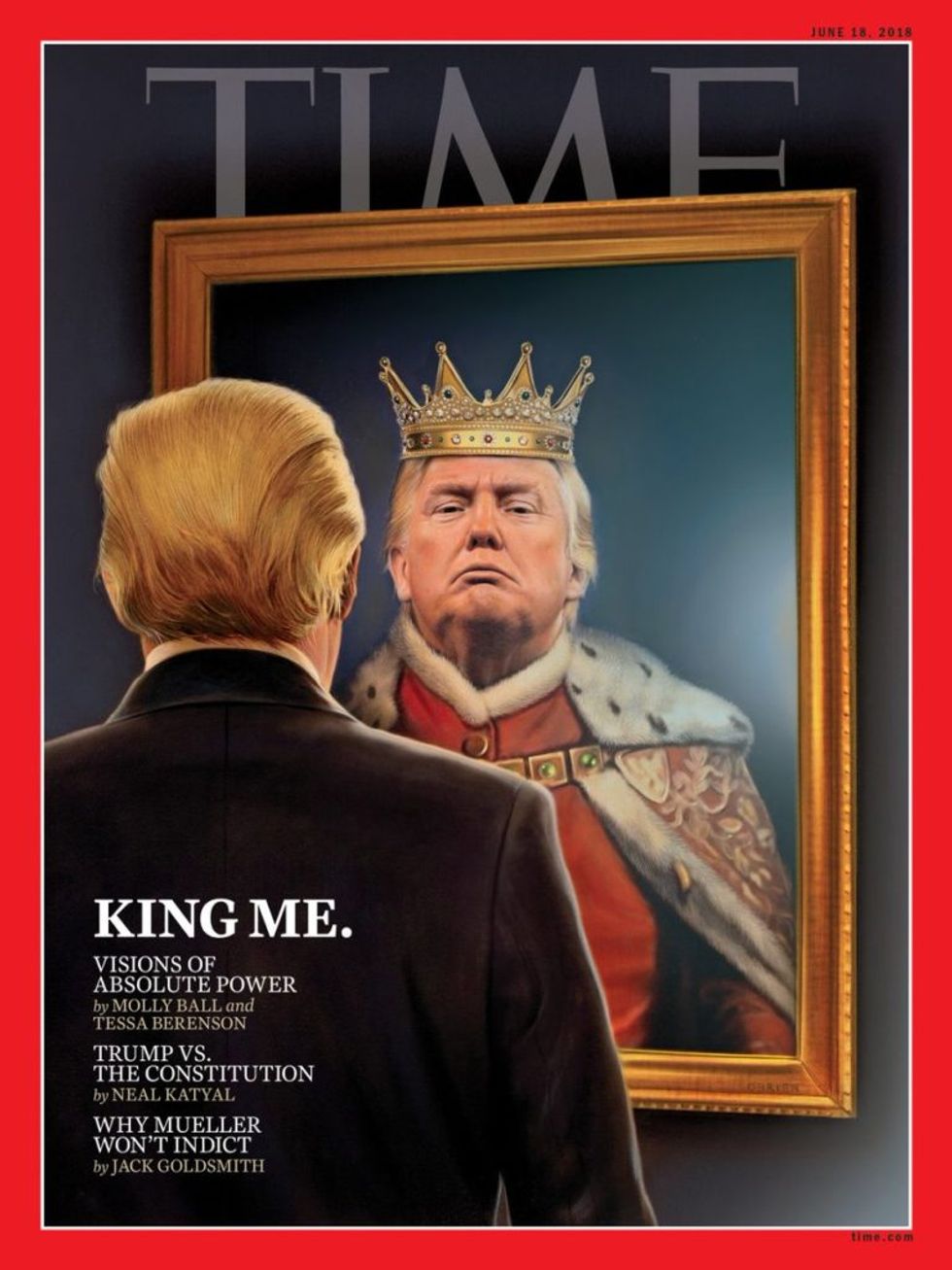 Illustration by Tim O'Brien for TIME
This portrait of Trump gazing into a mirror and seeing a king gets to the heart of how he and his legal team have approached this past week and the past 500 days, actually."
"Besides the usual challenge of the short deadline and making the image work," O'Brien says of his artwork, "whether or not to have him looking at himself or looking at us was the thing I pondered most. His eye contact with each reader, each American fits the situation best."
O'Brien created three previous covers featuring the president.
TIME even put together a video to explain the progression of covers featuring then candidate and now President Trump.
The covers began on August 31, 2015. But the question of whether it should be considered an honor to be featured in some of the images is up for debate.
The president likes to speak in superlatives: best, most, biggest ever. Trump often claims to have the record for the most TIME magazine covers. But is it true?
No. There's another president that holds that distinction: President Richard Milhous Nixon.
How Nixon came to be on so many TIME covers may not be a path Trump should follow though, if he wishes to remain president until the end of his term.
The TIME cover image came out on the magazine's website Thursday morning and hit social media soon after. Reactions are mixed.
TIME's new cover: Donald Trump's campaign to discredit the Russia investigation may be working. It's also damaging… https://t.co/47khWAyTDF

— TIME (@TIME) 1528372675.0
BallsOut 🌊 @bjcreigh The latest TIME cover shows Trump from behind looking into a mirror and seeing the reflectio… https://t.co/VcMWO28BF6

— Roy Crockett (@Roy Crockett) 1528402007.0
Time got it RIGHT. President Trump is our King! (King Cyrus!) https://t.co/0Pc3af5OiL

— Tad Donley (@Tad Donley) 1528402500.0
President Trump is dressed as a king on the new Time magazine cover I doubt he'll understand that he's being mocked… https://t.co/ngYxsqnsbB

— wiwa (@wiwa) 1528401799.0
@thedonaldreddit @life_as_a_nomad @TIME When we depict @realDonaldTrump as a king (or God Emperor, etc.) it's facet… https://t.co/FonJrEgtJK

— America Held Hostage (@America Held Hostage) 1528401750.0
This is what he's wanted all along, he wants to be king he wants to be a dictator! President Trump is dressed as a… https://t.co/g3PqMLVHwF

— NullStorm (@NullStorm) 1528401435.0
https://t.co/oMw4XhoReJ "KING ME." Time magazine cover features an illustration of President Donald Trump gazing… https://t.co/GoU3X2OLIn

— Steph S. (@Steph S.) 1528401129.0
@RonaldKlain @AndyRichter Time magazine finally says what most of us feel Trump thinks he is: a king. It's time for him to be deposed!

— Klsadler (@Klsadler) 1528401038.0
President Trump is dressed as a king on the new Time magazine cover - CNNMoney https://t.co/x51kVpMzaX. How will… https://t.co/6IPmo7YJSI

— Seth @ Testing Orthodoxy (@Seth @ Testing Orthodoxy) 1528401015.0
@hochalicious I see nothing wrong with a "King Trump" and would vote for it. Time to #DrainTheSwamp. #MAGA #KAG #KAG2020

— The Loud Majority (@The Loud Majority) 1528399977.0
@IdahoProgessive @TIME The Left has no clue how passionate Trump supporters are and how they will drive us to King… https://t.co/8pnsgJIeSV

— The Loud Majority (@The Loud Majority) 1528399666.0
@Morning_Joe @TIME Trump sees himself as the 'Dear Leader' or King of the USA, whose word is not to be challanged!!… https://t.co/o5OIfLsjc6

— richard cummings (@richard cummings) 1528399619.0
Why would you feed the beast and provide more publicity? Normalize him and treat him as he is treating the country,… https://t.co/IadSldYLzU

— Jenny Mcb (@Jenny Mcb) 1528399444.0
FIXED! #KingTrump https://t.co/Zy8JAJkyhl

— thehoch (@thehoch) 1528395201.0