[Digest: The Independent; Macworld; The Guardian]
More than half of the states' governors in the U.S. have declared that they will not accept any Syrian refugees, citing security fears after the recent Paris attacks. While the governors' legal authority actually to do so remains highly dubious, the refugee crisis quickly has become ground zero for a prolonged and pitched cultural battle, with opponents warning that the U.S. would be foolish to admit large numbers of Syrians as Europe has. Those sympathetic to the refugees' plight struck back yesterday, as Twitter users reminded the world that Steve Jobs, the creator of the Mac and the iPhone who passed away in 2011, was the son of a Syrian migrant.
---
As reported in The Independent, at the start of the Syrian refugee crisis, Job's background was cited broadly within the tech community, but after recent statements by U.S. politicians, the memes and tweets began recirculating.
According to MacWorld, when the refugee crisis began, Twitter users had pointed out how Syrian migrants have aided culture, business and technology in the West, most notably the biological father of Jobs, Abdul Fattah Jandali, who is still living in Nevada. Jandali was a political migrant born in 1931 to a well-off family in Homs, Syria, a city facing some of the worst fighting in Syria's present civil war. Jandali moved to the US to study in the 1950s.
Similar to the refugees today, Jandali left the Middle East due to political instability and conflict. At university he was an activist for Arab nationalism, and he demonstrated for the independence of Algeria, winding up in prison for three days. Jandali removed himself
subsequently from protests and demonstrations that ultimately unseated the president of Lebanon, finding a new home in New York City.
Jandali is a Muslim, but is non-practicing. Although he has not been on the Haj (the Islamic pilgrimage to Mecca), according to MacWorld, Jandali has stated that he believes in Islam in doctrine and culture.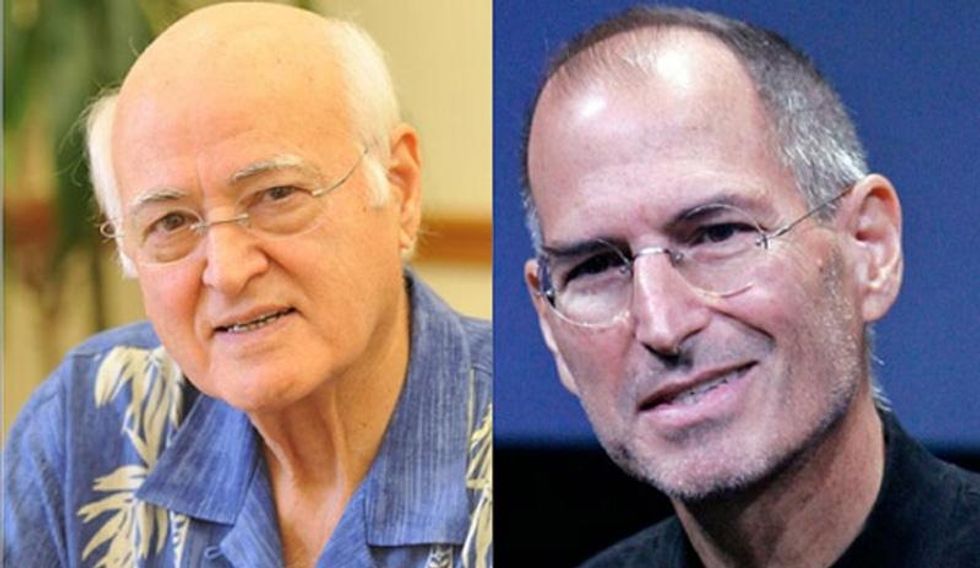 Photo courtesy of Macworld
Jandali and his then-partner Joanne Carole Schieble had their son Steve Jobs out of wedlock and were forced to give him up for adoption. They later married, however, and had Jobs' biological sister Mona Simpson.
In contrast to the largely Republican gubernatorial response to the Syrian refugee crisis, President Obama warned Monday that "slamming the doors in [refugee's] faces would be a betrayal of our values." Criticizing some calls, including by presidential candidate Jeb Bush, that only Christians and not Muslims be admitted, Obama declared, "When individuals say we should have a religious test and that only Christians, proven Christians should be admitted, that's offensive….I cannot think of a more potent recruitment tool for Isil [Isis] than some of the rhetoric that's been coming out of here during the course of this debate."
Leading presidential candidate Donald Trump nevertheless has vowed to relocate all Syrian refugees back to Syria if elected, setting up the refugee crisis, ISIS and fears of terrorist attacks as a clear point of departure between the parties in the upcoming debates, primaries and general election.