Ken Klippenstein—of the news and commentary web series The Young Turks—decided to have a bit of fun on Twitter Thursday, July 4. First, Klippenstein replied to embattled Iowa Republican House member Steve King's Independence Day message, asking him to pay tribute to his "uncle."
Klippenstein actually targeted numerous people, both conservative and liberal, with his prank.
---
Here is his reply to Representative King:
For those unfamiliar with Jack Nicholson's body of work, the Hollywood veteran played Colonel Nathan Jessup in the film A Few Good Men. Klippenstein's tweet includes a still from the 1992 Columbia Pictures film.
The online prankster also employed the image of George C. Scott from the film Doctor Strangelove to ask for tributes for his "grandfather" as in this tweet targeting CNN's Chris Cillizza.
The CNN correspondent did not bite.
But Representative King and a number of conservative voices did. Throughout the day, Klippenstein targeted dozens of people and kept score on how many liberals or conservatives took his bait. According to his tally, the conservatives fell for the prank more often.
The Young Turks reporter seemed most shocked and thrilled by King's retweet in tribute to his "uncle."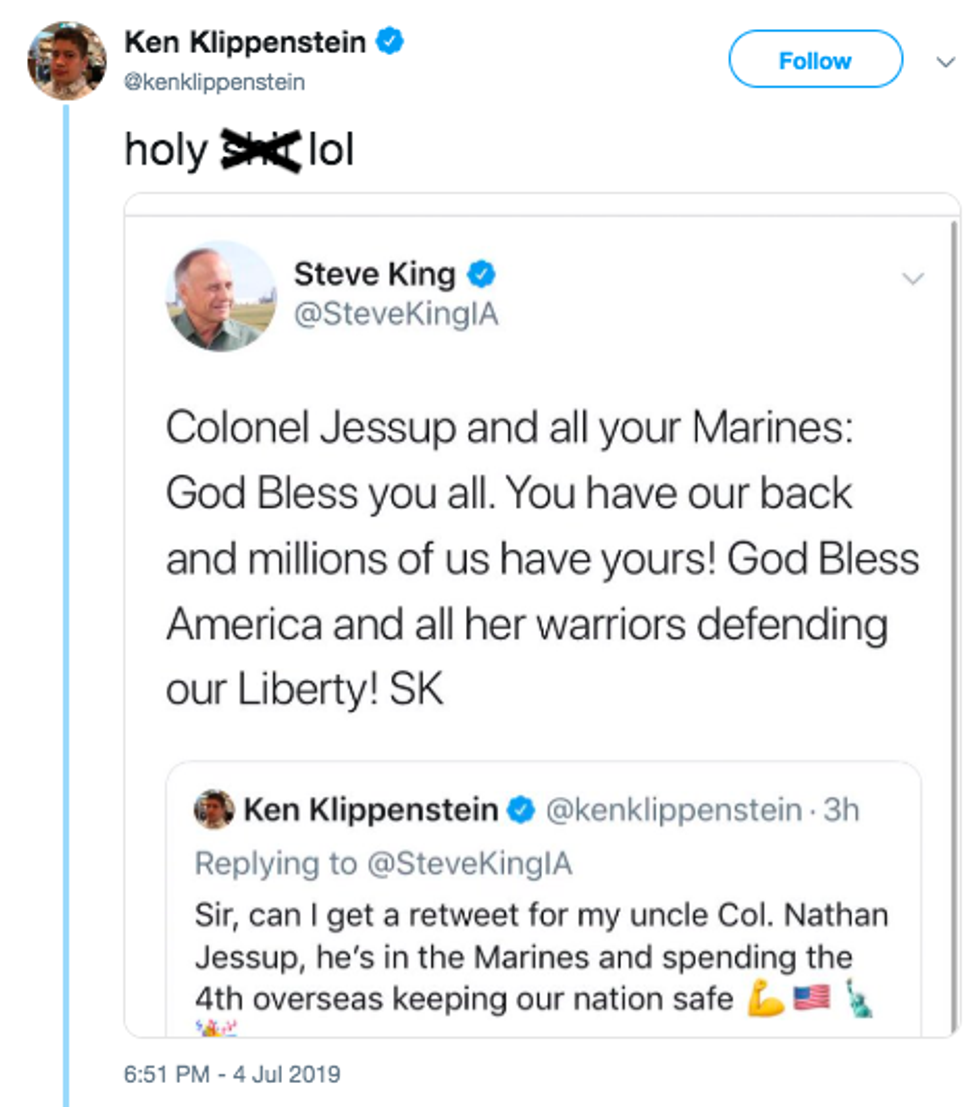 @kennklippenstein/Twitter
So Klippenstein decided to take the prank a step further and changed his Twitter handle from his name to:
"Steve King is a white supremacist"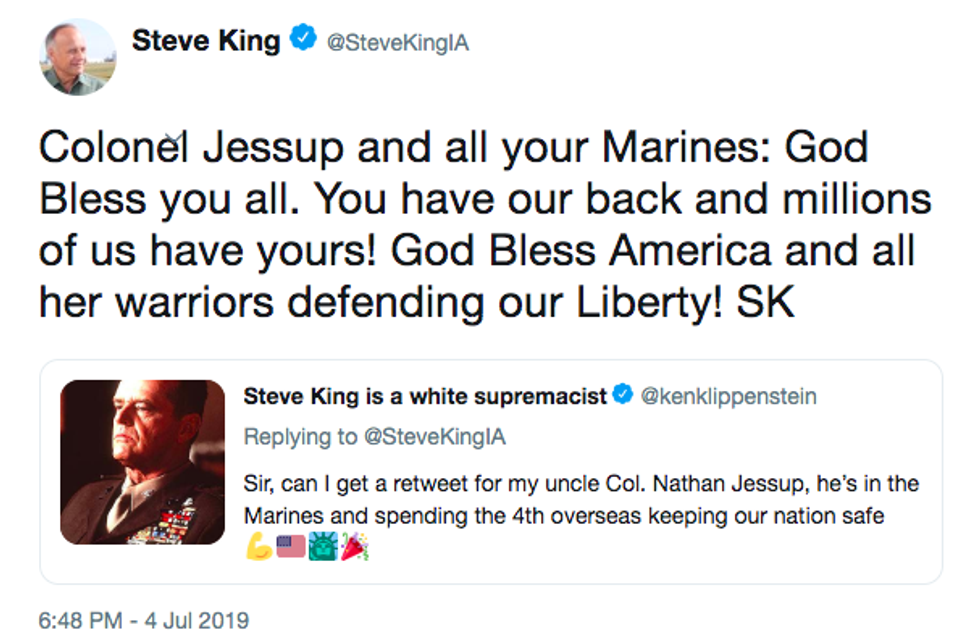 @SteveKingIA/Twittter
According to Klippenstein, he could not resist poking the Iowa Republican.
King is no stranger to controversy over what many call his White supremacist viewpoints. The highest ranking House Republican, Kevin McCarthy, stripped King of all his committee seats in January in response to King's outspoken views.
People had fun with both the original prank and Klippenstein's escalation.
Representative Ted Lieu of California, an Air Force veteran, also got his digs in at his fellow congressman. Col. Jessup was not the hero of A Few Good Men.
The prank with King got so much notice that the Representatives account began to trend on Twitter.
People started posting requests tagging Representative King's Twitter account.
Representative King deleted the tweet but not before many people screen grabbed both the original and the one that declared "Steve King is a white supremacist." Meanwhile, another prankster has yet to be discovered by King.
Twitter user @IrregularMatt asked King about the Betsy Ross flag, but referenced the Confederate battle flag's design. Both flags have been adopted by White supremacists and King keeps Confederate battle flags on display in his congressional office.
King has come under fire for displaying the flag. Iowa was not part of the Confederacy and supported the Union while being raided by rebel forces.
King decided to lash back, but missed @IrregularMatt's Twitter handle.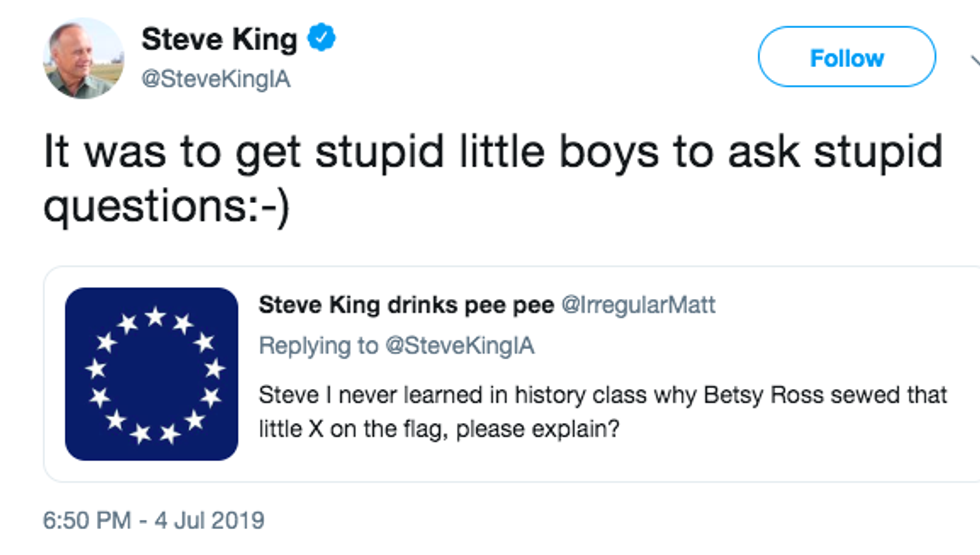 @SteveKingIA/Twitter
As of Friday afternoon, Representative King had not deleted the second prank tweet.
The book White Rage: The Unspoken Truth of Our Racial Divide, is available here.