Update: Numerous cities and towns have jumped into the gun control game. Many towns, cities and municipalities have enacted gun control bans, even though widespread gun regulation has not been enacted on a state level. 42 states currently have preemptive, restrictive laws that place restrictions on a locality's ability to enact their own gun control laws. Still, some cities and towns are fighting back.
In the wake of the school shootings in Parkland, Florida, many statistics began to circulate online. Some sources have cited more than 20 shootings since the beginning of 2018, while other sources cite as few as 9. Using a strict set of parameters, CNN identified 23 school shootings that have occurred in 2018. Despite the disagreements between the precise number of school shootings, one thing is painfully clear: any school shooting is one too many.
---
Following the shooting in Parkland, the impassioned response from the student victims of the shooting has been palpable. The survivors have rallied, attracted national media coverage, and have loudly pressured legislators to do something about the continued recurrence of American gun violence. However, the shootings have continued. On May 18th, 10 people were killed in a shooting in Santa Fe High School in Texas. Clearly, something is not working. More and more people continue to speak out against the noticeably slow progress made in implementing effective gun control.
Our hearts go out to all the victims in the Santa Fe community and their families. ❤️ https://t.co/7ejLAd8nKk

— Billboard Music Awards (@Billboard Music Awards) 1526861097.0
Gun violence in America is a problem. Doing nothing is deadly. As the body count amasses after each shooting, some states have finally begun to take action to quell this disturbingly violent trend, while a few other states have actually moved to loosen restrictions on gun ownership. On March 5th, Oregon became the first state to pass legislation imposing gun ownership restrictions, with Florida quickly following suit. Here is a look at some of the actions states and cities have been taking (and not taking) in response to gun violence:
States
Arizona
Republican lawmakers within the state have blocked several attempts to place stricter restrictions on gun controls within the state. Nearly a dozen measures have been stalled within the state legislature, meaning very little has been done within Arizona to actually curb gun violence.
Florida
Despite the NRA's protests, on March 7th, Florida lawmakers passed a $400 million bill targeting gun control and safety in school. The bill will raise the minimum purchase age of all firearms to 21, ban all bump stocks, and will implement a three-day waiting period for all gun purchases. In addition, the bill will fund police officers and mental health counselors, as well as provide various school districts with the funs to arm specific school personnel. Law enforcement persons will also have more authority to commit individuals they deem to be a threat to themselves or others.
Hawaii
Legislators in the island state have been considering a law that would make it a felony to own or sell any weapon that includes a multi-burst trigger or trigger modification. The bill is currently making its way through various committees within the state's House of Representatives.
Illinois
According to the Huffington Post, a bill was introduced just two days after the Florida shooting. The bill would ban the manufacture, sale, purchase, and possession of rate of fire enhancements. Two legislators, Sen. Julie Morrison and Rep. Marty Moylan have also increased efforts to ban assault weapons, as well as ban unregistered homemade weapons.
Indiana
Some bills that will loosen restrictions on gun ownership have actually advanced within the state legislature since the Florida shooting.
Kansas
The state is actually considering legislation that would lower the age for carrying a concealed loaded weapon from 21 to 18. The bill would also, however, require anyone under the age of 21 to get a permit for carrying said weapons, including on college campuses.
Massachusetts
In 2016, Massachusetts Attorney General Maura Healey was sued by a gun-rights group in response to her enforcement notice. The notice expanded the definition of "copies or duplicates" of AR-15 and AK-47 models- guns that are prohibited under the state's 1998 assault weapons ban. In April of 2018, a US judge ruled that the actions of the Attorney General did not violate the second amendmendment- the rule is legally enforceable.
Missouri
Republican lawmakers have postponed hearings on several pieces of legislation that would revoke limits on gun rights.
New Jersey
The state has numerous bills currently moving through the state legislature, including proposals that would require stricter background checks and place purchase restrictions on certain types of weapons.
On April 6th, New Jersey Gov. Phil Murphy signed an executive order that makes key information related to gun offenses readily available to the public.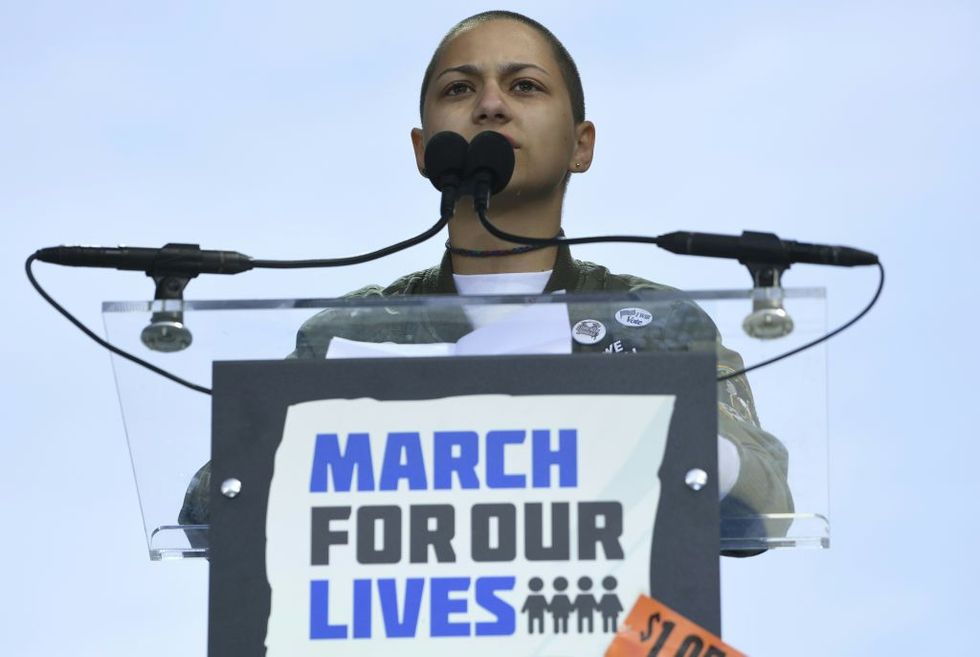 Marjory Stoneman Douglas High School student Emma Gonzalez speaks during the March for Our Lives Rally in Washington, DC on March 24, 2018. (JIM WATSON/AFP/Getty Images)
New York
As of April 2018, people convicted of domestic abuse will be required to turn over all guns. According to Governor Andrew Cuomo, "New York is once again leading the way to prevent gun violence, and with this common sense reform, break the inextricable link between gun violence and domestic violence. This legislation builds on our gun laws -- already the strongest in the nation -- to make New York safer and stronger". The new legislation amends state law that was initially passed following the Sandy hook shootings. That state law stated that domestic abusers were prohibited from owning handguns and pistols. The new law expands the band to all firearms.
Ohio
Democrats in Ohio have proposed legislation that would place several restrictions on automatic weapon ownership. If that bill passes, any current owner of assault weapons would be legally required to dispose of their guns. It would become a felony to own any type of automatic weapon.
Oregon
According to the Statesman Journal, while appearing before the Senate Judiciary Committee, Gov. Kate Brown demonstrated express support for a bill that would increase and expand bans on the purchase, possession and ownership of weapons and ammunition by persons convicted of stalking or domestic violence. The bill also applied to individuals with restraining orders. On March 5th, this bill was signed into law, making Oregon the first state to legalize new restrictions on gun ownership since Parkland.
Pennsylvania
Since the Parkland shooting, the state of Pennsylvania has introduced 11 bills designed to place severe restrictions on firearms. Proposals include measures that would make it increasingly difficult for citizens to own assault weapons. Many of the proposed bills included clauses that would allow for court orders that could legally remove weapons from individuals prone to violent behavior.
Rhode Island
Following the Florida shooting, Gov. Gina Raimondo signed an executive order establishing a policy that would take guns away from any individual who poses a risk to themselves or others. Rhode Island was actually the first state to do so, with five other states shortly following (Connecticut, California, Washington, Oregon and Indiana). The state also joined a coalition with Connecticut, Massachusetts, New Jersey and New York. The group plans to use a multi-state database to trace, track and intercept guns that are used in crimes or that travel across state lines.
South Carolina
Republicans and Democrats debated measures to curb gun violence in wake of the Florida shooting. Democrats want to introduce a bill that would ban the sale of AR-15 rifles to anyone under the age of 20. As within other aforementioned states, Republics are attempting to pass measures that would arm teachers, as well as increase the rights of concealed weapons permit holders.
South Dakota
The state's House of Representatives is considering a so-called "self-defense" act, which would allow people to carry guns at schools and churches. The NRA supports the bill. The state is also considering repealing its permitting process, which would allow individuals to carry weapons without a concealed-carry permit.
Texas
According to the New York Times, Gov. Greg Abbott instructed the Texas Education Agency (TEA) commissioner to distribute gun safety information to all schools. The Governor also asked that TEA take steps to ensure that all school have completed safety audits and have active emergency plans in place
Vermont
In the wake of the Florida shooting, state officials revisited gun laws that they had previously deemed to be "balanced." Two pieces of legislation were introduced, one of which was passed unanimously by the state's Senate Judiciary Committee. That bill will allow law enforcement officials to remove weapons from any individual deemed to be an extreme risk for hurting themselves or others.
In addition, on April 1st, Vermont Gov. Phil Scott signed legislation that ban on bump stocks, limits on the size of magazines, the expansion of background checks on buyers and the raising of the purchase age.
Washington
Lawmakers in Washington are proposing several measures to curb gun violence and restrict gun ownership. On February 23, a bill was filled that would raise the minimum purchase age from 18 to 21 for semi-automatic rifles and any shotgun that is considered "tactical." The fill would also require stricter state and federal background checks in order to purchase those weapons. Legislators are also working on a program that would allow students to anonymously report any threats of violence to the state's attorney general's office. The bill would also require that funding be given to schools for emergency response systems.
In addition, all bump stocks will be made illegal in Washington state as of July 2019.
Wisconsin
Democrats in the conservative state attempted to introduce a bill that would require universal background checks for any gun purchases within the state. Republicans within the state blocked the vote on that bill, instead approving a measure that would grant funds to schools to provide firearms to safety officers.
Cities/Towns/Municipalities
Deerfield, Illinois
On April 2nd, the city of Deerfield voted to ban the possession, sale and manufacture of assault weapons and large capacity magazines. According to CBS, anyone who refused to give up their weapon will be fined $1000 per day. The ordinance takes effect on June 13th.
Boulder City, Colorado
In early April 2018, the Boulder City Council unanimously passed the first reading of a city ordinance that would ban the sale and possession of certain weapons classified as assault weapons.  The city council will debate the rodinatec at future meetings and possibly pass the measure twice, before it becomes established law.
Lincoln, Nebraska
In March 2018, the Lincoln City Council voted unanimously to ban the sale of bump stocks. The gun accessory make it easier to fire rounds quickly from a semi-automatic weapon.
While these states, cities and municipalities are taking some action in the waking of continued mass shootings, more needs to be done. Even President Trump has indicated that he may support the restriction of certain gun rights, in stark contrast to the majority of his party. Hopefully, national and state lawmakers will follow the lead of the students from Parkland. It's important for the conversation surrounding gun violence to continue and legislation to curb gun violence needs to be enacted more swiftly, if we are to course-correct this horrific trend.