At a press gaggle in the Oval Office, President Donald Trump called his detention centers for migrant children a humanitarian crisis. But rather than take responsibility for his Department of Justice zero tolerance policy's creation of the inhumane conditions and overcrowding, Trump told reporters the Democrats were at fault.
Trump also repeated his claim that his administration treated detained children they separated from their family's "better than Obama" and specifically told reporters to remember his claim. Blame President Barack Obama has been a consistent theme in Trump's tenure in office.
---
But his claims of better treatment were a step too far for Fox News host Shepard Smith.
Citing the fact the President made the statement about treating the children "very well" in the facilities, Smith quoted Fox News' own reporting of the inhumane conditions the children at just one facility faced.
Smith said:
"Because he's made that statement I'm gonna go back and read to you our reporting on how those children are being treated as we did in just the last few minutes."
He began:
"Our reporting is as follows: The resignation of the Customs and Border Protection Chief, or the acting one, comes on the heels-comes on July the fifth. His resignation comes as Americans demand answers over the treatment of migrant children held in US custody."
"We reported yesterday on horrendous conditions at one border facility in Clint, Texas near El Paso. A legal team visited and issued a stunning report on what they saw. They say about 300 children were there, some for weeks, even though US rules say the kids couldn't-must be transferred after 3 days."
"One lawyer said the children—many not yet in their teens—were taking care of infants and toddlers. In other words, young migrant children less than 10 years-old taking care of infants and toddlers."
"Their clothes covered in snot, no access to toothbrushes or toothpaste or soap—basic necessities for any of us and all the more so for children."
In conclusion, Smith stated:
"We reported accurately here yesterday that were these prisoners of war instead of innocent children, withholding of those items would be violations of the Geneva Convention."
"That's what the president considers treating well the children of migrants who came across the border without documents."
"Those are the facts."
Watch the remarks by the President and Smith's response here.
Others called out Donald Trump as well.
Government regulations state children held by the Department of Homeland Security's Border Patrol in short-term stations—like the one in Clint, Texas at the center of the controversy—can remain no longer than 72 hours before being transferred to the Department of Health and Human Services. DHHS is responsible for longterm housing of migrant children.
But the number of children Trump's DoJ memo from April 2018 separated from their families, quickly overwhelmed DHHS' ability to house them. In response, DHS is holding children in temporary confinement facilities never intended for and completely unequipped for longterm care.
An official at the location in Clint, Texas made the assertion that conditions in their facility—where children lived in cages on cement floors with only foil emergency blankets and no basic toiletries or hygiene available—were better than most others in the Border Patrol. Clara Long—senior researcher with Human Rights Watch—and other lawyers inspected the facilities in relation to pending litigation.
One lawyer, Holly Cooper, stated:
"In my 22 years of doing visits with children in detention I have never heard of this level of inhumanity."
An unknown number but estimated 100 to 300 children were removed from the facility after the reports of conditions. However it was reported Wednesday that the removed children were returned to the same Clint, Texas location.
To learn more about this complex issue, the book Violent Borders: Refugees and the Right to Move is available here.
"Forty thousand people have died trying to cross between countries in the past decade, and yet international borders only continue to harden. The United Kingdom has voted to leave the European Union; the United States elected a president who campaigned on building a wall; while elsewhere, the popularity of right-wing antimigrant nationalist political parties is surging."
If you want to state an opinion on the Trump declared national emergency, this t-shirt, available here, makes a bold statement about President Trump.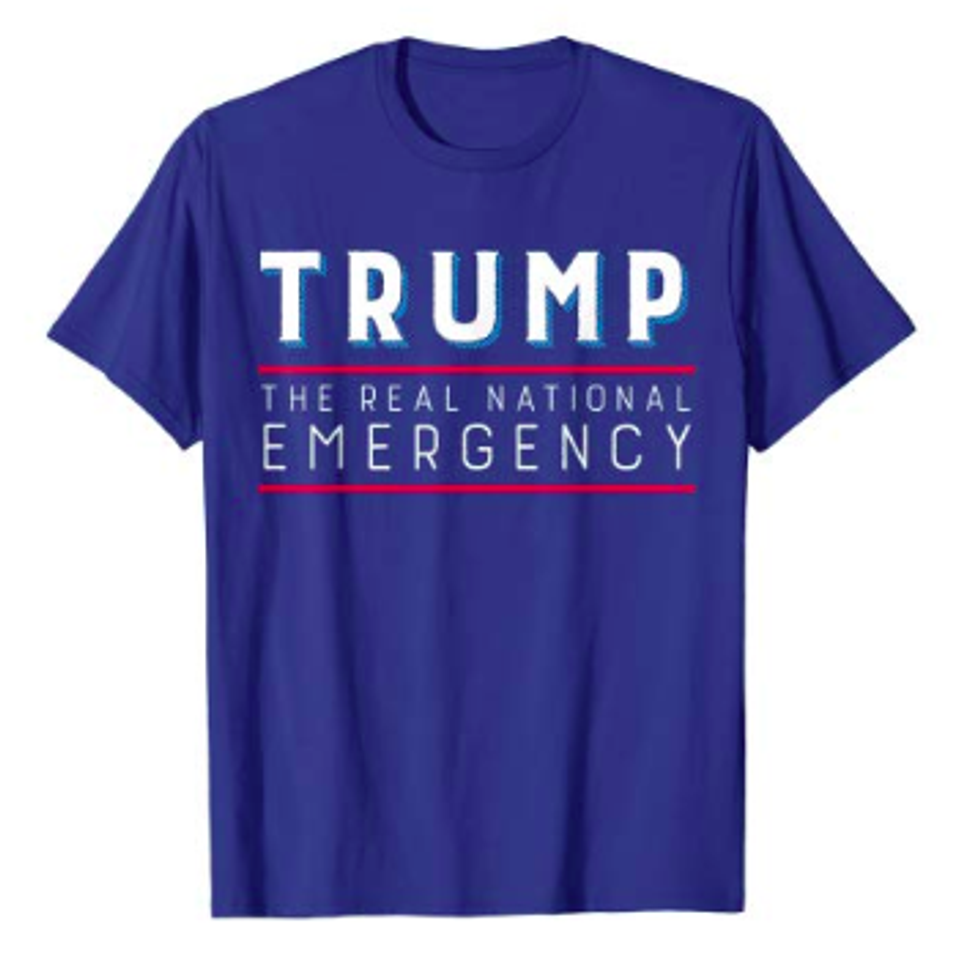 Amazon