In a letter to the inspectors general of the Air Force and Department of Defense, Democratic Senators Elizabeth Warren (MA), Tom Carper (DE), Richard Blumenthal (CT), and Sheldon Whitehouse (RI) call for an investigation into who has received private Air Force One Tours after Buzzfeed News reported that some members of President Donald Trump's exclusive Florida clubs––including Mar-a-Lago––received private tours, a finding which raises more questions of the blurry lines between the presidency and the Trump family's private businesses.
The four senators called the Buzzfeed News report "deeply troubling" and wrote:
---
Previous presidents have provided friends and even campaign donors tours of Air Force One, but reports that members of the President's private club may have received such tours are particularly troubling because their relationship to the President arises out of an ongoing business relationship with the President. If true, these reports could mean that the President or his family have used government property for private gain — giving tours of Air Force One as a perk for club membership — or that some citizens have potentially been able to buy access to Air Force One via their personal payments to the President's private club.

This use of Air Force One would not only raise questions about readiness, security, and taxpayer cost, but it also violates the basic principle against using public office for private gain, and could constitute a violation of federal ethics rules... Moreover, federal ethics law prohibits the use of government property, including Air Force One, 'for other than authorized purposes.
A complete copy of the letter is included below: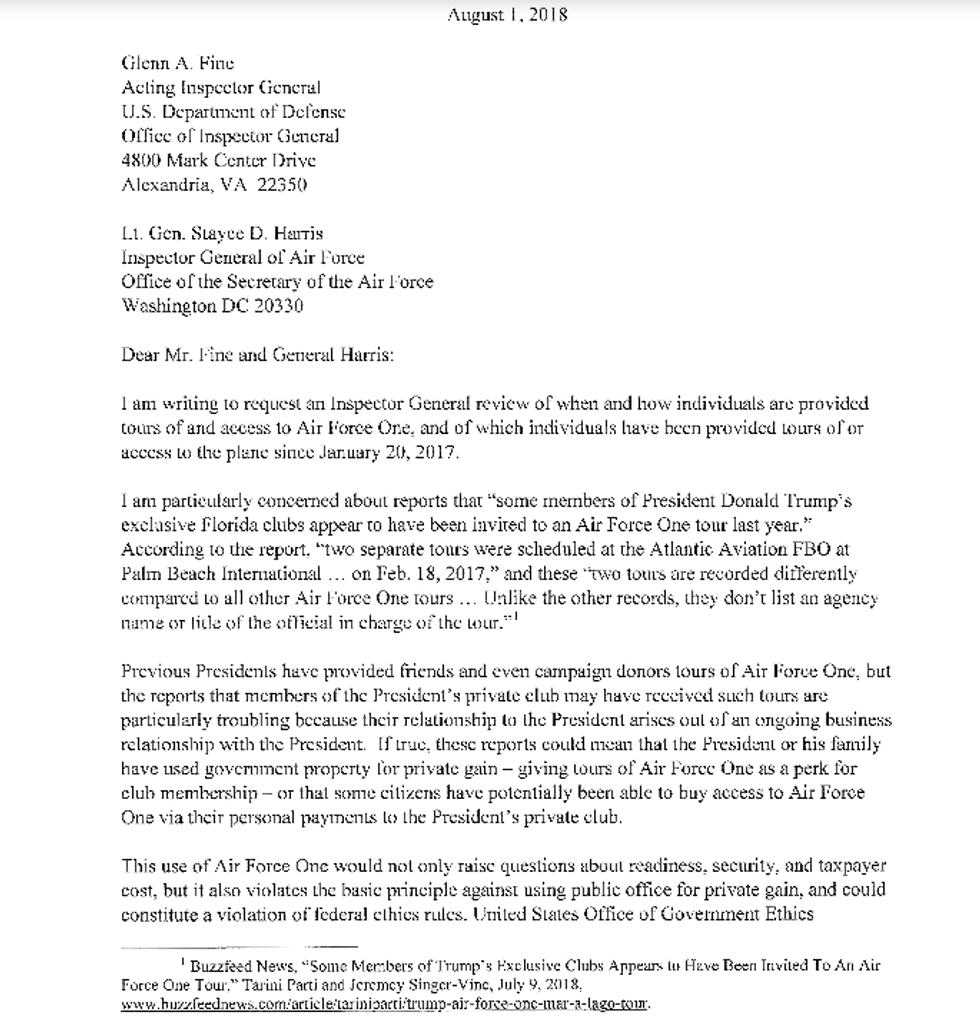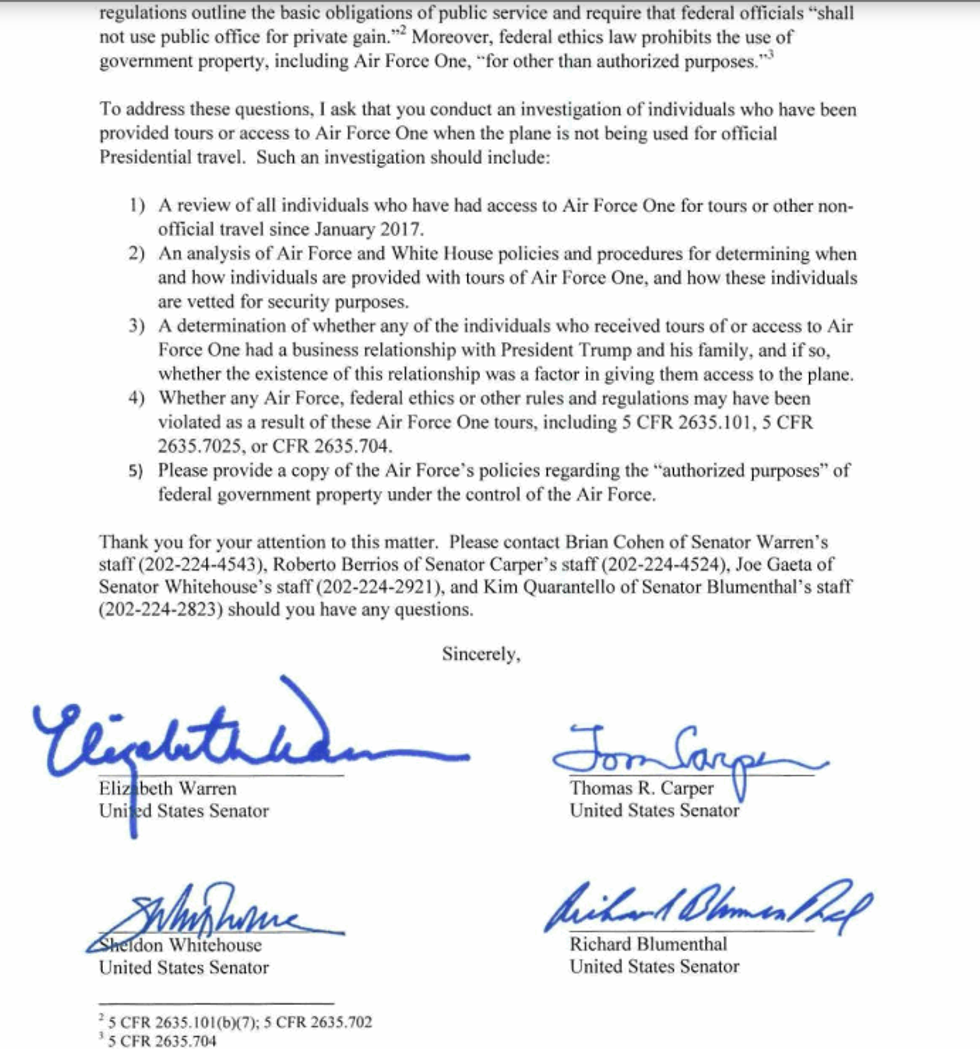 Warren herself used her Twitter account to amplify the call for an investigation.
I'm calling for an investigation into whether @realDonaldTrump used tours of Air Force One as a perk for Mar-a-Lago… https://t.co/8oFLvbZcWy

— Elizabeth Warren (@Elizabeth Warren) 1533244164.0
Buzzfeed News uncovered the story after obtaining an invitation, which they cross-checked with records received through a Freedom of Information Act request, noting that:
Two separate tours were scheduled at the Atlantic Aviation FBO at Palm Beach International for 1 p.m. and 2 p.m. on Feb. 18, 2017 — hours before Trump held his first 2020 campaign rally less than 120 miles away at the Orlando Melbourne International Airport hangar.

The two tours are recorded differently compared to all other Air Force One tours given in the 14 months after Trump took office, according to redacted government records provided to BuzzFeed News. Unlike the other records, they don't list an agency name or title of the official in charge of the tour. The listed date for the tours matches up with the date and time listed on the invitation.

At least 14 people were scheduled to take those two tours. Although the names of the individuals are redacted, partially unredacted email addresses show eight of those people were affiliated with Arrigo Automotive Group, a family-owned car dealership in the West Palm Beach area.

The leadership of the company — Joe Arrigo and his sons, Jim and John Arrigo, and their wives — have been members of both Mar-a-Lago and Trump International Golf Club in West Palm Beach. Membership records from 2007 obtained by BuzzFeed News list the family as members of both the clubs and specify that Jim Arrigo had been a member of the Trump International Golf Club since 1999, the year it opened.

Photos show John Arrigo playing golf with the president about two weeks before the scheduled Air Force One tour last year; being listed as the men's golf champion in 2006, 2007, and 2008 on a plaque at Trump International; and attending the New Year's Eve bash at Mar-a-Lago in 2009, according to the Palm Beach Post. They also show Jim Arrigo cohosting a charity event at Trump International in December 2017. Social media posts from other members of the family show them checking in for Easter brunch at Mar-a-Lago last year and posing for pictures geotagged at the club.
Buzzfeed News received the text of the invitation last year but could not, at least at first, confirm if Mar-a-Lago members had attended; the news outlet soon reached out to Air Force pilot William McDougall, who sent the invitation, but he would neither confirm nor deny the event. McDougall directed questions about the event to Hannah Salem, who now serves as director of press advance for the White House.
When asked about the tour last year, Salem responded, "I don't have any working information on that."
Stephanie Grisham, then a spokesperson for the White House who now works for First Lady Melania Trump, would neither confirm nor deny that the event took place, only saying, "It is common for friends/family of the President to receive tours of Air Force One." Grisham added that past administrations had given tours of Air Force One before, and that if long-term club members received tours, "then they are also most likely longtime friends of the President. You have to keep in mind that Mar-a-Lago has been the President's home for many years."
President Trump's business dealings have continued to raise concerns that his dealings could conflict with his presidential responsibilities. Although he placed his two adult sons, Donald Jr. and Eric, in charge of the day-to-day operations of the Trump financial empire, he has not placed his assets in a blind trust and has declined to fully divest himself from his businesses.
Reactions to the news have not been kind.
Who pays the bill for #Trump to wander around the country spreading his hate? Who pays for the Secret Service? Wh… https://t.co/W2zruhlpBW

— Bette Midler (@Bette Midler) 1533263439.0
Corrupt AF: Dems are asking the Pentagon to investigate whether @realDonaldTrump and his family gave improper acces… https://t.co/EMfYhLc544

— Democratic Coalition (@Democratic Coalition) 1533300143.0
Congress must square off against Trump over corruption. "A group of D senators asking the Pentagon to investigate w… https://t.co/6VvtSryhGy

— Jennifer Rubin (@Jennifer Rubin) 1533305463.0
If President Trump was helping to line his pockets by giving customers of one of his businesses perks like tours of… https://t.co/2tNIvNzYNX

— Tim O'Brien (@Tim O'Brien) 1533244903.0
President Trump has not commented on the Buzzfeed News report.