On Sunday, Oregon Democratic Senator Jeff Merkley attempted to visit an immigration detention facility in Brownsville, Texas. His day began in McAllen, speaking with asylum seekers and looking for answers.
The Oregon Democrat said he wanted to speak to representatives of the immigration service regarding the new Trump administration policy to remove all minor children from their parents seeking asylum upon entry into the United States.
---
Merkley, who has served in the United States Senate since 2008, also wanted to tour a facility housing the children.
Separating children from their parents is cruel, immoral, and unacceptable. I'm on the border in McAllen, TX, deman… https://t.co/aaQPlg5SJ0

— Senator Jeff Merkley (@Senator Jeff Merkley) 1528063268.0
Merkley documented his journey on social media, utilizing both Twitter and Facebook Live to keep the public informed and involved.
This asylum seeker asked me, "Is there a chance they will separate me from my family? That's what worries me. We do… https://t.co/WkHDWbt07I

— Senator Jeff Merkley (@Senator Jeff Merkley) 1528066745.0
The Oregon Democrat also responded to this tweet from the American Civil Liberties Union.
Pediatricians say family separation "goes against everything we do" to promote children's mental and physical devel… https://t.co/UZQAwpa5IH

— ACLU (@ACLU) 1528056180.0
One of many reasons why I'm here on the border demanding answers. #FamiliesBelongTogether https://t.co/W8MI9TMQOb

— Senator Jeff Merkley (@Senator Jeff Merkley) 1528068070.0
According to the almost 25 minute long video, the senator's office contacted the Department of Homeland Security last week to schedule a visit to the facility for Merkley. However, they did not get a response with a scheduled visit time or place.
The Department of Homeland Security (DHS) was created in the wake of the terrorist attacks of September 11, 2001. The already established Border Patrol and Immigration and Naturalization Service (INS) transferred to this new cabinet level department and a new law enforcement organization was created: Immigration and Customs Enforcement.
Kirstjen Nielsen is the current Secretary of DHS, appointed by President Donald Trump and sworn in on December 6, 2017. Nielsen is a former Principal Deputy White House Chief of Staff to President Donald Trump and chief of staff to John F. Kelly during his own term as Secretary of Homeland Security.
Without a meeting set, Senator Merkley and his camera crew proceeded to the Brownsville, Texas, immigration detention facility, located in a former Walmart store. The glass front of the building has been blacked out so no one can see inside.
The locked facility has no publicly accessible reception area, so while standing before the doors, the senator called the DHS contact number for the facility. According to the Oregon Democrat, the woman who answered said the facility supervisor, Juan Sanchez, would be out to speak with him.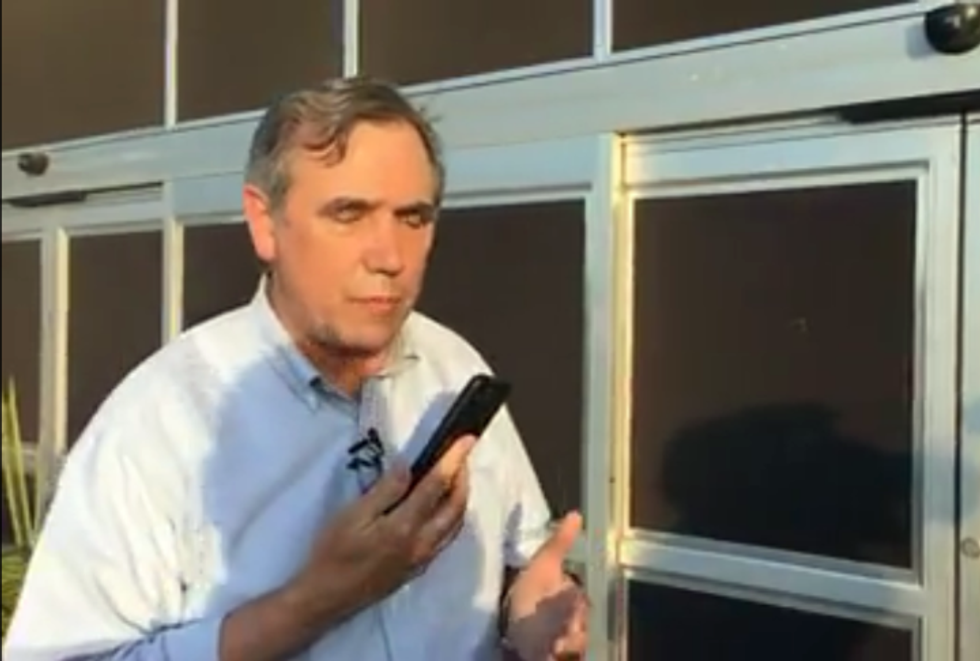 Senator Merkley speaks to a DHS representative outside the Brownsville, Texas, immigration detention facility. (Facebook Live screen grab)
However, before anyone from the location, said to house migrant children removed from their parent's custody, came out, the police arrived. After the police were on site, two men did exit the facility, but went to speak with the police.
The two men eventually refused to speak with Senator Merkley, stating the woman on the phone misunderstood what would happen.
I was barred entry. Asked repeatedly to speak to a supervisor—he finally came out and said he can't tell us anythin… https://t.co/OnaKIp4TJf

— Senator Jeff Merkley (@Senator Jeff Merkley) 1528074896.0
Merkley told the police he had never been asked to leave, to which the two men from within the facility responded with a request for the senator and his party to do just that. The senator immediately complied with the request.
After his attempt to visit the facility proved fruitless, Senator Merkley posted a response to this Trump tweet on his Twitter page.
Put pressure on the Democrats to end the horrible law that separates children from there parents once they cross th… https://t.co/4a3owtmq0h

— Donald J. Trump (@Donald J. Trump) 1527343142.0
Mr. President, the only "horrible law" is YOUR policy. YOU have the power to change it. If you saw what I saw today… https://t.co/OMFISP4mDs

— Senator Jeff Merkley (@Senator Jeff Merkley) 1528079284.0
Public response to the senator's Sunday field trip grew steadily throughout Sunday and into Monday morning. However the president's Twitter account has failed to mention it.
.@SenJeffMerkley is outside the facility, unable to get inside or get anyone to let him inside. He's answering pres… https://t.co/MoqKQ7ML88

— Gabe Ortíz (@Gabe Ortíz) 1528073239.0
THIS IS WHAT LEADERSHIP LOOKS LIKE. #FamiliesBelongTogether https://t.co/SXNUCgQU6r

— Alyssa Milano (@Alyssa Milano) 1528073033.0
Thank you, @SenJeffMerkley. Separating children from their parents betrays our deeply held American values and does… https://t.co/SWzqXWuPew

— The Leadership Conference (@The Leadership Conference) 1528076212.0
Thanks @SenJeffMerkley for taking action to protect children separated from their parents. What's going on in these… https://t.co/zExkc9hr3y

— Joaquin Castro (@Joaquin Castro) 1528078368.0
Thank you @SenJeffMerkley for leading on the right side of history. We won't forget your concern for children & fam… https://t.co/EwXWJXJT29

— Ai-jen Poo (@Ai-jen Poo) 1528077204.0
This administration be must be held accountable for its heartless and cruel policies of separating children from th… https://t.co/OtmpgKgzje

— Kristen Clarke (@Kristen Clarke) 1528082289.0
BREAKING: A U.S. Senator has not only just been denied entry into a detention center for immigrant children but the… https://t.co/W6lzX0KCma

— ANGRY NAVAL OFFICER©️ (@ANGRY NAVAL OFFICER©️) 1528122640.0