The Republican-controlled Senate voted 49-43 to uphold a ruling that Senator Elizabeth Warren (D-Massachusetts) violated Senate Rule 19 in her statement opposing Sen. Jeff Sessions (R-Alabama) and his nomination for Attorney General. Senate Majority Leader Mitch McConnell (R-Kentucky) had rebuked Warren, saying she ran afoul of rules which prohibits senators from impugning their colleagues. (Rule 19 states that Senators may not "directly or indirectly, by any form of words impute to another Senator or to other Senators any conduct or motive unworthy or unbecoming a Senator.")
Warren's alleged impunity: Reading a letter Coretta Scott King, the widow of Martin Luther King Jr., wrote to Congress in 1986, urging the body to reject the nomination of Jeff Sessions to the US District Court for the Southern District of Alabama, and saying that allowing him on the federal bench would "irreparably damage the work of my husband."
---
"Anyone who has used the power of his office as United States Attorney to intimidate and chill the free exercise of the ballot by citizens should not be elevated to our courts," King wrote at the time. "Mr. Sessions has used the awesome powers of his office in a shabby attempt to intimidate and frighten elderly black voters. For this reprehensible conduct, he should not be rewarded with a federal judgeship."
"The irony of Mr. Sessions' nomination is that, if confirmed, he will be given a life tenure for doing with a federal prosecution what the local sheriffs accomplished twenty years ago with clubs and cattle prods..." King continues. "I believe his confirmation would have a devastating effect on not only the judicial system in Alabama, but also on the progress we have made toward fulfilling my husband's dream."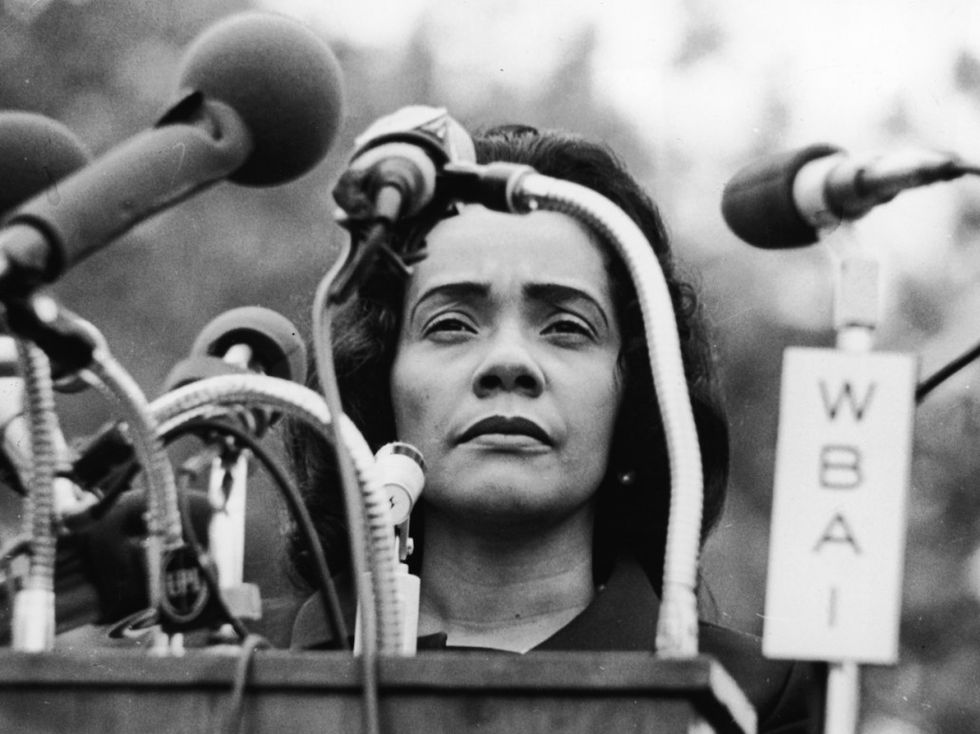 Coretta Scott King. (Credit: Source.)
As Warren began to read, Republicans voiced their displeasure. Sen. Steve Daines (R-Montana), the presiding officer, was the first to issue a warning, but Warren countered she was merely reading King's words, and she should be allowed to continue.
"Mrs. King's views and words ring true today," Warren told her critics. "The integrity of our Justice Department depends on an attorney general who will fight for the rights of all people. An honest evaluation of Jeff Sessions' record shows that he is not that person."
But Sen. McConnell objected, "The senator has impugned the motives and conduct of our colleague from Alabama," McConnell said, citing the part of King's letter warning that Sessions would "chill the free exercise of the ballot."
"I am surprised that the words of Coretta Scott King are not suitable for debate in the United States Senate," Warren responded before asking for permission to continue speaking.
But McConnell denied her request, and his decision was upheld by party-line vote in the chamber. Warren sought to appeal the ruling, but her colleagues, again along party lines,
shut down her appeal. Presently, she is "red-carded"––barred from speaking on the floor until Sessions' nomination is over. His confirmation hearing is scheduled for Wednesday evening.
"Senator Warren was giving a lengthy speech," McConnell said. "She had appeared to violate the rule. She was warned. She was given an explanation. Nevertheless, she persisted."
Social media erupted, the episode made national headlines, and the hashtag #LetLizSpeak began to trend.
Senate Democrats filed a motion to permit Warren to proceed but that, too, was denied by Republicans.
"The suggestion that reciting the words of the great Coretta Scott King would invoke Rule 19 and force Senator Warren to sit down and be silenced is outrageous," said Sen. Kamala Harris (D-California).
Sen. Cory Booker (D-New Jersey) also came to Warren's defense. "I am proud tonight of Sen. Warren. She stood and told her truth," he said. To see this body act as it did tonight is disappointing to me... In the midst of her speaking her truth, in the midst of her speaking her heart, she was stopped," he continued. "This had to do with her constitutional duty to provide advice and consent."
Booker added that while his colleagues generally respect Sessions and no one questions the "love" he has for his country, he stressed that "sometimes love requires telling the truth."
Warren turned the tables quickly on her silencers, however, by going live on Facebook just outside the Senate doors and reading the entirety of King's letter. The video has since gained over 5.3 million views, causing many to remark that McConnell's move ironically brought even more attention to the King letter and its contents.
Hours after Republicans blocked Warren from reading the letter, Sen. Jeff Merkley (D-Oregon) picked it up and read it without interruption.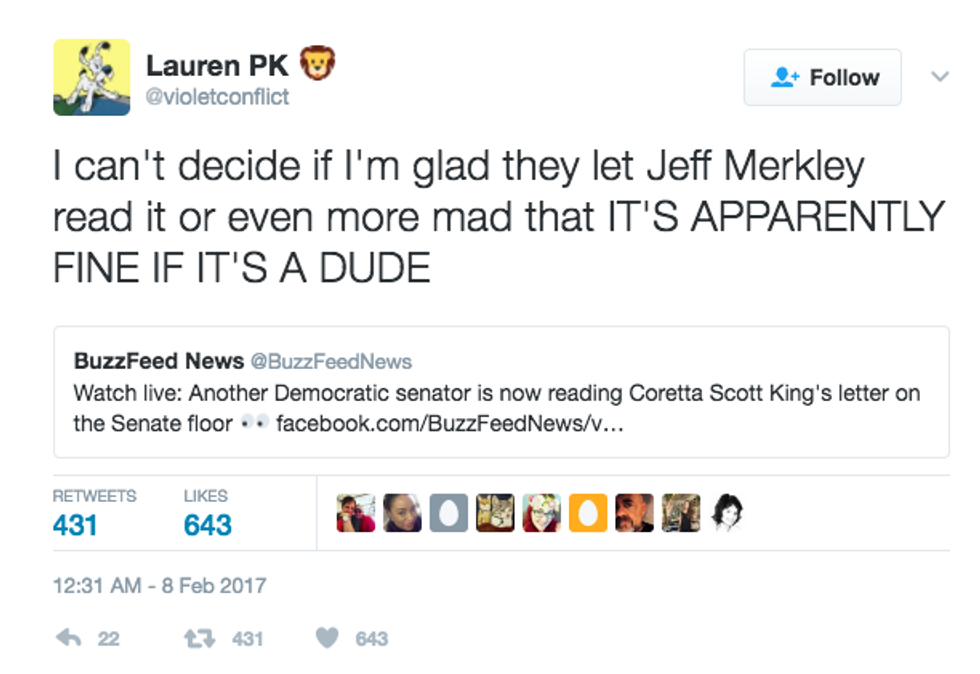 "They can shut me up, but they can't change the truth," Warren later told CNN.
---