Democrats on the House Oversight Committee have the demanded that the White House explain why senior adviser Jared Kushner still has a security clearance and access to classified information despite reports that he failed to disclose meetings with Russian officials and businessmen. Kushner also omitted dozens of contacts with foreign business leaders on his SF86 security clearance application even though the application asks for a list of all encounters with foreign government officials over the past seven years.
Representative Elijah Cummings (D-MD), the top Democrat on the House Oversight Committee, sent a letter signed by all the Democrats on his committee to White House Chief of Staff Reince Priebus yesterday. The panel's 18 Democrats question why the White House has not yet revoked Kushner's security. They've requested documents, including Kushner's security clearance application and records of his contacts with Russian officials, by July 5.
---
"When there are credible allegations that employees may be unfit to continue accessing classified information, security clearances are supposed to be suspended while the allegations are investigated," wrote Cummings. "Mr. Kushner reportedly failed to disclose contacts with dozens of foreign officials on his security clearance application... It is unclear why Mr. Kushner continues to have access to classified information while these allegations are being investigated."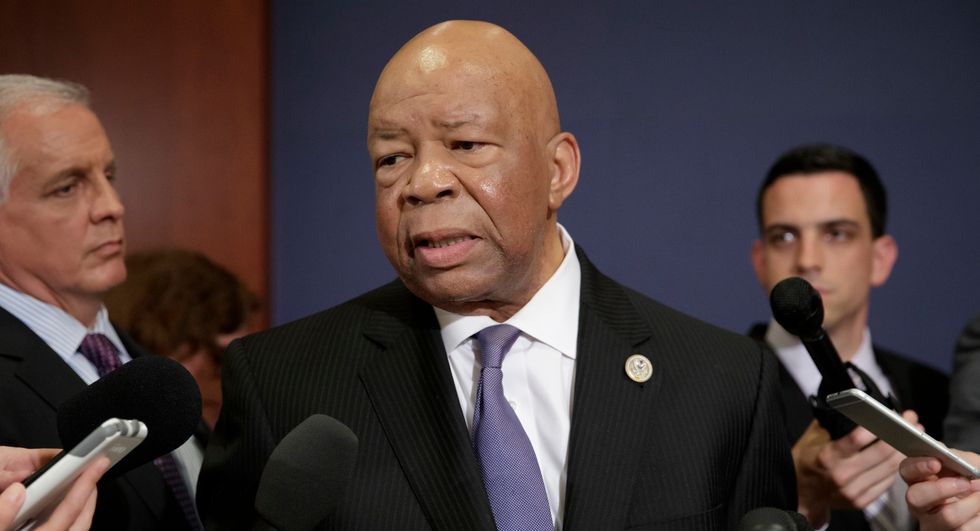 Elijah Cummings. (Credit: Source .)
Kushner has faced increased scrutiny after a report surfaced that he met with both Sergey Kislyak, the Russian ambassador to the United States, and Sergey Gorkov, the head of a state-owned Russian development bank, to discuss issues including sanctions. During his meeting with Kislyak, he purportedly suggested establishing a secure communications line between Trump officials and the Kremlin at a Russian diplomatic facility. The meeting occurred as Kushner's company sought to finance its $1.8 billion purchase of an office building on Fifth Avenue in New York, and could, The Washington Post reports, "raise questions about whether Kushner's personal financial interests were colliding with his impending role as a public official."
Last week, Special Counsel Robert Mueller confirmed he will investigate Kushner's business dealings as part of the larger probe into whether President Donald Trump or his associates colluded with Russian operatives to win last year's presidential election. Mueller's investigation is still in a relatively early phase, and it is still unclear whether Kushner will face criminal charges once it's complete. Kushner's business dealings have also drawn the attention of the Senate Intelligence Committee, which is conducting a parallel probe into Russian interference. Senate investigators have also requested documents from Kushner and will arrange an interview. Jamie Gorelick, an attorney for Kushner, has said any scrutiny of Kushner's business dealings would be "standard practice," and assured investigators Kushner would cooperate with the probe.
According to Bradley Moss, a national security lawyer who handles cases involving members of the intelligence community and their security clearances, the fact that the White House granted Kushner an interim security clearance despite his failure to report his contacts with Russian officials is "highly out of the ordinary."
"If Kushner's clearance is still being adjudicated and there is this red flag of his failure to properly report numerous contacts with foreign government officials on his SF86, that would be major matter of concern, in terms of him being in charge of this mission to the Middle East," Moss said .