Jeff Jones, the president of Uber and it's second in command, is leaving the company. Jones joined Uber at the end of August 2016 to run the company's operations, marketing and customer support .
In a statement on his resignation, Jones said, "It is now clear, however, that the beliefs and approach to leadership that have guided my career are inconsistent with what I saw and experienced at Uber, and I can no longer continue as president of the ride sharing business."
---
So far this year, Uber has seen six high-level staff members leave. Raffi Krikorian, the senior director of engineering at Uber's Advanced Technologies Center, left the self-driving section of the company last week. In the beginning of March, Gary Marcus, director of Uber's artificial intelligence lab, announced his departure. The vice president of maps and business platform, Brian McClendon, is leaving at the end of the month to pursue politics.
The two other departures, Ed Baker, Uber's VP of product and growth, and Amit Singhal, head of engineering, were linked to the allegations of frequent sexism and sexual harassment. Baker was accused of being involved with another employee. Singhal was asked to resign after Uber discovered he left Google while being investigated for a sexual harassment claim.
The questions about Uber culture came to public attention after Susan Fowler, a former engineer, published a blog post last month describing the conditions that led her to leave the company.
After the post went viral, Uber CEO Travis Kalanick said in a statement, "We seek to make Uber a just workplace FOR EVERYONE and there can be absolutely no place for this kind of behavior at Uber ― and anyone who behaves this way or thinks this is OK will be fired." Kalanick then announced that he had hired former attorney general Eric Holder to lead an independent investigation into the accusations.
The workplace climate accusations added fuel to the #DeleteUber movement. After President Donald Trump's first travel ban went into place on January 28, New York City's unionized taxi drivers protested with a strike at Kennedy airport. Uber was accused of trying to profit from the strike, and was overwhelmed by people trying to delete the app after the accusations went viral on social media. Kalanick responded by pledging $3 million to help drivers affected by the ban. He also quit the president's council of economic advisers.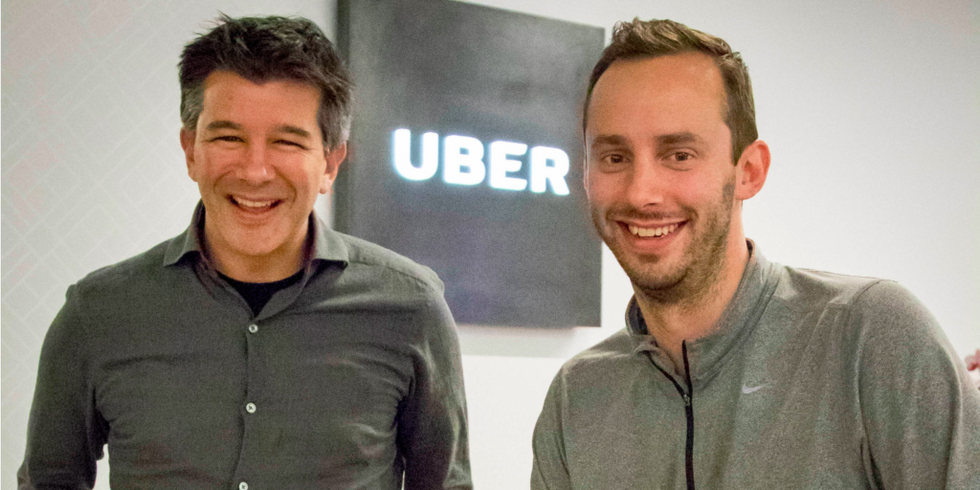 Travis Kalanick and Anthony Levandowski. Credit: Source
Uber also faces a lawsuit from Alphabet, Google's parent company. Three of the engineers that worked on Google's self-driving car program left the company and wound up at Uber. Google has accused the three, Anthony Levandowski, Radu Raduta, and Sameet Kshirsagar and stealing documents containing trade secrets before leaving Waymo, it's self-driving car division, and using the information to help Uber. Levandowski, in particular, is accused of stealing information for developing the technology the cars use to sense the world around them, lidar.
There was speculation that 2017 would be the year Uber became a publicly traded company but the controversies surrounding Uber could decrease it's value.