[DIGEST: New York Times, Politico]
Days after Donald Trump won the election in November, he reached a $25 million agreement to settle fraud claims against his failed for-profit Trump University. At the time, he tweeted "The ONLY bad thing about winning the Presidency is that I did not have time to go through a long but winning trial on Trump U. Too bad!"
---
[embed][/embed]
Luckily for Trump, he may just get that day in court yet.
Earlier this month, lawyers for former Trump University student Sherri Simpson asked a federal judge in San Diego to reject the settlement agreement unless former students are given the opportunity to leave the class action and sue Trump individually.
The settlement arose out of several suits filed for fraud against Trump University. Former students alleged that they were pushed to pay up to $35,000 to attend real estate courses at the University, which were taught by unqualified instructors. Under the terms of the settlement, members of the class would get a refund of up to 50 cents on the dollar of what they paid to attend Trump University. They could object to the terms of the agreement, but they did not have the right to "opt out" or leave the class.
The last time members were given the opportunity to opt out was in November of 2015. At that time, "the case was barreling toward trial, by all accounts," wrote Simpson's lawyer, Gary B. Friedman, in his objection. Plaintiffs like Simpson assumed they would have another opportunity to opt out of the class.
If the court, under Judge Gonzalo Curiel, were to accept Simpson's argument, it could compromise the settlement agreement. Trump agreed to the settlement in large part because it was a way to resolve all the Trump University claims and avoid a trial in the midst of his presidency. However, if Simpson and others like her are able to bow out and file their own suits, that assurance is gone.
"If even one person could opt out of the settlement and force a trial, that might, in fact, crater the deal," said Shaun Martin, a professor at the University of San Diego School of Law. "I'm sure Judge Curiel will be aware of that."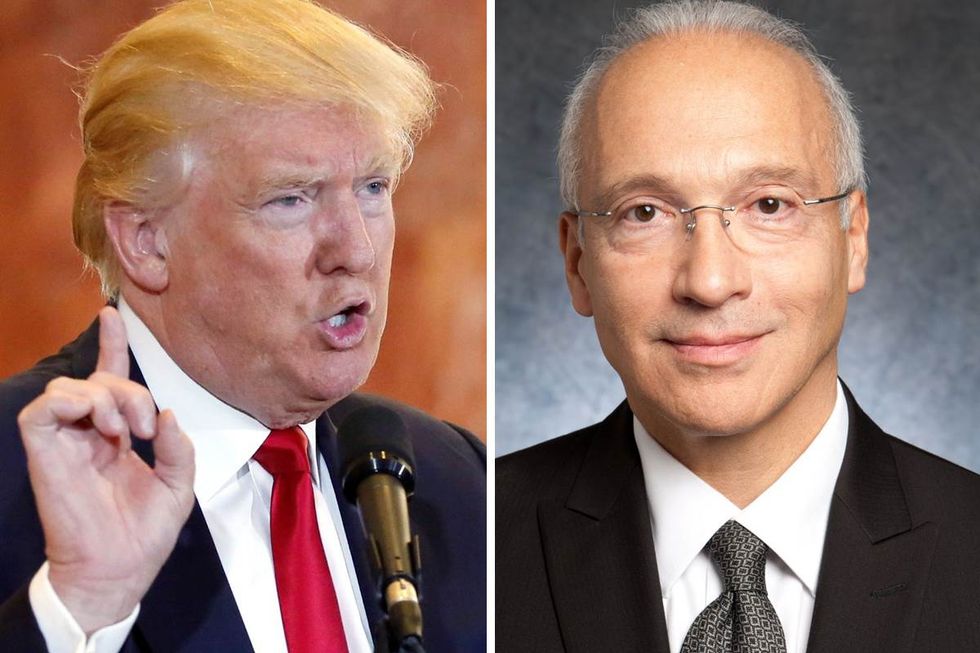 Trump (left) and Judge Gonzalo Curiel (right). (Credit: Source.)
Judge Curiel made news last year when Trump questioned his ability to be impartial given his Mexican heritage.
Patrick Coughlin, a lawyer representing the class action plaintiffs, called the settlement "terrific." Coughlin said that Simpson's objection seemed "politically motivated" and could result in delays for members of the class—who have already waited years to get their money back. "She could have excluded herself before and pursued her own litigation. That time has passed."
"If the settlement indeed represents 50 cents on the dollar of loss, as has been reported, it is certainly a beneficial settlement by the standards of class actions. But there is no principle of law or fairness that requires Sherri Simpson to accept 50 cents on the dollar," wrote Friedman in his objection.
"What Ms. Simpson seeks is her day in court."