[DIGEST: CNNMoney, skyTran, FastCoExist]
A NASA Space Act company called skyTran, based in California, is closer than ever to making an efficient, sustainable and safe form of transportation a reality. The company's patented overhead transportation system uses maglev (magnetic levitation) technology to transport passenger "cars" while emitting virtually no pollution. The computer-controlled, two-person vehicles run on a lightweight, steel and aluminum track built 20-30 feet above the ground. The 18-inch support poles, tracks, and vehicles ideal to hold solar panels, which could provide almost all of the energy needed in operating the system.
---

via SkyTran's website
CEO Jerry Sanders describes how "surface systems are expensive and eat up a lot of energy with their big infrastructure and carbon footprint." Underground systems can cost anywhere from $100 million to $2 billion a kilometer. By contrast, skyTran costs only about $8 million a kilometer. The individual cars are estimated to cost between $25,000 and $30,000. Sanders says that skyTran would be a bargain investment for cities.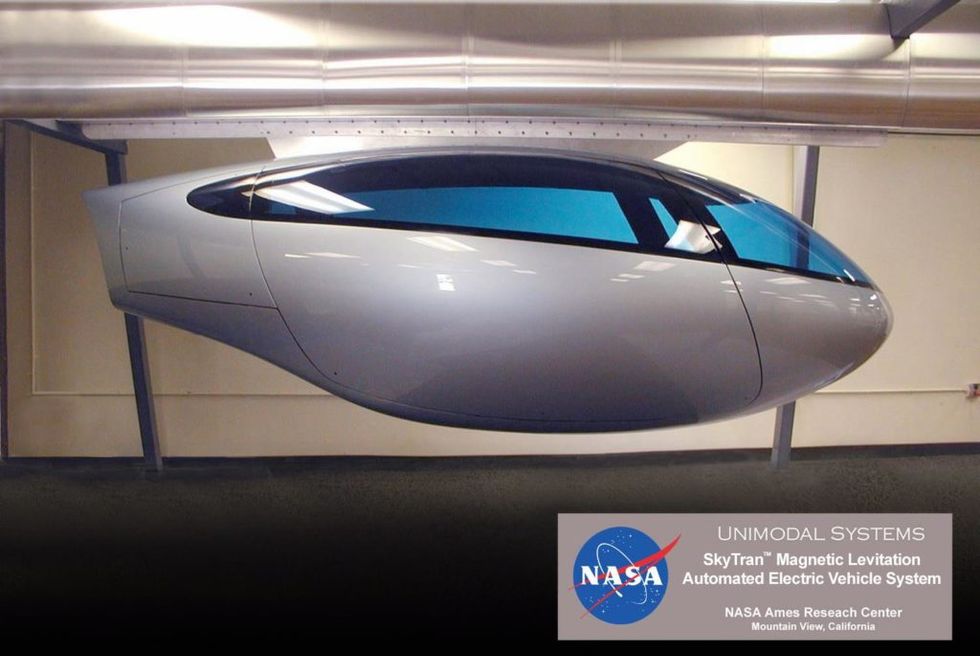 via SkyTran's Facebook page.
The structure runs on a computer system that allows the vehicles to enter and exit the stream seamlessly. Passengers get on and off with no stops in between starting points and destination--virtually eliminating traffic jams. "The system is like a rental car: No one gets in unless the system knows who you are," says Sanders. "You can be recognized by your smart phone, thumbprint, special chip-encoded card, and other ways." In this way, skyTran works
more like municipal bike sharing programs or zipcars rather than traditional, anonymous transport.
The company's website stresses the safety that comes with traveling in small numbers. "When commuters congregate in large numbers they are vulnerable to catastrophic attacks and events." In emergencies, the cars have rapid stopping and avoidance technology, and enough on-board energy to automatically get to the nearest stations.
The pilot project is set to debut in Tel Aviv by the end of the year. The skyTran track will run for about 900 feet on the campus of Israel Aerospace Industries, which helped develop the cars. Sanders and the company hope to not only expand the Tel Aviv system, but move to at least three other Israeli cities and debut in the US by 2018.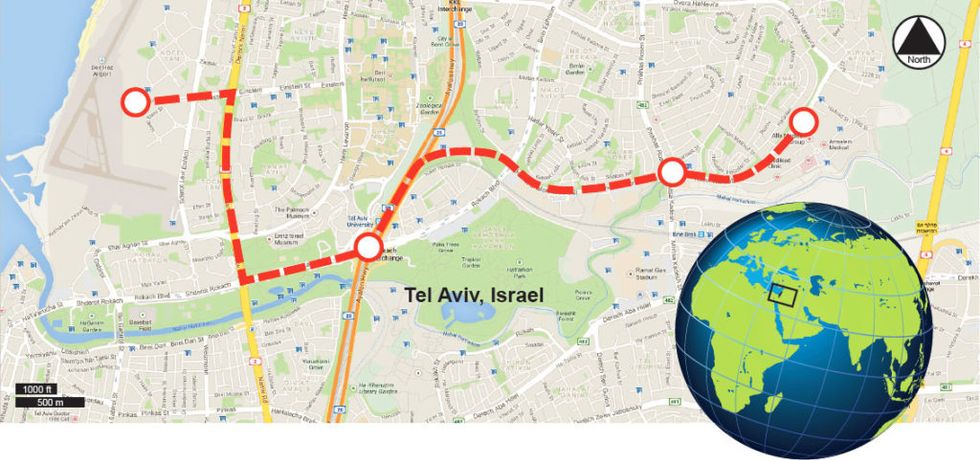 via SkyTran's website.
Several U.S. cities including Baltimore and Inglewood, California, have already expressed interest, as well as Paris' Charles de Gaulle airport. skyTran expects to build the first commercial systems in Israel, France and India.
Google chair Eric Schmidt's venture capital fund, Innovation Endeavors, has made a multimillion-dollar investment in skyTran. This, as well as the pilot systems, is all part of the plan to legitimize skyTran as a credible transportation option.