[DIGEST: Brainy, IFLS, XPrize, CDC, eMedicine, WebMD, FinalFrontier]
LeVar Burton (Star Trek: The Next Generation's Geordi La Forge): "I'm enormously proud of the fact that Star Trek has really not just sparked an interest, but encouraged, a few generations of people to go into the sciences."
---
Now some of those scientists have created a Tricorder.Star Trek's all-purpose medical device inspired more than 300 teams to recreate its ability to instantly diagnose a patient. The nonprofit X-Prize Foundation was so enthusiastic that in 2012 they started a global competition with multimillion dollar prizes.
The winners of the Qualcomm Tricorder XPRIZE competition had to create a lightweight, noninvasive, handheld device that could identify 13 health conditions (12 diseases, as well as the absence of disease) within 90 minutes to 24 hours, with no additional help or counsel from medical professionals. The device must also be able to monitor five vital health metrics, such as heartbeat, respiratory function and temperature. The XPRIZE sought to encourage the best scientific minds to create a viable solution to our very real 21st century needs for improved personal health and healthcare.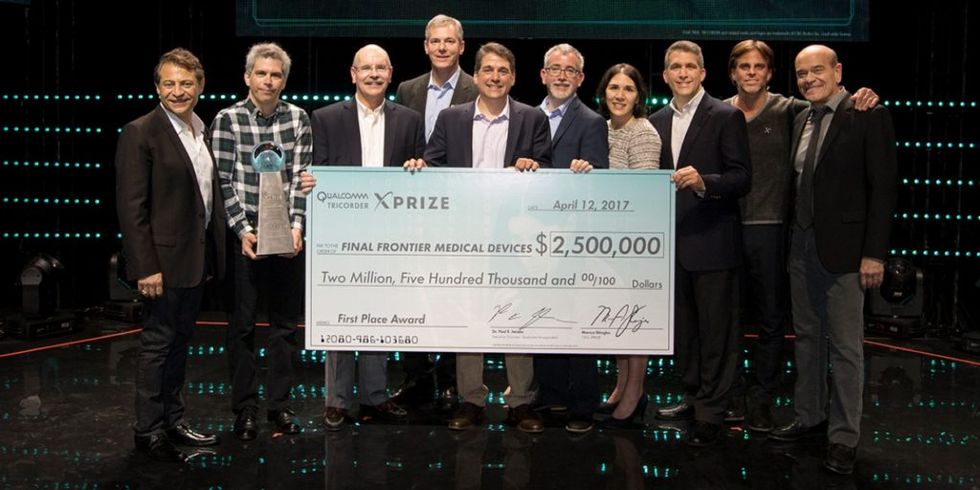 Credit: Source.
The XPRIZE competition required the device to be able to identify diabetes, which affects almost 10 percent of the U.S. population. Diabetes is seventh on the cause of the death list with 76,488 deaths per year in the U.S.
The device must also identify otitis media or ear pain and inflammation. Otitis media is the most common reason for medical treatment in children under the age of five.
Three conditions identified by the device could be chosen from a longer list including shingles, more common in people over 50. One in four Americans will experience the burning pain of shingles in their lifetime.
Two centuries ahead of Star Trek's 23rd century setting, Final Frontier Medical Devices, a Pennsylvania-based team led by brothers Dr. Basil Harris, an emergency medicine physician, and George Harris, a network engineer, took home first place. They received $2.6 million for DxtER (pronounced Dexter), an artificial intelligence-based engine that diagnoses
medical conditions by integrating facts from clinical emergency medicine with data analysis from actual patients.
A second-place prize of $1 million went to Dynamical Biomarkers Group. Based in Taiwan, Dynamical is led by Harvard Medical School Associate Professor Chung-Kang Peng. Their smartphone-controlled prototype pairs diagnostic algorithms with analytical methodology.
"This Qualcomm Tricorder XPRIZE generated a critical mass of diverse and qualified teams, enabling nearly five years of experimentation and iterations, that ultimately resulted in an extraordinary outcome," Marcus Shingles, CEO of the XPRIZE Foundation. "We could not be more pleased with the quality of innovation and performance of the teams who competed."
XPRIZE also announced a first-ever post-competition series of initiatives and investments to support the finalists, so they can continue to develop and scale the impact of their innovations.
One of the post-competition initiatives includes an educational feature-length documentary with an Oscar®-nominated director. These initiatives will fund a nationally distributed museum exhibit intended to foster conversation, public education and awareness of how these devices can impact and change the future of consumer healthcare.
There is an additional commitment by The Roddenberry Foundation (Star Trek creators) to contribute $1.6 million towards the adaptation of the teams' Tricorder devices for use in hospitals and communities in the developing world.
Of the 312 teams that joined in the pursuit of the XPRIZE, six final teams were honored at the award ceremony for their accomplishments.