[DIGEST: IFLS, Science, Smithsonian, FAU, Science Daily, Live Science, ABC]
Beneath one of the oldest and largest pyramids in South America, researchers have discovered evidence of a previously unknown early modern human society. In fact, certain artifacts suggest a level of artistic sophistication and social structure that surpass other ancient cultures of the same period.
---
An Ancient People In Peru
After digging 100 feet under the pyramid at Huaca Prieta, archaeologists discovered proof of an ancient human society. Having largely migrated to the area from the Pacific Coast, the site of the early humans is located along the northwestern coastal plains of Peru.
Based on the evidence, people settled in that area repeatedly — but not continuously — beginning 15,000 years ago for thousands of years. The six-year excavation produced a variety of artifacts, which now rest in a museum in Lima, Peru.
"The mounds of artifacts retrieved from Huaca Prieta include food remains, stone tools and other cultural features such as ornate baskets and textiles, which really raise questions about the pace of the development of early humans in that region and their level of knowledge and the technology they used to exploit resources from both the land and the sea," according to James M. Adovasio, Ph.D., co-author of the study and a world acclaimed archaeologist at Florida Atlantic University's Harbor Branch.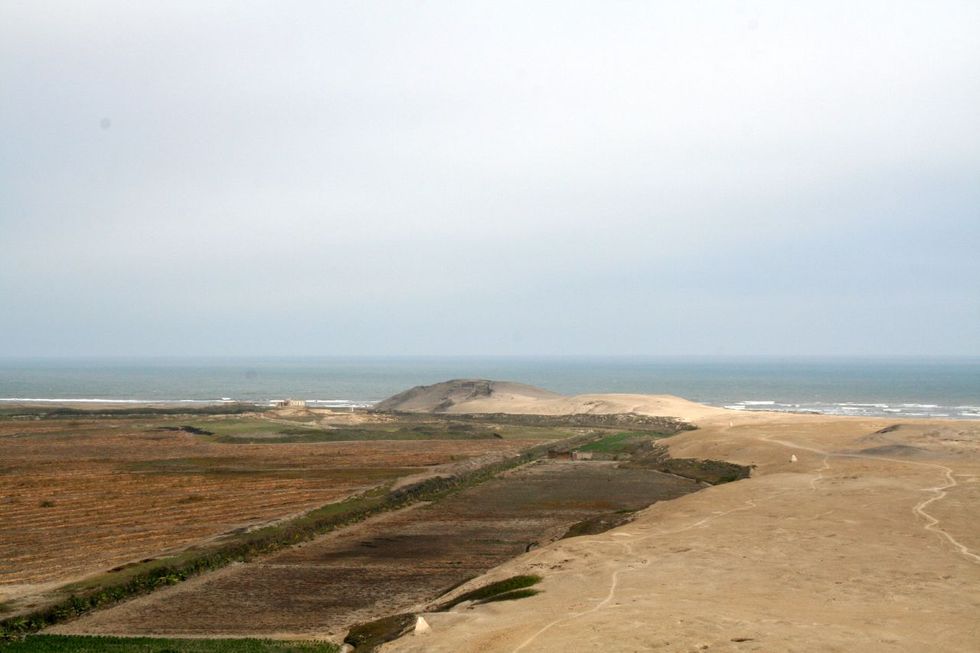 Huaca Prieta as it appears today. (Credit: Source.)
Certain artifacts indicate these ancient people engaged in deep-sea fishing and suggest the need for boats that could withstand rough seas. In addition, they had developed a sophisticated yet efficient means for collecting seaside resources.
Oldest Indigo Dye
The discovery of indigo dye at Huaca Prieta shows an unusually high level of advancement within this ancient culture. Scientists discovered the oldest fabric containing indigo dye at the Peruvian site, outdating that previously found in Egypt by 1,600 years in approximately
2400 B.C. The more than 6,000-year-old indigo-dyed fabric found at Huaca Prieta was likely made from a native tropical South American plant, Indigofera.
Over time, as people repaired and rebuilt the temple—which was made of a primitive concrete formed from sand, shells, and ash—the dyed fabrics became trapped in the layers.
"They were literally sealed under these new layers of building, but because the building material had so much ash in it, it leached into the textiles, making them a very dirty, sooty color," Jeffrey Splitstoser, archaeologist and textile expert at The George Washington University, told Live Science.
After washing the cloth, Splitstoser's team used a highly analytical technique, high-performance liquid chromatography, to confirm the presence of indigo dye in five out of eight samples.
"That's when we realized then that we had the world's oldest indigo, by far," Splitstoser said.
Remarking on the sophistication of the society at Huaca Prieta, Splitstoser said dyeing with indigo was a "biochemically complex process."
Elaborate Baskets
The discovery of decorative handwoven baskets at Huaca Prieta also led archaeologists to conclude that the early human societies living there were more highly developed and more socially complex than originally thought. The newer baskets—made from cotton and indigo dye—are estimated at 4,000 years old, but the utilitarian baskets date back as far as 11,000 years and are made from local reeds.
Dr. Adovasio examines one of these handwoven baskets. (Credit: Source.)
"To make these complicated textiles and baskets indicates that there was a standardized or organized manufacturing process in place and that all of these artifacts were much fancier than they needed to be for that time period," said Adovasio. "Like so many of the materials
that were excavated, even the baskets reflect a level of complexity that signals a more sophisticated society as well as the desire for and a means for showing social stature."
He adds, "All of these things together tell us that these early humans were engaged in very complicated social relationships with each other and that these fancy objects all bespeak that kind of social messaging."
Sophisticated Society
Splitstoser said the study of Huaca Prieta shows "ancient South Americans were not some backwards cultural vacuum, but were actively innovating along with the rest of the world."
For instance, Adovasio explained, "They also combined their exploitation of maritime economy with growing crops like chili pepper, squash, avocado and some form of a medicinal plant on land in a way that produced a large economic surplus."
"These strings of events that we have uncovered demonstrate that these people had a remarkable capacity to utilize different types of food resources, which led to a larger society size and everything that goes along with it such as the emergence of bureaucracy and highly organized religion," Adovasio said.
Speaking of the South Americans, Splitstoser said, "This discovery demonstrates that their history deserves more attention."
Fortunately, the dig site is so intact that it also documents how the settlement, and thus the ancient people's civilization and social system, must have developed over time.