Never one to let a criticism go unanswered, on Tuesday, President Donald Trump once again attacked the media for finding and pointing out his spelling and grammatical errors.
In the since deleted (which violates the Presidential Records Act) tweet, Trump claims to have written "many best selling books."
---
After having written many best selling books, and somewhat priding myself on my ability to write, it should be noted that the Fake News constantly likes to pour [sic] over my tweets looking for a mistake. I capitalize certain words for emphasis, not b/c they should be capitalized!"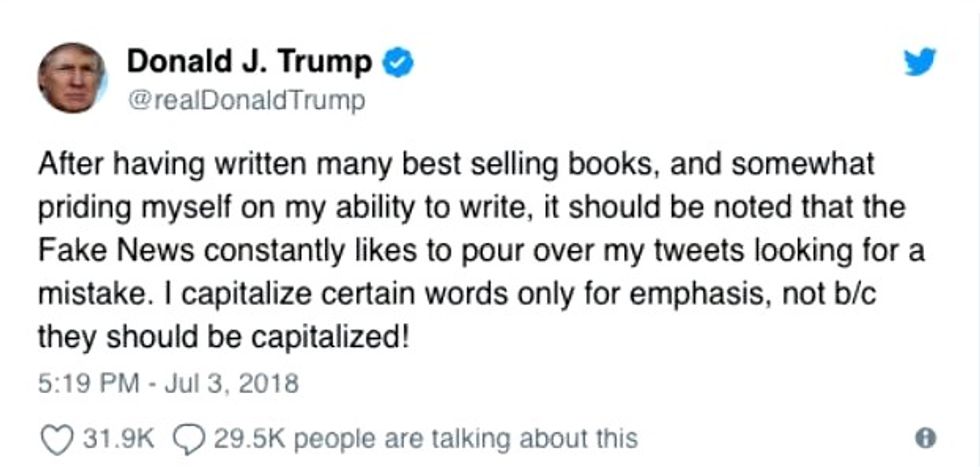 Deleted tweet from the official Twitter account of President Donald Trump. (Twitter screen grab)
While many took to Twitter to criticize the president on misspelling or using the wrong word in a tweet about his writing prowess, one person refuted Trump's claims instead. And this critic would know what he's talking about.
Back in 1987, Trump's first book, officially titled Trump: The Art of the Deal, hit bookshelves. Authorship credit on the book went to "Donald J. Trump with Tony Schwartz."
The book went on the become a bestseller and for many people around the world was their first introduction to Donald J. Trump.
But on Wednesday, Tony Schwartz himself refuted Trump's writing proficiency, stating,
[Trump] is incapable of reading a book, much less writing one."
Trump's tweet that he has "written" bestselling books is one more deceit & delusion. He is incapable of reading a b… https://t.co/6rmRDdVgs6

— Tony Schwartz (@Tony Schwartz) 1530710553.0
Schwartz, in response to questions about how much the tone of the 1987 book sounded like the president, further stated,
Yes I did a good job matching trumps tone but he wrote not a word hi@self"
@KeenReport @realDonaldTrump @RealJamesWoods Yes I did a good job matching trumps tone but he wrote not a word hi@self

— Tony Schwartz (@Tony Schwartz) 1530714085.0
Indeed, former Random House, head Howard Kaminsky, the book's original publisher, once said,
Trump didn't write a postcard for us!"
The president's reading skills have come into question several times. The man himself claims to not be a fan of reading.
After assuming the role of president, written briefing memos and reports from departments within the federal government, something other presidents spent their days reading, were reportedly eliminated in favor of quick verbal summations. Critics questioned how decisions could be properly made without all of the pertinent information on any issue.
Trump: The Art of the Deal received additional attention during Trump's 2016 presidential campaign. When asked about his favorite book, the future president cited his own book, out of all the literature in existence, as his second-favorite book after the Bible.
Schwartz frequently expresses regrets about his role in putting Trump in the public eye. Both he and the book's publisher, Howard Kaminsky, said before that Trump played no role in the actual writing of the book.
Trump himself has given conflicting accounts on the question of actual authorship, stating in an article for The New Yorker, "I had a lot of choice of who to have write the book, and I chose [Schwartz]." But then Trump said "[Schwartz] didn't write the book. I wrote the book."
Those familiar with the president are more inclined to believe the former over the latter version of the book's origins.
Schwartz, and J.K. Rowling, aren't the only two bestselling authors to poke holes in the president's writing claims. Tim O'Brien, a Trump biographer, claimed not only did Trump not write any of his own books, but he doesn't write some of his own tweets.
Specifically those with minimal grammatical or spelling errors. O'Brien stated,
President Trump didn't write any of his books. Ghostwriters on all of them."
Another one of those tweets that sure seem staff-written. Regardless: President Trump didn't write any of his boo… https://t.co/x6NQKvwT5C

— Tim O'Brien (@Tim O'Brien) 1530654291.0
A few people agreed about the authorship of the tweet, but questioned if the typo was deliberate or intentional to get the proper tone of a typical Trump tweet. This was before the original tweet with the error was deleted.
@TimOBrien @KaraCalavera Tim, do you think the writers of this gem — it had to be a committee — spent much time por… https://t.co/DKALkwq2YJ

— Rob Major (@Rob Major) 1530660518.0
@TimOBrien @KaraCalavera Oh, I see he (or someone) corrected the initial tweet that used "pour" when it should have… https://t.co/ehTOtxCPLA

— Rob Major (@Rob Major) 1530661520.0
The president is credited as the author of more than a dozen books. Almost all of them openly acknowledge the use of a ghostwriter or co-author.
As for the president's Tuesday boast about being a great writer, after the Twittersphere located the error and soundly mocked it, the original post was deleted, in direct violation of the Presidential Records Act. Then a corrected version was posted in its place.
After having written many best selling books, and somewhat priding myself on my ability to write, it should be note… https://t.co/hh0aMWmvLk

— Donald J. Trump (@Donald J. Trump) 1530659614.0