Former New York City mayor, current Trump legal team leader and paid Trump mouthpiece, Rudy Giuliani, went on ABC's This Week on Sunday. When asked about the president answering questions for the Department of Justice's Special Counsel investigation into Russian interference in the 2016 presidential election, Giuliani claimed,
---
He wants to testify. It's hard to believe given all the things that have been shown about how tainted this investigation is. This is the most corrupt investigation I have ever seen."
As pointed out previously by Fox News legal expert and former New Jersey Superior Court Judge Andrew Napolitano, Giuliani is paid to spread propaganda in the media about his employer, not to tell the truth. His only objective is a good legal outcome for his client, including in the court of public opinion.
Sometimes to meet that end, Giuliani makes untrue claims to the media, especially when the truth would be damaging to his client. Since being hired, Giuliani has made media rounds trying to discredit Special Counsel Robert Mueller and his investigation.
Despite knowing why Giuliani makes false claims in his interviews, his latest claim, about the Mueller investigation being corrupt, inspired MSNBC Morning Joe host Joe Scarborough to respond with an almost 10 minute listing of all the known corruption within the administration of President Donald Trump.
This is the most corrupt administration in the history of our lifetime, certainly over the first year and a half."
"Since Rudy mentioned most corrupt, let's take a better look at some examples of corruption," began Scarborough as graphics began to appear on the screen.
After about a year and a half in the White House, here is a snapshot of Donald Trump and his administration that Rudy Giuliani is claiming to be this moral beacon for the rest of the world."
"Robert Mueller's investigations brought charges against four ex-Trump advisers, top Trump political advisers, including his former campaign chief, who is now sitting in jail after allegations of witness tampering after his own indictments on fraud, false statements and foreign laundering of money," said Scarborough.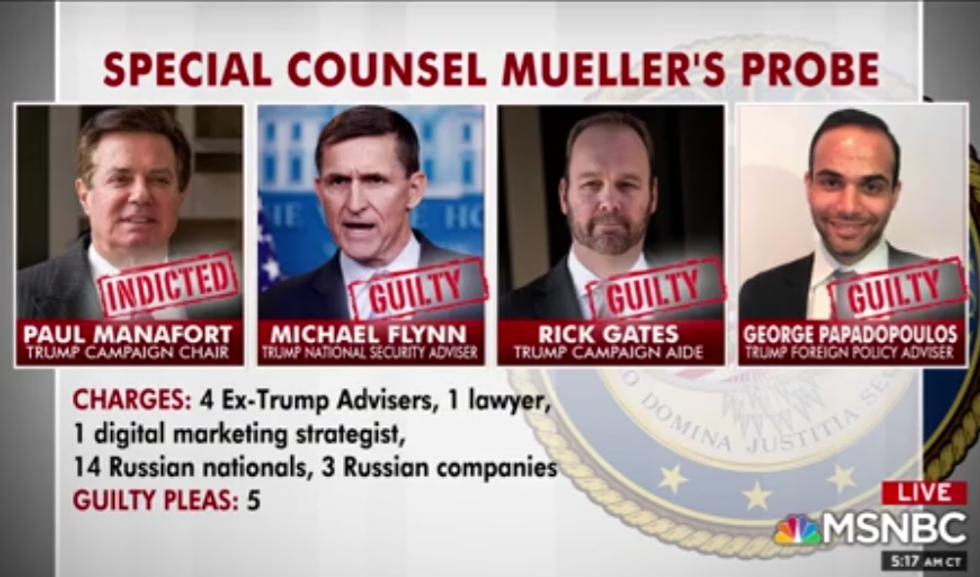 Some of the results of the Robert Mueller investigation. (MSNBC video screen grab)
"Yeah, that's what you call corrupt, Rudy."
"Or maybe the fact that his ex-national security adviser, Michael Flynn, pleaded guilty to lying to investigators, top campaign aide and transition official Rick Gates also pleaded to conspiracy and lying to investigators, and foreign policy adviser George Papadopoulos pleaded guilty to misleading investigators about, you guessed it, his contacts with the Bulgarians? No, with the Russians, claiming to have dirt on Clinton," the MSNBC morning host continued.
"Some, four of Donald Trump's hand-picked ex-advisers, one of his lawyers, one of his digital marketing strategists, 14 Russian nationalists, three Russian companies and five guilty pleas in all, all connected to Donald Trump, his campaign, his organization, the election of 2016," said Scarborough.
After focusing on the Mueller investigation, Scarborough turned to Donald Trump and the Trump administration and their own scandals, like the FBI raid on Trump's longtime fixer and lawyer, Michael Cohen. He also brought up the two known payments made to buy the silence of women associated with the president.
The fraud case and settlement paid by Trump concerning Trump University was next. $25 million dollars was awarded to the plaintiffs in the case they brought against Donald Trump for fraud.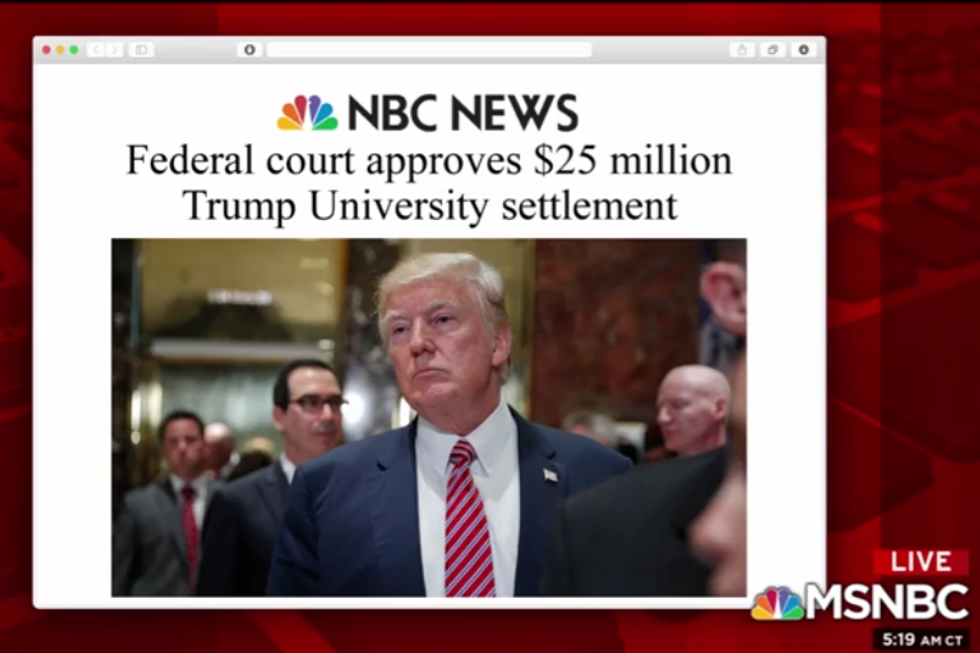 Joe Scarborough mentions the fraud case against Donald Trump and the settlement paid for Trump University. (MSNBC video screen grab)
He called out Kellyanne Conway for ethics violations including free advertising for Ivanka Trump's merchandise on television while acting in her official White House capacity.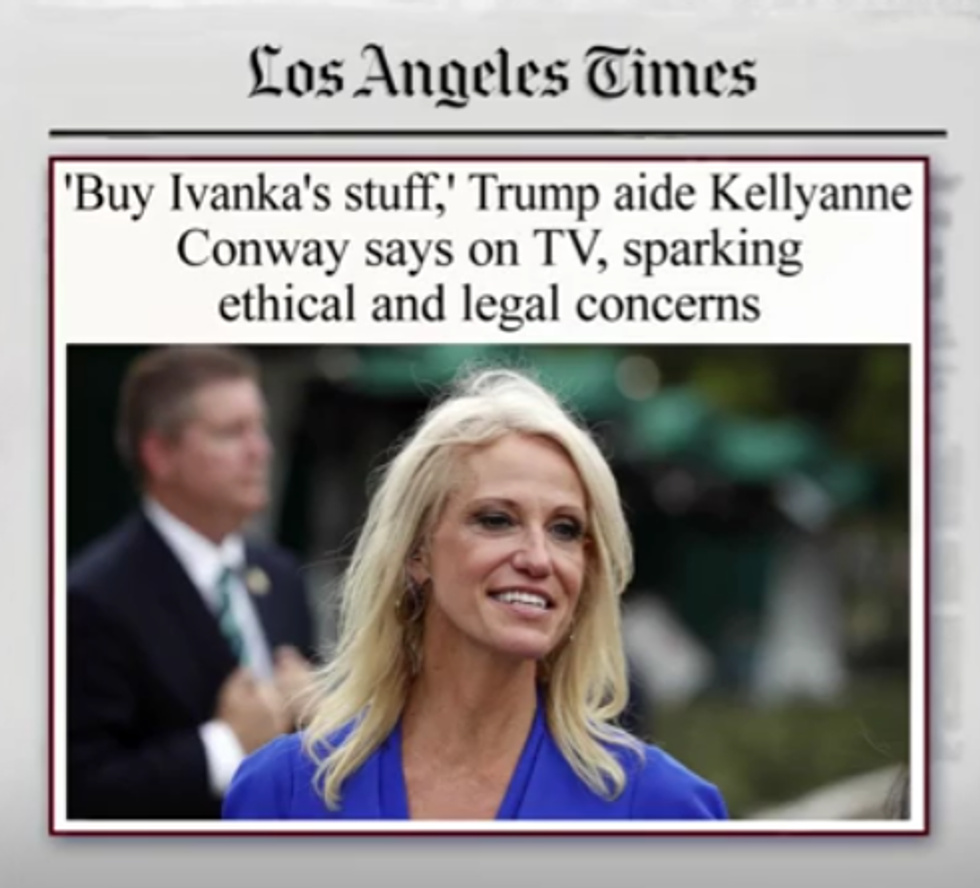 Joe Scarborough points out ethics violations by Trump administration official Kellyanne Conway. (MSNBC video screen grab)
And the list went on and on for almost 10 minutes.
Trump's false claims about his charitable contributions, something that led the New York Attorney General to sue the Trump family for the bulk of the Trump Foundation charitable funds going into their own pockets, were highlighted as well. Scarborough spoke about the funds Trump promised veterans that stayed in his own coffers until an article by The Washington Post exposed the truth.
Also raised were concerns about the members of Trump's cabinet and out of control spending by people like Interior Secretary Ryan Zinke, Treasury head Steve Mnuchin and Ben Carson at Housing and Urban Development. The frivolous waste of taxpayer funds was so bad it even led to some cabinet members resigning, like Tom Price and Scott Pruitt.
Pruitt himself was facing 14 separate investigations into his activities as the Trump appointed head of the Environmental Protection Agency before his resignation. And Interior Secretary Zinke faced scrutiny over several choices seemingly designed to line his friends' or contributors' pockets, not benefit the United States, like awarding the contract to restore the still non-functioning power grid in Puerto Rico to Whitefish Energy.
Scarborough finished by defending the integrity of Special Counsel Robert Mueller, the man often the brunt of false accusations by the president, his staff and his employees.
"We certainly know that Robert Mueller is not corrupt," said Scarborough "We certainly know he is a marine, a war hero, a guy who [unlike] Donald Trump didn't skip out on serving this country, claiming deferments and bone spurs."
Robert Mueller was fighting in the jungles of Vietnam while Donald Trump was graduating from an Ivy League university, on the same day that dozens of Americans were killed. We know, we know who is corrupt here, we know who is not corrupt here."
"We just want to thank you for reminding us of all the corrupt things the guy that you're shaming yourself for has engaged in over the past year and a half," he continued.
Here is the amazing thing, it's only a year and a half. Rudy, you know how things get when somebody is out of power — can you imagine what we're going to find about Donald Trump when he's out of the White House?"