[DIGEST: Yahoo, Washington Post]
Bernie Sanders says that his support for Hillary Clinton as the Democratic presidential nominee is "totally dependent" on whether she incorporates a progressive agenda into her campaign against the eventual Republican nominee. While Sanders intends to continue campaigning until California's primary on June 7, he signaled awareness that he will likely not be the Democratic nominee after losing New York's primary to Clinton last week.
---
Sanders Lays Out Four Conditions
"That is totally dependent on what the Clinton platform is and how she responds to the needs of millions of Americans who are sick and tired of establishment politics and establishment economics," he said during an interview on ABC's This Week. "If Secretary Clinton is the nominee, she is going to have to make the case to the American people, not just to my supporters, but all Americans, that she is prepared to stand up to the billionaire class, she is prepared to fight for health care for all Americans, that she is prepared to pass paid family and medical leave, make sure that college is affordable for the young people in this country."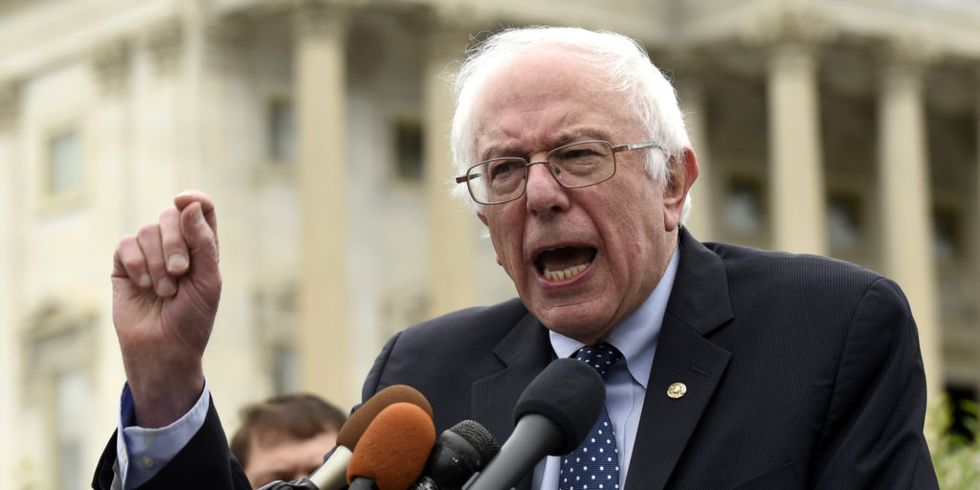 Credit: Source.
The Sanders campaign has rallied its message and efforts around economic inequality. His demands are not surprising. Despite winning more than a dozen states, the senator lags substantially behind Clinton in pledged delegates. Sanders has long been critical of Clinton's record, attacking her stances on international trade and the Iraq war. Democrats worry his
remarks could harm Clinton in the general election and cede the election to the Republicans.
His more conciliatory tone comes on the eve of another set of primaries on Tuesday, when five states will vote. Clinton is leading in all five, according to opinion polls.
Not A Spoiler
Sanders does not believe that his attacks on Clinton will take a toll on the eventual Democratic nominee. "Not at all. I mean Donald Trump lives in his own world, he insults everybody for every reason," he said. "He'll attack me, he'll attack Hillary Clinton, he'll attack his own Republican opponents. That does not concern me. What concerns me is we need to continue this debate about what is happening to ordinary people in America, and that is that the middle class continues to decline."
The VP Question
Sanders also said that he would be likely to support Clinton if she picked a running mate with a progressive agenda. "If she is the nominee, I would hope that she puts together the strongest progressive agenda — that says, yes, we're going to stand with the working families of this country, we are prepared to take on the fossil fuel industry and the drug companies and Wall Street and the billionaire class," Sanders said. "And if she has a candidate for vice president who is prepared to carry that mantle, prepared to engage in that fight, I think that would be a very good thing for her campaign."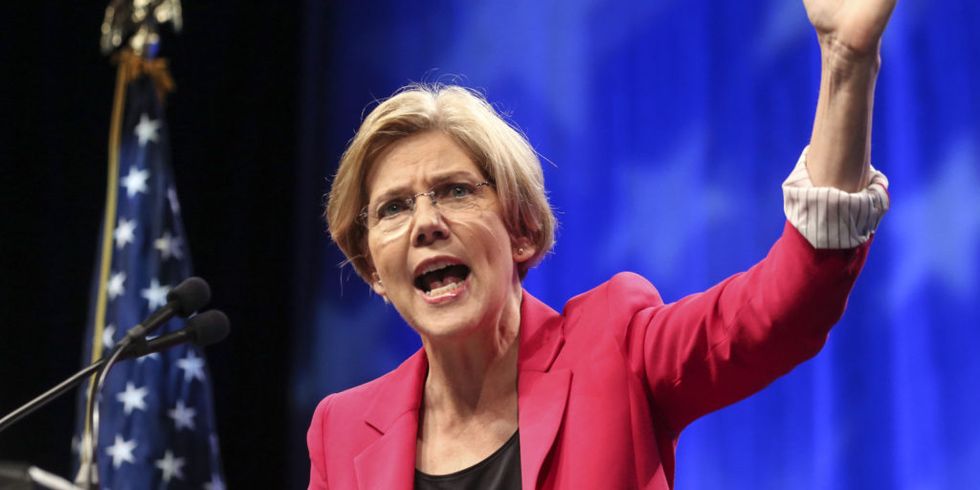 Elizabeth Warren. Credit: Source.
There is speculation that Clinton could choose Massachusetts Senator Elizabeth Warren, a favorite among progressives. Clinton's campaign manager John Podesta fed the excitement with comments made during an interview with The Boston Globe. "We'll start with a broad list and then begin to narrow it. But there is no question that there will be women on that list," he said. Some have argued that the case for Warren as VP is a strong one. Progressives generally applaud her fiery criticisms of big banks and free trade agreements, topics on which Clinton has been criticized as being equivocal.