Russian state media is backing Brett Kavanaugh, President Donald Trump's nominee to the Supreme Court. Hamilton 68, an organization which tries to track Russian influence operations on Twitter, recorded considerable activity from Russian accounts pertaining to the Kavanaugh nomination.
The Hamilton 68 dashboard, which attempts to track Russian influence operations on Twitter, is charting a lot of Ka… https://t.co/HSpwLoRKOQ

— Dustin Volz (@Dustin Volz) 1538152041.0
---
Hamilton 68 follows accounts that are clearly connected with Russia and support other Russian propaganda campaigns beyond the ones that have been and are active within the United States. The organization employs blind models, which are used when participants are likely to change their behavior if they know they are being scrutinized.
Here's a look at the latest content tweeted by Russian bots and trolls, per Hamilton 68's dashboard:
New Knowledge, an organization with similar objectives, noted last week that the hashtag #KavanaughHearings remained a popular topic for a "Russia-linked disinformation" network as Kavanaugh and Dr. Christine Blasey Ford, the Stanford University professor who alleges Kavanaugh assaulted her during a high school party in the 1980s, testified before the Senate Judiciary Committee.
The #KavanaughHearings continue to be a popular topic for a Russia-linked disinformation network we're tracking at… https://t.co/354GfOOhCK

— Jonathon Morgan (@Jonathon Morgan) 1538143379.0
Kremlin propagandist Dmitry Kiselyov has made appearances on Russian state television which blame the opposition to Kavanaugh's nomination on a conspiracy on an insurgency of "malignant feminism."
"Guess what stands in Kavanaugh's way? Certainly, the disease of malignant feminism… used to destroy promising careers and eliminate political opponents," he said in response to Trump's claim earlier this week that the accusations of sexual misconduct leveled against Kavanaugh constitute "a very scary time for young men in America."
And when Kavanaugh said that the allegations from Julie Swetnick, who recalls Kavanaugh was present at a house party in 1982 where she alleges she was the victim of a gang rape, are a "joke" and a "farce," Kiselyov told his viewers: "The case against Brett Kavanaugh sounds like a joke."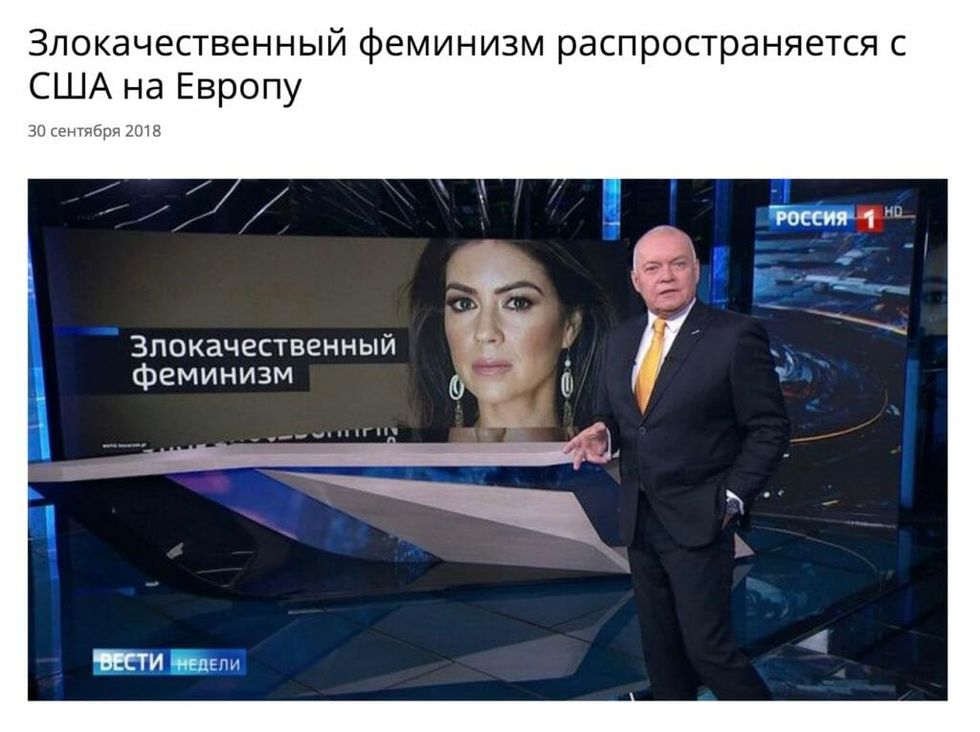 Vitaly Milonov, an ultra-conservative lawmaker from Putin's United Russia party, has expressed similar sentiments, characterizing feminists as "monkeys" and "witches." He has advocated for the state to both forcefully imprison feminists and mandate psychiatric treatment.
Recently, Russia's Foreign Minister Sergey Lavrov said that U.S.-Russia relations are "the worst in history," but clarified that the relationship between Trump and Russian leader Vladimir Putin is "very constructive" and "positive."
The relationship between Russia's ruling class and their support of Trump is based on "a convergence of interests," writes Julia Davis for The Daily Beast, noting that:
Karen Shakhnazarov, a prominent film director and an influencer who makes regular appearances on Russian state TV, has explained that by destroying the European Union, imposing tariffs upon China and hastening "the destruction of the American empire" Trump is "lightening Russia's load" and giving it "breathing space."

Mikhail Remizov, President of the Russian think-tank, Institute for National Strategy, has said that the reasons for the Russians to support Trump's election were not based on the desire to gain a friend in the White House. He argued that the real motivation is twofold: Trump's restructuring of America's global financial agreements distracts the West from Russia, thereby allowing it more room to maneuver. The second reason is that Trump is "forming the new global ideology" with respect to protectionist economic policies, restrictions on immigration and fostering skepticism towards global jurisdictions, such as the International Criminal Court, "all of which is exactly what Russia wants."

Russian Political Scientist Sergey Mikheev added that Trump does not care about values, concerning himself "only with money and interests." Tatyana Parkhalina (President of the Association for Euro-Atlantic Cooperation) cautioned the pro-Kremlin talking heads not to confuse Trump's values (or lack thereof) with those of the United States. "Trump is not America – thankfully. They are not one in the same."
Kavanaugh's nomination has not been without controversy, true, but much of it before the sexual misconduct allegations surfaced was generated by outrage at the notion that a president under federal investigation for his alleged connection to Russian operatives who worked to subvert the 2016 presidential election could nominate someone with the potential to sway the court's opinion in the event of an indictment.
To that end, it's obvious why the president ultimately picked Kavanaugh, who is perhaps best known for the leading role he played in drafting the Starr report, which advocated for the impeachment of President Bill Clinton and whose views about when to impeach a president remained contentious during his confirmation hearing.
Kavanaugh, for his part, has since expressed misgivings about the Starr report; in 2009, he wrote that Clinton should have been spared the investigation, saying that indicting a sitting president "would ill serve the public interest, especially in times of financial or national-security crisis."
Writing in the Minnesota Law Review, he suggested that Congress should pass laws that would protect a president from civil and criminal lawsuits until they leave office. He added that there was always a way to remove a "bad-behaving or lawbreaking President."
"If the president does something dastardly," he wrote, "the impeachment process is available."
The Senate has, as of this morning, voted to cut off the debate surrounding his nomination and will move to a final vote as early as tomorrow.