Actor Michael Fishman was just 6 years old when he began working on Roseanne in 1988 as DJ, Roseanne's son. While the show gave him his fame and start in acting, Fishman is now a 36 year old father with 2 children of his own.
On Tuesday afternoon, Fishman posted a statement to Twitter regarding Roseanne Barr's own recent Twitter activity, which ultimately led to the cancellation of the Roseanne reboot.
---
https://t.co/rLKGEHvl4f

— Michael Fishman (@Michael Fishman) 1527623036.0
On the subject of Roseanne's tweet about Valerie Jarrett yesterday, Fishman wrote:
My character was designed to represent the inclusive nature of my views. To represent portions of society often marginalized. In this moment it is important to be clear. We must stand-up against; bias, hatred, bigotry and ignorance to make society a better place for all."
And on Wednesday morning, his TV mom made sure he knew just how she feels about his statement.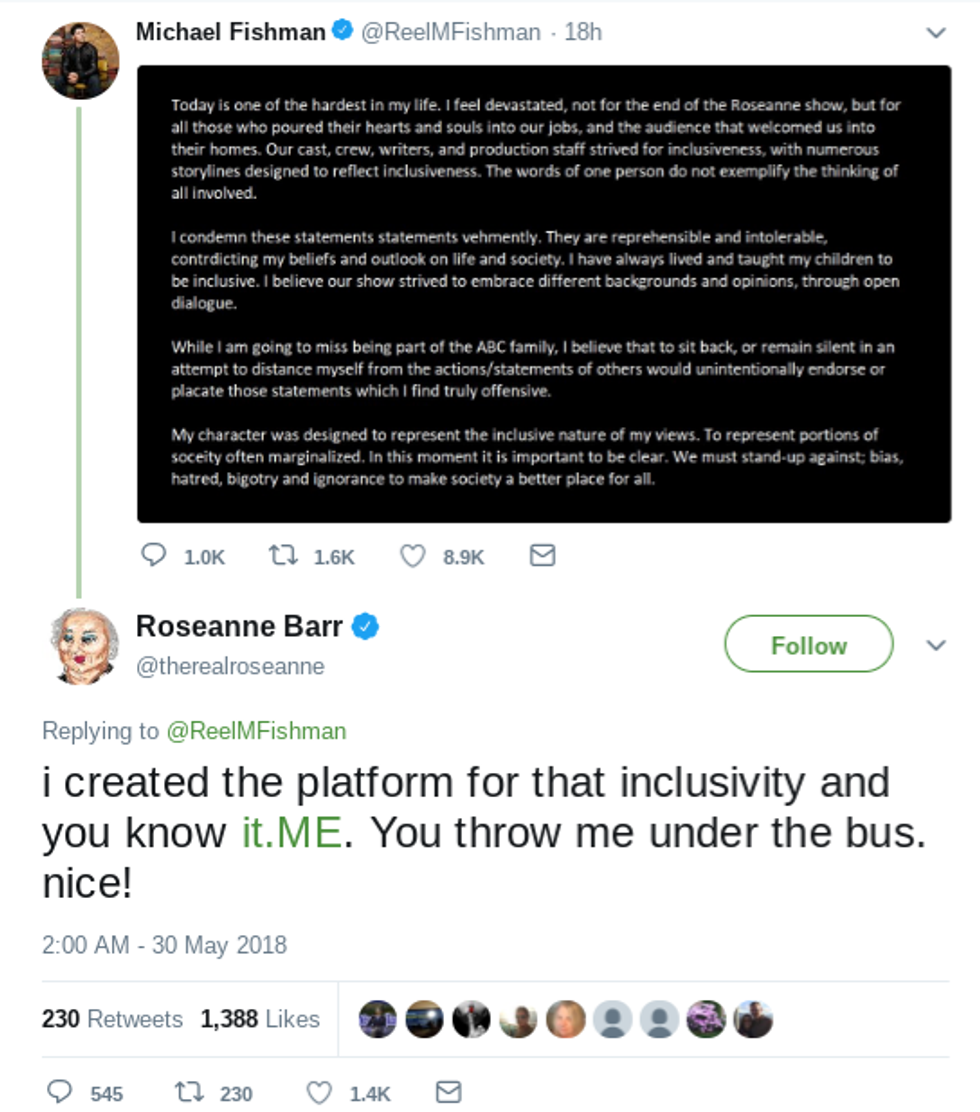 Roseanne Barr responds to Michael Fishman's statement. (Twitter)
The actress and former stand-up comic for whom the late 80s show and the new reboot was named, drew fire after a volley of vitriolic tweets aimed at Chelsea Clinton, George Soros, and, most consequentially, Valerie Jarrett.
In the aftermath of Barr's tweet storm, Fishman and his castmates found themselves unemployed. ABC executives decided Barr had finally gone too far in her conspiracy theory and bigoted social media activity.
In his statement, Fishman expresses his heartbreak over the show ending, but also clearly supports the decision to end the show.
"Today is one of the hardest in my life. I feel devastated, not for the end of the Roseanne show, but for all those who poured their hearts and souls into our jobs...," Fishman began his statement. "...The words of one person do not exemplify the thinking of all involved."
"I do condemn these statements statements (sic) vehemently," Fishman continued.
But Fishman also expressed his support of ABC's decision to cancel the show.
"While I am going to miss being part of the ABC family, I believe that to sit back, or remain silent in an attempt to distance myself from the actions/statements of others would unintentionally endorse or placate those statements which I find truly offensive."
They are reprehensible and intolerable, contradicting my beliefs and outlook on life and society. I have always lived and taught my children to be inclusive. I believe our show strived to embrace different backgrounds and opinions, through open dialogue."
Fishman was not the only member of Barr's TV family that she went after on Tuesday. Sara Gilbert, who was also an executive producer on the Roseanne reboot, posted her own statement on Twitter.
"Roseanne's recent comments about Valerie Jarrett, and so much more, are abhorrent and do not reflect the beliefs of our cast and crew or anyone associated with our show. I am disappointed in her actions to say the least."
Again, Barr chose to respond directly on Gilbert's own tweet.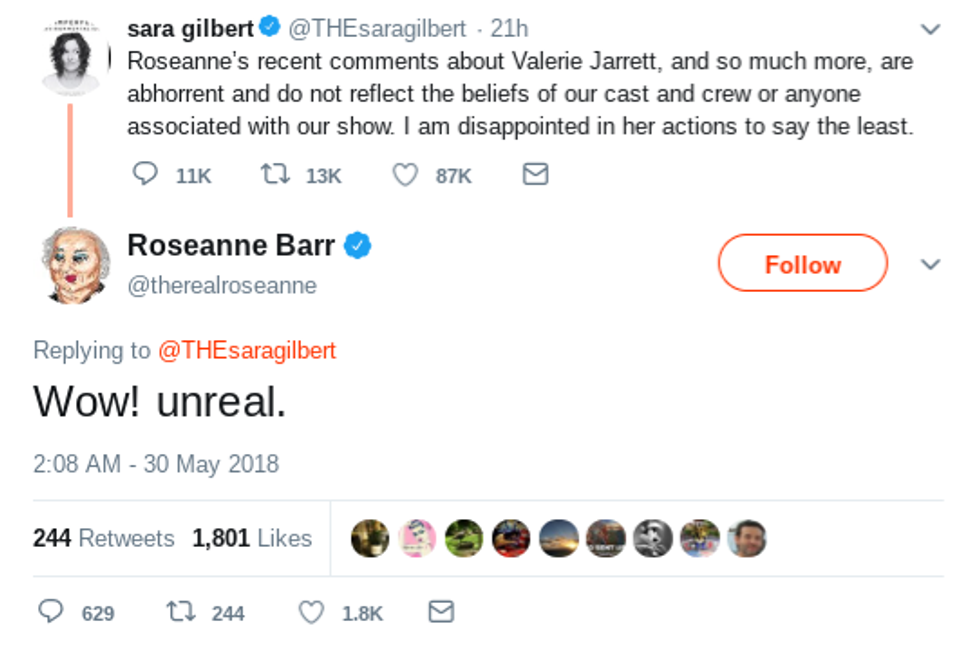 Roseanne Barr responds to Sara Gilbert. (Twitter)
Twitter users were divided in their responses to Fishman, Gilbert and Barr's own responses. Some thought Fishman and Gilbert owed Barr for their success and should remain loyal regardless of Barr's own personal choices.
@therealroseanne @ReelMFishman I thought it was wrong that anyone on the show spoke out. They would be nowhere if it weren't for you.

— Jennifer (@Jennifer) 1527675532.0
But not everyone saw it that way.
@guy22depor1 @therealroseanne @hendry_rc @THEsaragilbert No it's not she dont owe her nothing...Sara has her own fa… https://t.co/7E6HUD0YP5

— kraz'e coco (@kraz'e coco) 1527687760.0
@Gizmos_Mommy @Edmontreal @therealroseanne @ReelMFishman So if I get you a job that means you're entering into a so… https://t.co/wMG9hIFMzw

— Stephen King's "J Crowley" (@Stephen King's "J Crowley") 1527688055.0
Some applauded Fishman for sticking to his own principles, even in the face of losing his job.
@ReelMFishman Respect for you. Sad that this was needed.

— Always teach (@Always teach) 1527629432.0
@ReelMFishman Class act. Thank you.

— Amanda (@Amanda) 1527634852.0
@ReelMFishman It's a shame.... so nice to see you all back and now it's ruined. Michael, you grew up yo be a decent… https://t.co/pP9eFssbr8

— Jennifer Huffman (@Jennifer Huffman) 1527631839.0
However some criticized Gilbert for not going far enough in her statement.
@THEsaragilbert You are making a huge mistake by not advocating for her termination. You are selling out

— justice4all (@justice4all) 1527614670.0