Are you excited about President Donald Trump's Space Force? Roger Stone sure is, so much so that on Monday, he shared a picture to his Instagram of himself, Trump, and several other Trump inner-circlers wearing Space Force suits––that are embroidered with swastikas. It is unknown who created this disturbing masterpiece.
---
"Space Force all the way!"
Surrounding Trump are Representative Devin Nunes (R-CA), Trump's TV lawyer Rudy Giuliani, political operative and obvious meme genius Roger Stone, White House Press Secretary Sarah Huckabee Sanders, Vice President and Space Force brand ambassador Mike Pence, and Trump's Fox News therapist, Sean Hannity.
While the post has since been deleted, here's a screenshot for your viewing pleasure: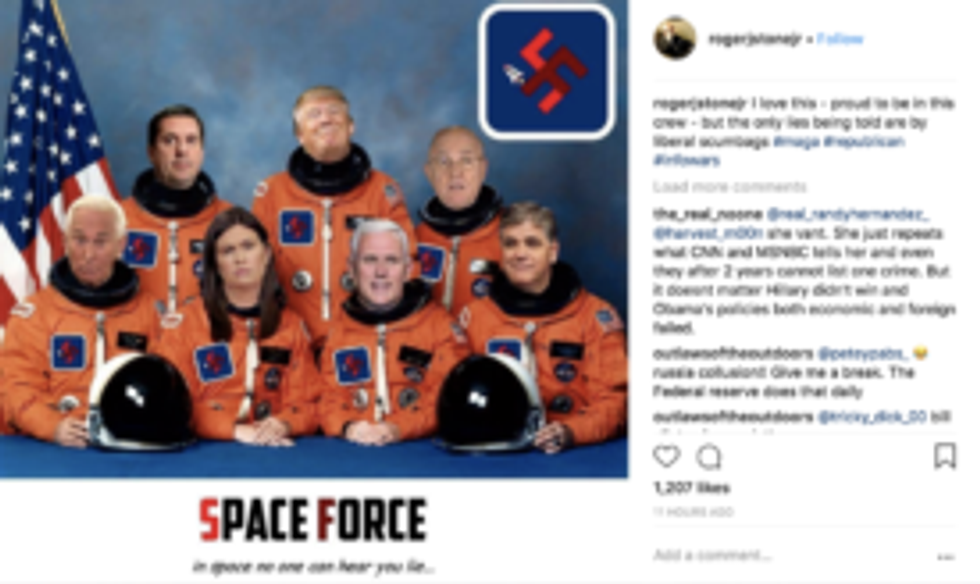 Stone, clearly not getting that this image is satire and shouldn't be taken as a compliment, added his own caption: "I love this - proud to be in this crew - but the only lies being told are by liberal scumbags #maga #republican#infowars."
Stone wrote that he is proud to be shown wearing a swastika, which isn't something that should ever be a thing.
The real question is: is Stone prouder of the swastika patch, or of his Richard Nixon tattoo?
Stone tried to twist the slogan, "in space, no one can hear you lie," to make it apply to liberals, rather than the president.
Because liberals lie their way through space, apparently, while Trump & Co. are pinnacles of truth.
Stone is currently a subject in Special Counsel Robert Mueller's investigation into the Russian attack on the 2016 election and its possible ties to the Trump campaign. Stone's connections to WikiLeaks and Guccifer 2.0, a hacking group suspected of carrying out Russia's cyber warfare operations, are of particular interest to Mueller.
On Monday, Stone expressed his willingness to cooperate with Mueller but under "no circumstance" would he testify against Trump, if it ever comes to that.
"First of all, I have nothing that I could say about him that would be negative," Stone told CNN's Erin Burnett on Outfront. "Secondarily, I'm just not going to do that."
We'll see.
Twitter exploded over the Space Force Nazi squad.
"Roger Stone found a way to simultaneously endorse Space Force and Nazis...
...What a stupid time to be alive."
"Just when you thought Stone couldn't be more unhinged..."
Are all right-wingers Nazis now? (No, of course not, but this doesn't help).
Liberals bad, swastikas NBD.
Roger Stone: Space Nazi.
Let's do more!
"They're ready. Send um up."
This.
Roger Stone is a smart guy, so why would he post this?
And we think he's sentient...
... but who knows anymore.