The death of Mollie Tibbetts has become a political talking point for conservatives since her body was discovered last week. The suspect, Cristhian Bahena Rivera, is a Mexican national who authorities say was in the country illegally; as a result, many Republicans, including President Donald Trump himself, have used the murder to make the case for harsher immigration legislation. But the father of the victim is not having it.
Speaking at his daughter's funeral service, Rob Tibbetts rejected the vitriol directed at the Hispanic community since Rivera was arrested for the murder.
---
"The Hispanic community are Iowans. They have the same values as Iowans," he said, according to the Des Moines Register. "As far as I'm concerned," he added, "they're Iowans with better food," highlighting how he ate at numerous Mexican restaurants while staying in Iowa for six weeks as authorities worked to locate his daughter.
The line drew applause from the more than 1,200 funeral attendees. Those following the case on social media also praised the grieving father.
If more Americans were like Rob Tibbetts, this country would work the way it's supposed to work. https://t.co/aj7w9eD4Pu

— Noah Smith 🐇 (@Noah Smith 🐇) 1535431911.0
It breaks my heart that Rob Tibbetts had to say this at his daughter's funeral: "The Hispanic community are Iowans.… https://t.co/sB5rGIiQn1

— Nora Walsh-DeVries (@Nora Walsh-DeVries) 1535420852.0
Astounding bravery from Rob Tibbetts...wish there were more McCains in Congress. #CountryOverParty "The Hispanic co… https://t.co/QXHENViuIO

— CJGilchrist (@CJGilchrist) 1535403930.0
Saying he wanted to celebrate "something wonderful," Tibbetts asked a newly married couple to stand up. The crowd applauded.
"That felt good. That's what Mollie would have done," he said.
"Let's try one more," he continued. "Let's hear it for the Bears football team — for their first win." The crowd applauded once more: Mollie's younger brother, Scott, who is the starting quarterback, helped lead the team to victory, scoring three touchdowns.
Tibbetts also asked the community to come together in honoring his daughter:
Today, we need to turn the page. We're at the end of a long ordeal. But we need to turn toward life — Mollie's life — because Mollie's nobody's victim. Mollie's my hero.

The person best equipped to help us through this is Mollie. So let's try to do what Mollie would do. Let's say what Mollie would say.
Other family members recalled Mollie's love for others. Morgan Collum, Mollie's cousin stressed that Tibbets was nonjudgmental and, as the Des Moines Register points out, "sought to find the good in everyone she met."
"Please, don't be mad at God for taking Mollie away from us," Collum told the crowd. "Rather, praise God for his perfect creation in making a soul so sweet, so pure and so caring to all."
The Reverend Corey Close, the pastor at St. Patrick Catholic Church in Brooklyn, Iowa, also encouraged the mourners to find inspiration in Mollie's  "bright, shining light" and "infectious joy and smiling."
"When I think of the life of Mollie Tibbetts and her tragic death, I wonder why she is gone and I am still here," he said, adding:
Do not let Mollie die in vain. Rededicate yourselves to live a good life, a faithful life, a life of goodness and compassion. It is so easy to be bitter, to feel like we have nothing to contribute. But Mollie's energy, her smile and her tenacity for doing good reminded me who I am called to be.
In recent days, the grieving family had demanded that "despicable partisans" not politicize Mollie's death.
There was significant backlash, for example, after conservative commentator Candace Owens used the death to rally for harsher immigration laws.
"How many more AMERICAN lives is the left willing to sacrifice for elections?" she asked.
Mollie Tibbits was killed by an illegal immigrant. There will be ZERO outrage from Democrats and the spineless cele… https://t.co/vlSoOmSFb6

— Candace Owens (@Candace Owens) 1534893993.0
Leftists boycotted, screamed, and cried when illegal immigrants were temporarily separated from from their parents.… https://t.co/SZ5OsjlkDm

— Candace Owens (@Candace Owens) 1534894264.0
The tweets prompted a response from Sam Lucas, a distant cousin, who demanded Owens stop "using my cousins [sic] death as political propaganda. take her name out of your mouth."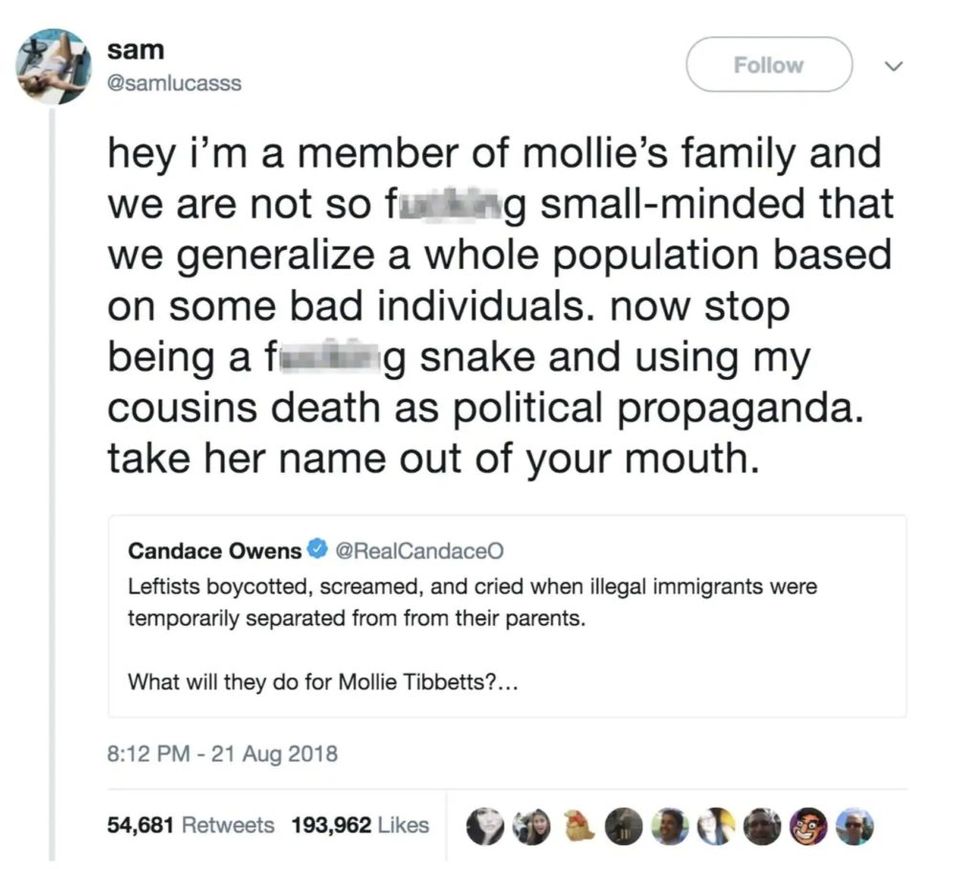 "I was just like, 'Holy cow, my family just lost a member and this is the immediate response,'" Lucas told The Washington Post last week.