When president-elect Donald Trump announced he'd chosen Rex Tillerson, the chief executive of Exxon Mobil, to be the next Secretary of State, he praised the business leader as a successful dealmaker who has made profitable deals with foreign countries for the world's largest energy company. In a statement, Trump lauded Tillerson as "a forceful and clear-eyed advocate for America's vital national interests" who would "help reverse years of misguided foreign policies and actions that have weakened America's security and standing in the world."
---
Several Republican establishment figures including former Secretary of State James Baker, former Secretary of State Condoleezza Rice and former Defense Secretary Robert Gates backed Tillerson for the position, according to an official on Trump's transition team. Their support will likely be instrumental in helping Tillerson ride out a confirmation battle in the Senate which would scrutinize the billionaire's stake in Russia's energy industry. Another source on Trump's transition team revealed that Trump judged in making the pick that Tillerson could address questions about his ties to Russia.
Senator John McCain (R-Arizona) voiced his concerns about Tillerson's appointment in an interview with reporters: "I have concerns. It's very well known that he has a very close relationship with Vladimir Putin."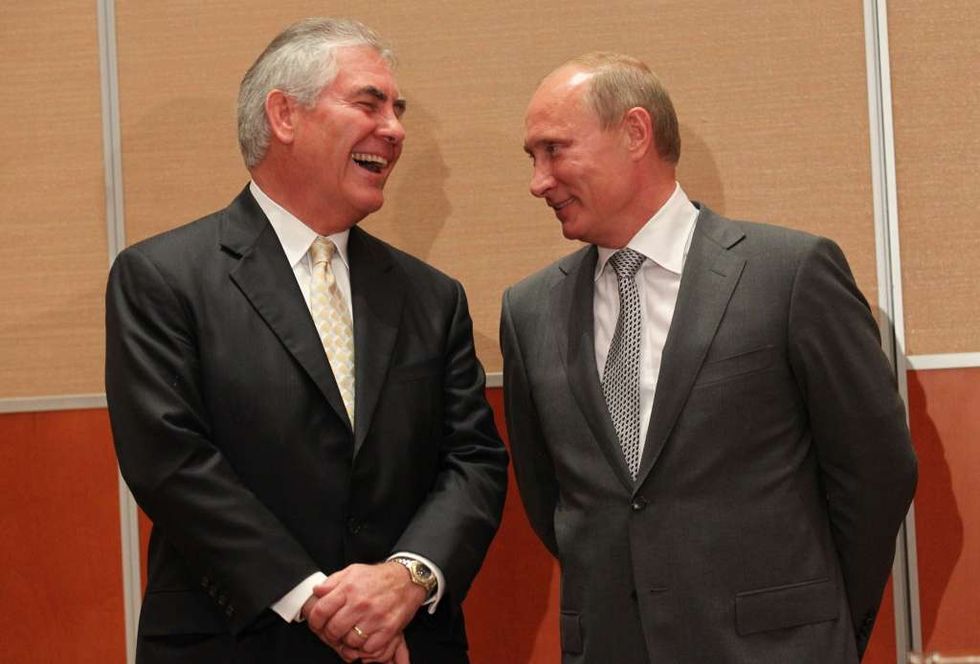 Rex Tillerson and Vladimir Putin. (Credit: Source.)
In fact, Tillerson has had close ties with Putin since he represented Exxon's interests in Russia during Boris Yeltsin's premiership. He has developed close ties with the Kremlin leadership ever since and has indicated that the country has vast potential as an oil supplier. In 2013, Putin bestowed a state honor. the Order of Friendship, on Tillerson, and cited his work "strengthening cooperation in the energy sector."
According to Robert Weissman, the president of Public Citizen, a public interest group based in Washington, the "chances" that Tillerson "will view Russia with Exxon Mobil DNA are close to 100 percent." Michael T. Klare, a professor at Hampshire College and the author of The Race for What's Left, about the rush for oil in the thawing Arctic, reiterates Weissman's concerns: "In these negotiations, one has to wonder what would influence the types of deals he is making," he said. "Questions arise over whether his actions would be benefiting his company or the interests of the United States and its allies."
Under Tillerson's leadership, Exxon stood to make an enormous profit drilling in Russia's Arctic region despite U.S. sanctions against Rosneft, its Kremlin-controlled partner. The sanctions, which were in retaliation for Russia's lethal intervention in eastern Ukraine, sent the deal––which Russian officials optimistically projected at $500 billion––grinding to a halt.
Tillerson, who is set to retire next year and, according to company filings, owns $218 million in company stock and has a $70 million pension plan, has openly criticized American policy. At Exxon's 2014 annual meeting, for example, Tillerson said: "We do not support sanctions, generally, because we don't find them to be effective unless they are very well implemented comprehensibly, and that's a very hard thing to do. So we always encourage the people
who are making those decisions to consider the very broad collateral damage of who are they really harming."
At a 2015 conference in Houston, Tillerson said Exxon looked forward to the sanctions being lifted so Exxon could pursue currently blocked oil projects: "We'll await a time in which the sanctions environment changes or the sanctions requirements change," he said at the time.
In a statement, Alan Jeffers, an Exxon Mobil spokesman, stressed that Exxon follows the law: "If a law says that a U.S. corporation is not allowed to participate in activities in a particular jurisdiction, that's what we do," he said.
But Tillerson's critics suggest that Tillerson's appointment will result in major conflicts of interest, blurring already thin lines of diplomacy.
"Exxon has been willing to engage in practices that make it a first-round contender for new Russian assets," says Robert Amsterdam, a lawyer for the Russian tycoon Mikhail B. Khodorkovsky. "The way you do that is coming as close to the line as humanely possible to support the Russians" without breaking the law."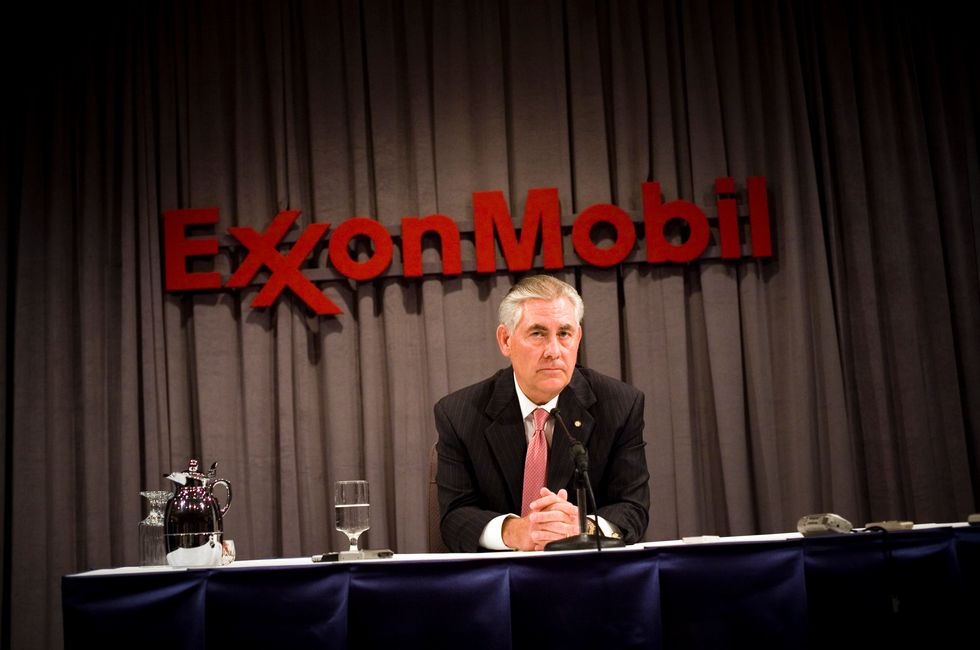 Credit: Source.
Raymond C. Offenheiser, president of anti-poverty organization Oxfam America, said his group questioned how Tillerson would "balance the pressure to transact short-term deals against his larger responsibility to strengthen the rules and institutions that protect economic hope and fundamental human rights for so many on the planet." He added that under Tillerson's leadership, "Exxon has continued to work to undermine climate science." (Exxon has continued to deny charges that it knew about the link between fossil burning fuels and climate change before a scientific consensus.)
For his part, Tillerson appeared to be in the good graces of the president-elect even before he confirmed Tillerson would be his ultimate choice. In an interview with Fox News on Sunday, Trump called Tillerson "a world-class player," saying that "he is much more than a business executive."
Speaking in Moscow on Monday, American oil industry consultant Carter Page, who served as Trump's foreign policy adviser during his presidential campaign, congratulated Tillerson, saying he was "excited" about the possibility of private sector business opportunities between Russia and the United States. "What makes me excited about new possibilities is the chance to really work on new things to improve more from a business standpoint," he said.