*This article has been updated.
On Tuesday afternoon, Native Twitter began to spread news first reported by The Kansas City Star concerning Sharice Davids, a member of the Ho-Chunk Nation. Davids is the Democratic candidate for Kansas' Third Congressional District challenging the Republican incumbent, Representative Kevin Yoder.
---
Indian Country Today picked up the story and from there it began to spread on social media.
The issue concerned Michael Kalny—an elected GOP official in Kansas—and a Facebook message he sent to Anne Pritchett, president of the Johnson County Democratic Women's north chapter. In his Sunday night Facebook message, Republican precinct committeeman Kalny stated:
"Little Ms. Pritchett- you and your comrades stealth attack on Yoder is going to blow up in your leftist face. The REAL REPUBLICANS will remember what the scum DEMONRATS tried to do to Kavanaugh in November."
"Your radical socialist kick boxing lesbian Indian will be sent back packing to the reservation."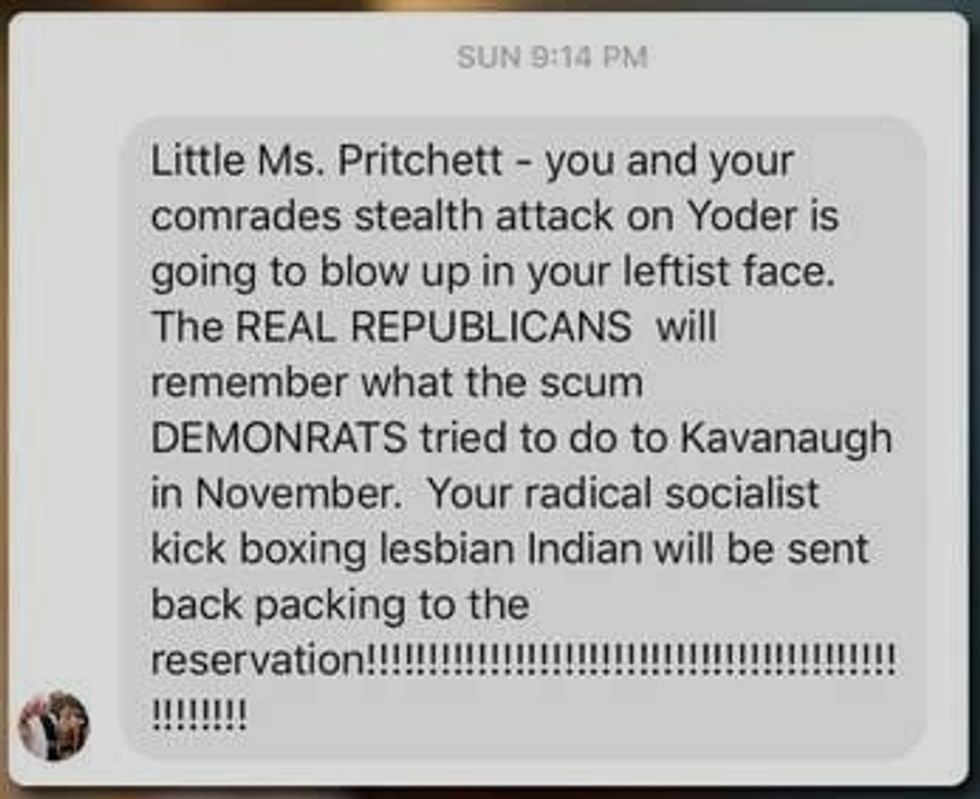 Facebook message from Michael Kalny to Anne Pritchett. (Twitter)
Indian Country Today characterized the GOP official's comments as "Mean. Sad. Racist." when they shared the story on Twitter.
However when asked for comment about the racist, sexist and homophobic attack against her, Davids remained gracious toward the GOP. She stated:
"[Kalny's message] doesn't represent Kansas values, and it doesn't represent the values of the Republicans we know, many who support this campaign."
Native leaders and activists amplified the story and corrected one of Kalny's assumptions about "Indians."
Davids grew up on military bases, not a reservation. Many Natives in the United States have never lived on a reservation.
Davids' single Mother was a member of the US Army for over 20 years followed by a career in civil service at the US Post Office. Davids graduated from Leavenworth High School and considers herself a proud Kansan.
As Native people continued to spread the story to let people know the type of comments Native people routinely face...
...it came to the attention of EMILY's List—an organization that aims to help elect Democratic female candidates. EMILY's List had previously endorsed Davids. Davids also earned endorsements from former President Barack Obama and Vice President Joe Biden.
From there, the word spread quickly with people pledging their support for the "radical socialist kick boxing lesbian Indian." More than a few had a message for Kalny as well regarding his choice of insults.
People did not think being a "radical socialist kick boxing lesbian" Native was a bad thing.
Some mentioned Davids' participation in amateur mixed martial arts or MMA.
Many encouraged people to donate to Davids' campaign and to vote to make a statement against racism, sexism and homophobia.
And Anne Pritchett—the woman the message was sent to—made her own statement on Twitter.
The Kansas City Star reached out to Kalny by phone for a comment. He identified himself as a GOP precinct committeeman—an elected position that represents political parties on a precinct's behalf.
When asked about the message, Kalny first asked "what is this lady trying to accomplish?" Then stated he needed to talk to his attorney and hung up.
On Wednesday the Kansas GOP announced Kalny had resigned.
To learn more about Sharice Davids background, you can visit her campaign website's "About" page or her YouTube channel. This video gives some information on Davids' life story.
[youtube https://www.youtube.com/embed/wKn8sAg7xjE?rel=0&showinfo=0 expand=1]
Midterm elections are slated for Tuesday, November 6, 2018.