Rachel Maddow explained why special counsel Robert Mueller's investigation would continue even if President Donald Trump succeeded at shutting it down.
"There's been a ton of ink and a ton of––for us––breath exhausted over the issue of whether the president is going to end the Russia investigation by shutting down Robert Mueller and the special counsel's office," Maddow said on her show last night. "Turns out those two things may no longer be related: shutting down Mueller and shutting down the investigation."
---
She continued: "We've got a new filing from Mueller's prosecutors that shows they have taken, in yet another step to ensure the continued existence of their investigation even in the event that the special counsel's office somehow gets raptured to Heaven and disappeared by President Trump. And this is a clear pattern now, they're doing it again and again and again."
Maddow pointed to the Mueller team's decision to refer the raid of Trump attorney Michael Cohen's home, office, and hotel room to the U.S. attorney's office in New York.
"It's New York federal prosecutors that are running that investigation into the president's personal attorney now," she said. "If the special counsel's office goes away, the Michael Cohen investigation will not go away."
She went on:
We saw the same principle at work when the special counsel's office declared in open court that it wasn't their own decision to bring charges against Trump campaign chair Paul Manafort... The Justice Department's tax division signed off on the tax-related charges against Manafort, and the national security at DOJ signed off on other charges against him. So separate and apart from the special counsel's office, those charges exist and have been approved elsewhere in the Justice Department. Making the special counsel's office go away doesn't make those charges go away.

We saw it also when Mueller's team went out of their way to make the point, again in open court, that somehow, if magically Mueller was disappeared and the special counsel's office was no longer impaneled in these investigations, the investigations would persist.
She then quoted the following: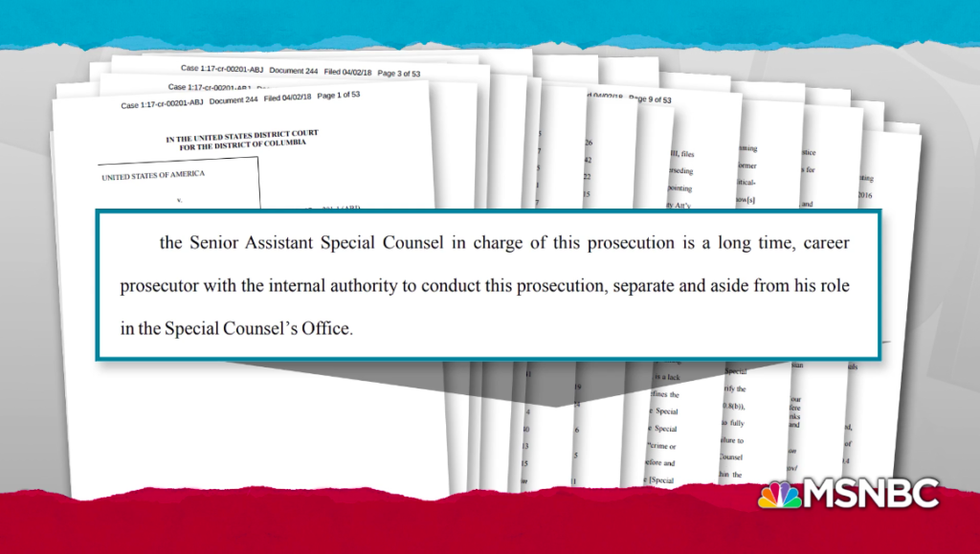 "And now we're seeing it again, even more so," she said.
Late last night we got new filings––in the Manafort case––and in these new filings and in a couple of footnotes (all the best stuff is in the footnotes) the government tells the court that the search warrants that were executed in Paul Manafort's home and a storage unit he has in Virginia, those warrants didn't come from the special counsel's office.
She quoted the following: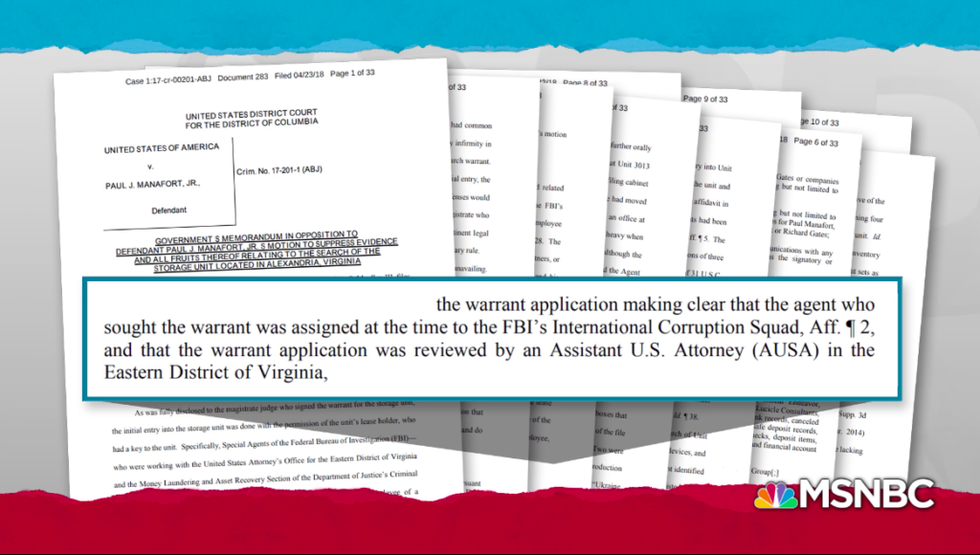 "So out of all the political anxiety of Robert Mueller being fired or what the president could do to make the special counsel's office go away, the special counsel's team has already rooted their investigation in all these other parts of the Justice Department and law enforcement," she said. "So even if you chop down the special counsel's office, its roots presumably will survive."
Paul Manafort, who once served as President Donald Trump's campaign manager before a shake-up in the summer of 2016 which landed Kellyanne Conway the position, was charged, along with his longtime business partner Rick Gates with 12 counts of "conspiracy against the United States, conspiracy to launder money, unregistered agent of a foreign principal, false and misleading FARA statements, false statements, and seven counts of failure to file reports of foreign bank and financial accounts."
Prosecutors have rebuffed Manafort's counsel's arguments that evidence seized last summer by FBI agents from his home and storage unit was unlawfully obtained. Last year, Mueller's team rejected Manafort's request to modify the terms of his house arrest. Mueller's investigators allege "as late as November 30, 2017, Manafort and a colleague were ghostwriting an editorial in English regarding his political work for Ukraine." The colleague: a Russian intel-connected individual.
Michael Cohen has found himself at the center of the questions regarding a payment Stephanie Clifford, an adult film actress better known as Stormy Daniels, received from him as part of the non-disclosure agreement to keep her from discussing a sexual encounter with Trump back in 2006, while he was married to his current wife, Melania, and just a few months after Melania gave birth to their son, Barron. A separate lawsuit filed by Clifford contends that Cohen initiated a "bogus arbitration" hearing against her without notifying her beforehand, and a copy of the restraining order against Clifford confirms that the judge made a "one-party" ruling that did not require her to be notified.
Cohen has claimed that he paid Clifford out of his own pocket and that the president never reimbursed him for the settlement. But during a highly publicized 60 Minutes broadcast, Clifford's attorney, Michael Avenatti, presented documents showing that the payment was sent to Cohen at his Trump Tower location, and communicated through his official Trump Organization email, indicating that he made the payment on Trump's behalf. Analysts have posited that the exchange of funds could well be an illegal campaign expenditure on Trump's behalf.