In a twist completely apropos for 2018, Purdue Pharma, the maker of OxyContin, has received a patent for a medication designed to treat opioid addiction. Purdue Pharma is largely considered to be responsible for the current opioid epidemic.
The patent is not for an entirely new medication; rather, it is for a new and fast-acting form of an existing medication: buprenorphine.
---
One popular form of buprenorphine is sold under the name Suboxone. The medication acts as an opioid replacement. It works by controlling drug cravings and is used as an alternative for individuals hooked on painkillers or heroin. The current method of transmission for buprenorphine is a sublingual strip or tablet that dissolves under the tongue — something that can take up to 15 minutes to dissolve. The new form would be given in wafer form, dissolving in just a matter of seconds.
"While opioids have always been known to be useful in pain treatment, they also display an addictive potential. Thus, if opioids are taken by healthy human subjects with a drug-seeking behaviour they may lead to psychological as well as physical dependence," the patent states.
OxyContin was originally created in 1995 by Purdue Pharma, and heavily marketed as a miracle painkiller. The marketing campaign was aggressive and eventually led to OxyContin becoming the most widely prescribed opioid medication. Even though sales have declined in recent years, the company still grossed over $2 billion in sales from the medication.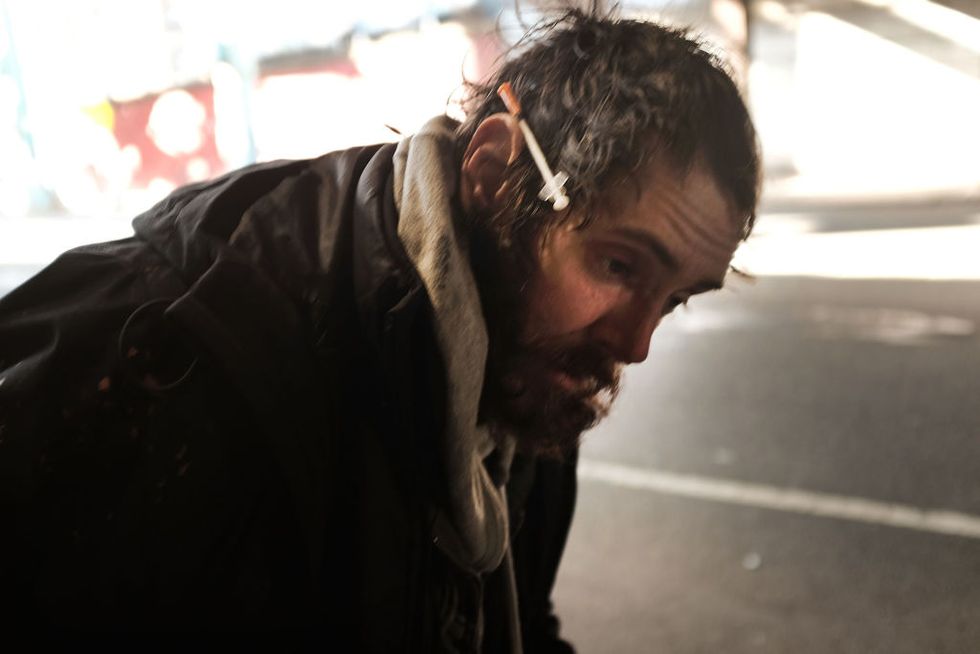 PHILADELPHIA, PA - JANUARY 24: A man uses heroin under a bridge where he lives with other addicts in the Kensington section of Philadelphia which has become a hub for heroin use on January 24, 2018 in Philadelphia, Pennsylvania. Over 900 people died in 2016 in Philadelphia from opioid overdoses, a 30 percent increase from 2015. As the epidemic shows no signs of weakening, the number of fatalities this year is expected to surpass last year's numbers. Heroin use has doubled across the country since 2010, according to the DEA, part of an epidemic. Officials from Philadelphia recently announced that they want to become the first U.S. city to allow supervised drug injection sites as a way to combat the opioid epidemic. (Photo by Spencer Platt/Getty Images)
In recent years, Purdue Pharma has been associated with numerous lawsuits related to the opioid epidemic. The Sackler family, which controls Purdue, was personally named in one of the lawsuits this past June. The Massachusetts Attorney General accused the family of a "deadly, deceptive scheme to sell opioids."
For the most part, Purdue Pharma denies any culpability and deceptive practices. In a statement to CBS News, the company stated that all of their practices have been above board.
"Purdue is confident that its past marketing and sales of its prescription opioid medications have been consistent with the information contained in the FDA-approved label as the agency oversees the risks and benefits of prescription medications. Additionally, FDA has, and continues to, rigorously assess the science and medical practice around the appropriate treatment of chronic pain, while simultaneously working hard to ensure that our society suffers less from the scourges of prescription opioid abuse and addiction. Purdue is committed to working collaboratively with all those impacted by this public health crisis to help stem the tide of opioid-related deaths and addiction."
More than 72,000 people died from drug overdoses in 2017. That death count is higher than the yearly death tolls from HIV, car crashes or gun deaths. According to the CDC, 48,000 people died from opioid-related overdoses in the last year. Since 2013, 170,000 opioid-related deaths have occurred. The death toll, as caused by opioids, is staggering and epidemic. It's tremendously ironic that a company largely credited for contributing to the addiction epidemic would now want to profit from its treatment.
As that death toll related to overdose and addiction continues to rise, something needs to be done on a systemic level. We need a solution based on new health initiatives, public health, and stigmatization, rather than allow the company which largely created the problem to continue to profit from it.