[Digest: Bloomberg; Daily News; Reuters]
Widely despised pharmaceutical CEO Martin Shkreli, who earned his notoriety by artificially inflating the price of a life-saving AIDS medication by 5,000%, was arrested at his home in Manhattan on Thursday.
---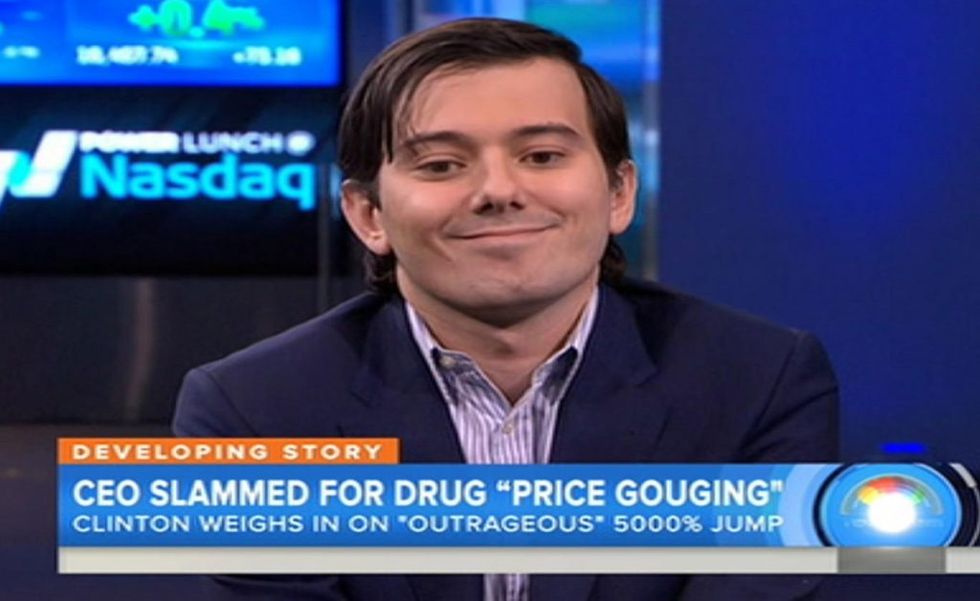 Credit: Source.
32-year-old Shkreli was taken into custody by the FBI early on Thursday morning for securities fraud. The charge is the result of an ongoing investigation into Shkreli's biotech firm and hedge fund.
The charges do not appear to be related to his tenure as CEO of Turing Pharmaceuticals and KaloBios Pharmaceuticals Inc.
Reuters reports that shares of KaloBios fell 53% in premarket trading.
Evan Greebel, a New York City attorney, was also arrested. Shkreli and Greebel will likely appear 
at an arraignment on Thursday afternoon.
Shkreli founded his biotechnology firm, Retrophin, in 2011. He is accused of illegally using funds from the firm's stock to pay off debts incurred by his hedge fund, MSMB Capital Management. The Securities and Exchange Commission is expected to file a civil lawsuit against Shkreli as well.
The controversial pharma CEO is best known for dramatically raising the price of Daraprim, a drug that is commonly used to protect cancer and AIDS patients from life threatening ailments.
The drug, which costs about $1 to produce, was being sold for $13.50 per tablet; Shkreli raised that price to $750.
The move sparked a massive public outcry. Shkreli was called "the most hated man in America," and even Donald Trump called him "a spoiled brat."
Shkreli recently made headlines for his purchase of the only copy of a Wu Tang album. He spent millions of dollars on the purchase, and reportedly has no plans to actually listen to it.