After an FBI raid on his personal lawyer's residence and office, President Donald Trump increased calls for an end to the Russia probe and a narrowing of its scope. Based on a new poll by The Washington Post and ABC News, the people of the United States disagree.
The president suggests the investigation focus only on Russian collusion, and ignore things such as the potential bank fraud and campaign finance violations committed related to $280,000 in payouts made by his lawyer, Michael Cohen, and The National Enquirer.
---
....doing things that nobody thought possible, despite the never ending and corrupt Russia Investigation, which tak… https://t.co/UWNTYIUvlU

— Donald J. Trump (@Donald J. Trump)1523443657.0
In response to the president's calls for any investigation of himself or members of his administration or his campaign ignoring any other crimes committed by those individuals, outside of collusion with Russia, The Washington Post and ABC News conducted a poll April 8-11, 2018.
The 8 question poll covered "Support for Mueller investigation and views of fired FBI Director Jim Comey."
For the question "A special counsel at the U.S. Justice Department, Robert Mueller, has been investigating possible collusion between Trump's campaign and Russian govt to influence the 2016 election. Do you support or oppose Mueller investigating this issue?", the poll found 69 percent support Mueller, 25 percent oppose Mueller, and 6 percent had no opinion.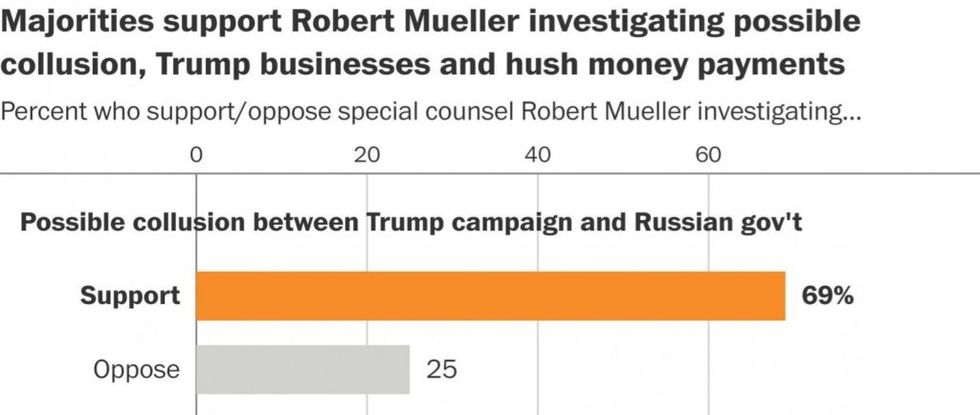 April 8-11, 2018 poll by The Washington Post-ABC News (Emily Guskin/The Washington Post)
On the question "Do you support or oppose Mueller investigating Trump's business activities?", the results were 64 percent supported inquiries into Trump's businesses, 64 percent supported such a probe, 32 percent opposed it, and 4 percent had no opinion on the matter.
For the question "Do you support or oppose Mueller investigating allegations that Trump's associates paid hush money to women who say they had affairs with him?", support came from 58 percent of respondents, opposition from 35 percent, with 7 percent having no opinion.
The demographic breakdown of the poll included 35 percent independents, 32 percent Democrats, 25 percent Republicans, 5 percent from another political party, with 3 percent having no opinion on their political affiliation. The demographic breakdown resembles that of the United States with the majority of Americans now considering themselves voters independent of any political parties.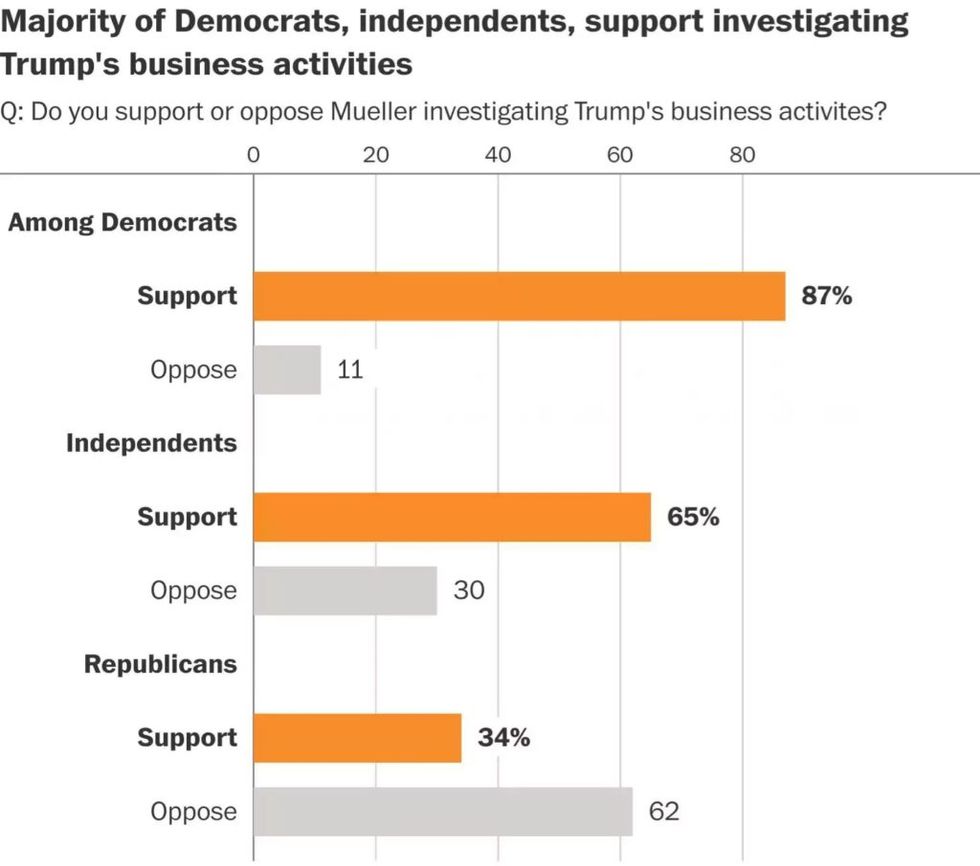 April 8-11, 2018 poll by The Washington Post-ABC News (Emily Guskin/The Washington Post)
The poll began Sunday and ended Wednesday. Interviews overlapped the Monday raid of the home and office of Michael Cohen, longtime Trump attorney and confidante. FBI agents acted on a duly signed warrant from the Manhattan-based U.S. attorney's office following a referral of potential criminal activity from Mueller.
Among the records seized were communications between Cohen and Trump and records related to a 2016 payment Cohen made to adult-film star Stephanie Clifford, aka Stormy Daniels. The payment just before the November 2016 presidential election, if made with campaign funds, could violate federal law.
The results of the poll were shared on Twitter, with more public comment as a result.
A majority of Americans support Mueller investigating Trump's campaign, Trump's business activities and hush money… https://t.co/EwZJxw1VkF

— Mark Berman (@Mark Berman)1523620860.0
Of course, Rasmussen polling had a completely different take on the matter.
Robert Mueller approval rating drops 14 points after raid on @realDonaldTrump, finds Rasmussen. Majority of America… https://t.co/YWX8Xywu35

— Stonewall Jackson (@Stonewall Jackson)1523553139.0