According to a new poll by Gallup and Sharecare, a health services company, American well-being under President Trump dropped in 21 out of 50 states and failed to improve in a single one. This is the first time in almost a decade a presidential administration performed so badly.
According to their report, the Gallup-Sharecare Well-Being Index "includes more than 2.5 million surveys" and "captures how people feel about and experience their daily lives." The report examines well-being across the United States in five elements of well-being:
---
• Purpose: liking what you do each day and being motivated to achieve your goals
• Social: having supportive relationships and love in your life
• Financial: managing your economic life to reduce stress and increase security
• Community: liking where you live, feeling safe, and having pride in your community
• Physical: having good health and enough energy to get things done daily
South Dakota moved to the top spot in 2017 with a well-being score of 64.1 out of 100, followed by Vermont and Hawaii. Along with Colorado, Hawaii is the only state that maintained a position in the top 10 ranking every year since the index began in 2008.
The bottom six spots were taken by states considered part of the American south:  Kentucky, Oklahoma, Mississippi, Arkansas, Louisiana, and West Virginia. All 6 of the lowest scoring states voted for Trump in 2016. West Virginia ranked 50th in well-being for the 9th year in a row.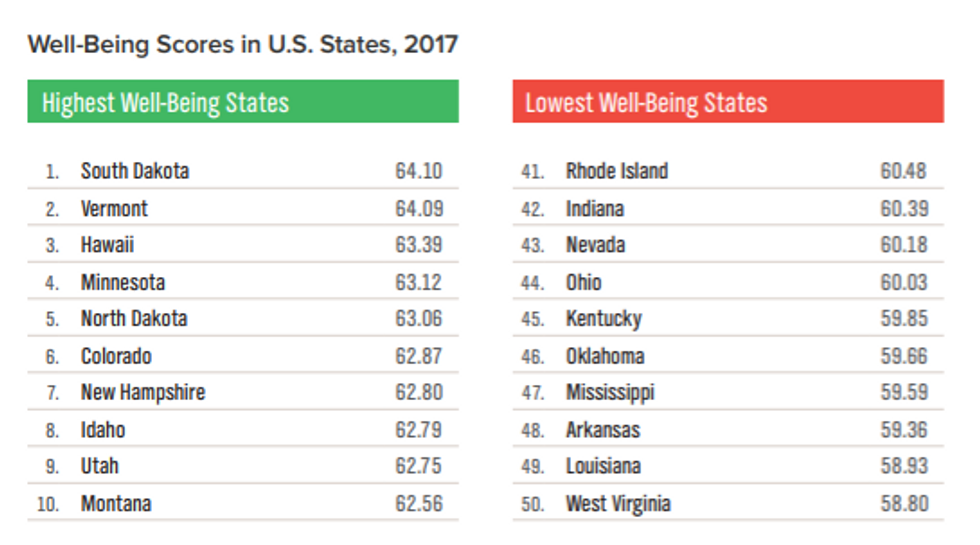 2017 State of American Well-Being (Gallup-Sharecare)
Overall, Americans' well-being dropped from 62.1 in 2016 to 61.5 in 2017, the largest single year drop since the survey was created in 2008. A record number of states, 21, showed a drop in well-being. The previous record was a 15 state drop in 2009 at the beginning of the recession.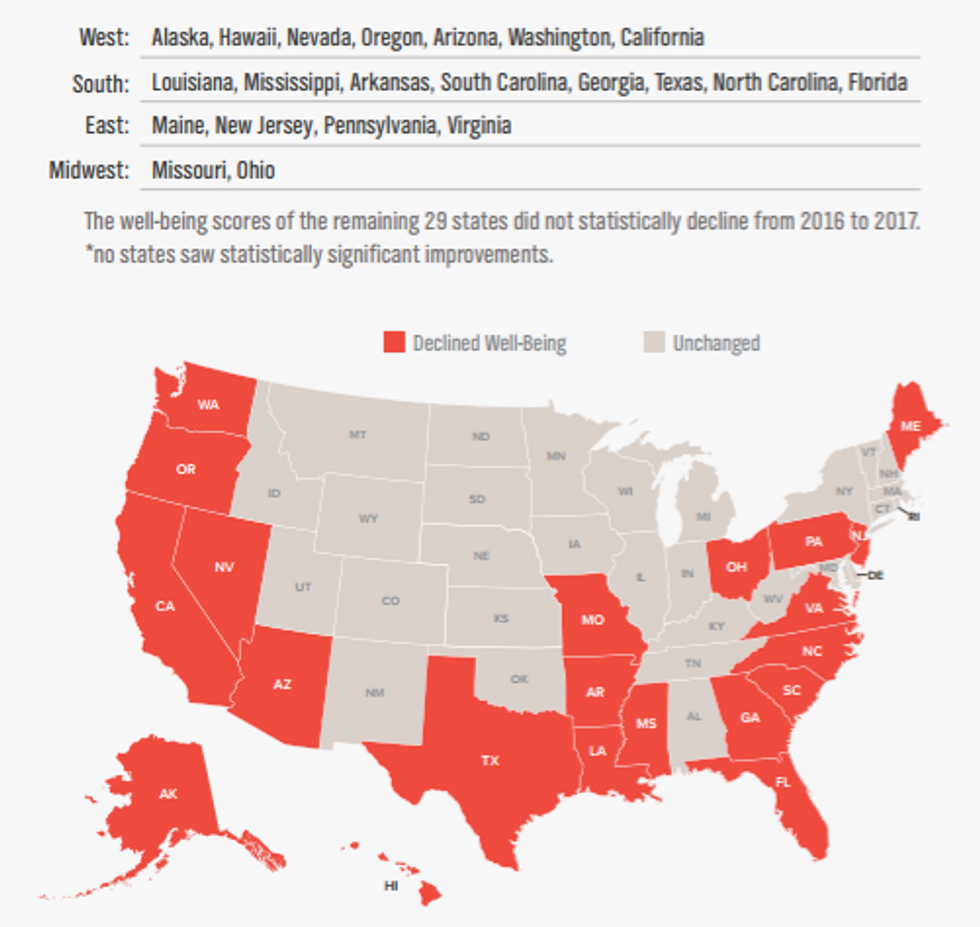 State by state 2017 well-being results (Gallup-Sharecare)
For the first time ever in the poll's 9 year history, not a single state recorded an increase in well-being. The survey results coincide with the beginning of the Trump presidency. They also mirror other polls regarding the overall feeling of Americans about the direction and future of the United States under Trump.
"This past year showed promising improvement in several behaviors associated with healthy living, yet it also serves as a wake-up call to remind us that the inner hallmarks of well-being deserve our attention," said Ashlin Jones, vice president of research and advanced data science at Sharecare.
As we look toward improving all aspects of well-being, organizations and leaders across the states will be challenged to bridge innovation with evidence-based best practices to create positive change within their respective populations."
According to the report, Americans worried more, felt "little pleasure" in activities, received diagnoses of depression, experienced more physical pain daily and reported a drop in "positive energy from friends and family."
President Trump generally doesn't Tweet about unfavorable polls, but others certainly are.
After 160,000 interviews in 50 states, Gallup & Sharecare digital health concluded Americans are more depressed & m… https://t.co/v9qQjFhC8f

— Sandra Smith (@Sandra Smith) 1518555930.0
"This week, Gallup and Sharecare released 2017 results from the Gallup-Sharecare Well-Being Index, which found sign… https://t.co/O2iwgG1DhX

— Lead With Love (@Lead With Love) 1518563700.0
2017 Gallup-Sharecare Well-Being Index results are out. It "painted a bleak picture of the well-being of Americans.… https://t.co/dDkIVtpkKq

— Ertel & Company, Inc (@Ertel & Company, Inc) 1518531262.0