The CIA concluded in a secret assessment presented to lawmakers that Russia intentionally interfered in the 2016 presidential election––specifically to help Donald Trump win. In previous assessments, the CIA characterized Russia's motivations as an attempt to undermine the electoral process. But those assessments always stopped short of saying that Moscow's goal was to help elect Trump.
According to officials briefed on the matter who spoke to The Washington Post, intelligence agencies have identified individuals with connections to the Russian government who provided WikiLeaks with thousands of emails from the Democratic National Committee and others, including those of John Podesta, Hillary Clinton's campaign chairman. U.S. officials described these individuals as "actors" known to the intelligence community who are part of a larger Russian espionage operation targeting the presidential race.
"It is the assessment of the intelligence community that Russia's goal here was to favor one candidate over the other, to help Trump get elected," said a senior U.S. official briefed on an intelligence presentation made to U.S. senators. "That's the consensus view."
Officials within the administration presented their evidence to key senators in a secure room in the Capitol used for briefings involving classified information. They laid out evidence collected by U.S. spy agencies showing Russia's role in cyber-intrusions in at least two states and in hacking the Democratic organizations and individuals. Officials who spoke with reporters on condition of anonymity revealed that agency briefers told the senators that it was now "quite clear" that electing Trump was Russia's goal. These briefers also urged the senators to join a united bipartisan front to combat, as one official described, "the threat posed by unprecedented meddling by a foreign power in our election process."
The Democrats in attendance unanimously agreed on the need to take the threat seriously. At least two Republican lawmakers, however, were reluctant. Several officials have confirmed that one of these was Kentucky Senator Mitch McConnell, whose wife, Elaine Chao, was recently nominated by the president-elect for Transportation Secretary. They told reporters that the adamant McConnell said he would consider any attempt by the Obama administration to challenge the Russians publicly a partisan act. Other Republicans who attended the briefing expressed concerns about going public with the allegations in the final stages of an election, arguing that they would only strike a blow to already shaken public confidence and give Moscow the upper hand.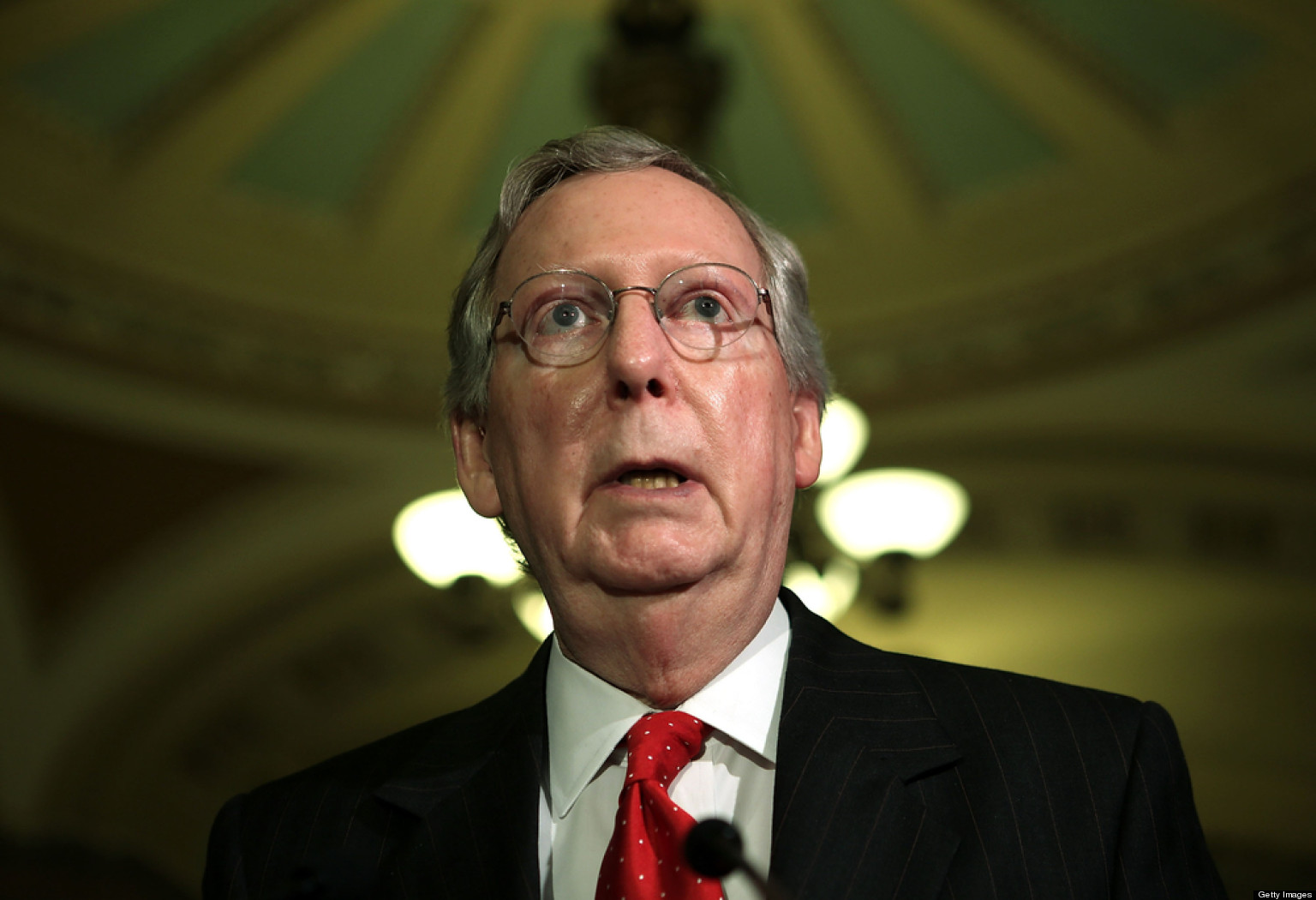 The president-elect's transition team issued a terse response to the CIA's allegations, and their statement sparked concerns within the intelligence community that Trump risks a rift with the same community on which he will rely for assessments of the greatest threats facing the nation.
"These are the same people that said Saddam Hussein had weapons of mass destruction," they said. "The election ended a long time ago in one of the biggest Electoral College victories in history. It's now time to move on and 'Make America Great Again.'"
Trump has continuously dismissed the assessment from U.S. intelligence that it was confident that Russia was behind the hacks, a belief he expounded upon in an interview with TIME, in which he suggested that the conclusion of Russian interference was politically motivated:
I don't believe they interfered. That became a laughing point, not a talking point, a laughing point. Any time I do something, they say 'oh, Russia interfered.'

Why not get along with Russia? And they can help us fight ISIS, which is both costly in lives and costly in money. And they're effective and smart.

It could be Russia. And it could be China. And it could be some guy in his home in New Jersey.

I believe that it could have been Russia and it could have been any one of many other people. Sources or even individuals.
Trump's statements continued to raise questions about Trump's Russian ties and continued affinity for Moscow despite the concerns of 17 intelligence agencies that Russian interference has heightened geopolitical tensions.
According to Politifact, the Pulitzer Prize-winning fact-checking service:
The 17 agencies are: Air Force Intelligence, Army Intelligence, Central Intelligence Agency, Coast Guard Intelligence, Defense Intelligence Agency, Energy Department, Homeland Security Department, State Department, Treasury Department, Drug Enforcement Administration, Federal Bureau of Investigation, Marine Corps Intelligence, National Geospatial Intelligence Agency, National Reconnaissance Office, National Security Agency, Navy Intelligence and the Office of the Director of National Intelligence.

The 17 separate agencies did not independently declare Russia the perpetrator behind the hacks… However, as the head of the 17-agency intelligence community, the Office of the Director of National Intelligence, headed by James Clapper, speaks on behalf of the group.
The president-elect's comments received sharp rebukes from both sides of the aisle, amid concerns that he would block inquiries from proceeding. Earlier this week, Democratic Reps. Eric Swalwell (D-California) and Elijah Cummings (D-Maryland) proposed the "Protecting Our Democracy Act," legislation to create a 12-member bipartisan, independent commission to investigate Russian meddling. The commission would operate with an initial budget of $3 million,
To read more, please continue to page 2.