The United States is the largest operator of military bases outside their own borders, with 38 "named bases" or permanent installations. After the end of the cold war, locations for United States military bases opened up in once communist controlled countries.
One such country was Poland. NATO opened the Joint Force Training Centre (JFTC) in Bydgoszcz, Poland, in 2004. During the Iraq War—when Germany did not join United States forces—the Department of Defense looked at moving some military installations out of Germany and into Poland.
---
When he first took office, President Trump's first official visit was to Poland. Now Polish President Andrzej Duda is visiting Washington DC.
The Polish President came with a proposal for President Trump. Poland—who suffered invasions by their neighbors throughout their history—would like the US to create a permanent military presence in Poland.
And the perfect name for the base? Fort Trump, of course. The two leaders spoke of the proposal in the Oval Office in front of the press before having a joint formal press conference. President Duda referred to the proposed base as Fort Trump then as well.
But when President Duda makes the same announcement during the news conference, people are not quite sure what to make of Trump's facial expressions.
Watch the moment on video here.
Poland's president working trump by asking for more troops and equipment "in exchange" for calling a large American… https://t.co/va3iwByyNE

— ALT-immigration 🛂 #IAmDevinNunesCow (@ALT-immigration 🛂 #IAmDevinNunesCow) 1537296707.0
The US President always gives a rather animated facial display when he is listening to others speak. In this case, people can see the moment the translation catches up, when Trump's facial expression changes from listening...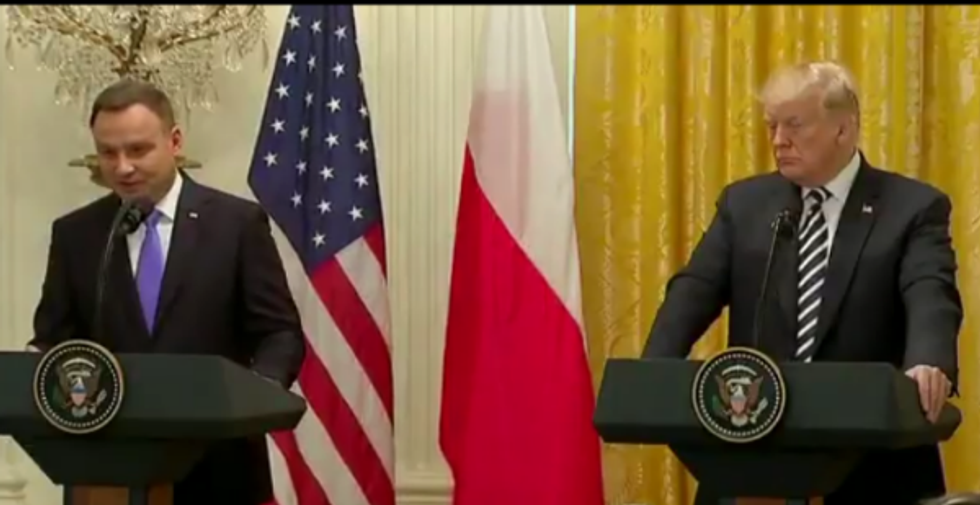 US President Donald Trump listens to Polish President Andrzej Sebastian Duda. (Twitter video screen grab)
...to a reaction some interpret as him being opposed to the name, but...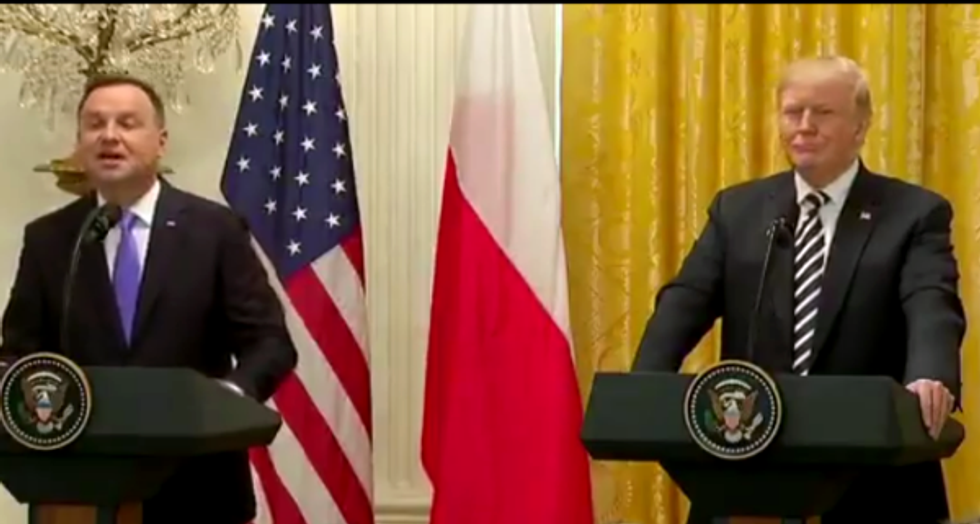 US President Donald Trump reacts to "Fort Trump." (Twitter video screen grab)
...immediately after, his face takes on an expression that some say means he is actively considering the idea and like the suggestion of Fort Trump.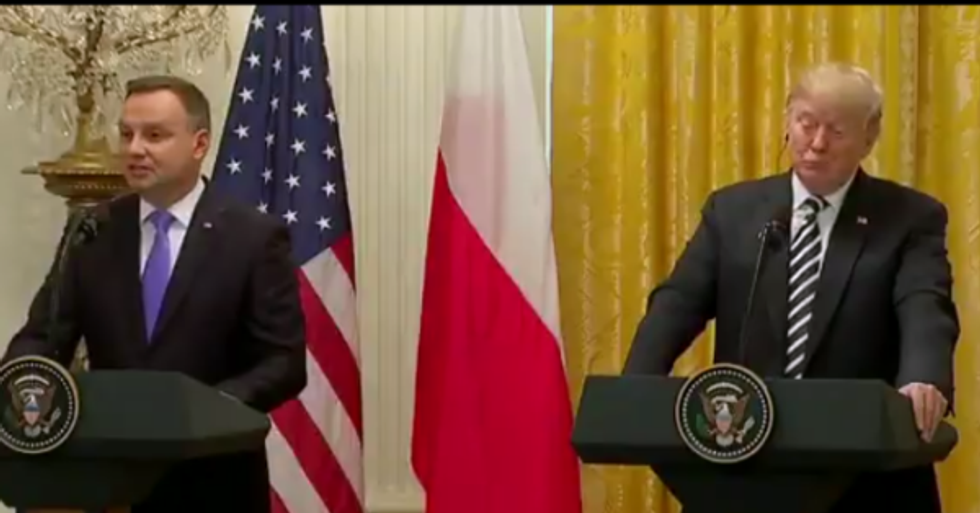 US President Donald Trump reacts to "Fort Trump." (Twitter video screen grab)
The US President stated he is considering the proposed base, but did not directly address the name. Poland's President pledged to pay $2 billion of the costs and name the facility "Fort Trump" during the Oval Office meeting. Duda stated:
"I hope that we will build Fort Trump in Poland together, Mr. President."
Trump responded that Poland's security is "very important" to him.
During the press conference, Duda said:
"I am convinced that there is no more an effective method of preventing a war than a decisive stance demonstrating that we are ready at any moment to repel possible attack."
"When we have a strong military presence in this part of Europe, where there is a potential threat, there will be no war happening ever."
While President Trump did not give a definitive answer, he said:
"Poland would be paying the United States billions of dollars for a base. We are looking at that more and more from a standpoint of defending really wealthy countries and not being reimbursed."
"The President offered us much more than $2 billion to do this and so we are looking at it from the standpoint of number one military protection for both countries and also cost."
Trump criticized NATO members for not paying enough for the US military during meetings with allies.
But would the United States, or Poland, be held to the name Fort Trump?
The majority of military bases get their names from their location, like Ramstein Air Base in Germany or Norfolk Naval Base in Virginia, or from military leaders like Fort Wainwright in Alaska or Langley Air Force Base in Virginia. There are no US military bases named after Presidents.
As for reactions to the name, or rather what people think Donald Trump thinks of Fort Trump, people are divided. Some are certain he loved the idea.
@DailyCaller @realDonaldTrump Oh he liked that!...lol

— Andrew Ingram (@Andrew Ingram) 1537297183.0
@DailyCaller @MalcolmNance @realDonaldTrump I'm watching without sound and I can tell exactly when he says it! lmao

— nicebluewave (@nicebluewave) 1537299600.0
@ALT_uscis Trump got so happy when Poland 's President mentions Fort Trump , it's like offering a candy to a kid https://t.co/iGLtjMMCQO

— AA (@AA) 1537300940.0
Some complained the proposal was an attempt to manipulate the president.
@ALT_uscis So even this guy knows how to play him

— the meryl strepe of space pirates (@the meryl strepe of space pirates) 1537297328.0
@DailyCaller @realDonaldTrump Every world leader has his number. Flattery. How embarrassing. 🙄

— Kerri (@Kerri) 1537303152.0
@kerril35 @DailyCaller @realDonaldTrump They have the top ppl do psychological workup on him and know how to manipu… https://t.co/qhhk0OCx5O

— Candice📚 (@Candice📚) 1537309580.0
@ALT_uscis Trump's kryptonite is flattery... "Flattery is refined deception--it is the froth of language--it is th… https://t.co/iv0U0vm0SB

— Mauro Gaeta (@Mauro Gaeta) 1537310762.0
But others maintained Trump would never approve a Fort named after him.
President Poland: We will build Fort Trump. Trump's face: Um no. I don't do royalty deals for free.

— Leni (@Leni) 1537296656.0
Polish President Duda says he wants proposed U.S. military bases in Poland to be called "Fort Trump." POTUS purses lips and nods.

— Jordan Fabian (@Jordan Fabian) 1537296501.0
No timeline was provided for a final decision on a permanent US military base in Poland.