Voters in Maine learned Tuesday that incumbent Republican Representative Bruce Poliquin filed a lawsuit designed to subvert the will of Maine voters . Many reacted to the news with anger.
After years of discussion in the Maine legislature, the people of the state of Maine took ranked choice voting to a people's referendum vote—one where a measure is put on the ballot by citizen petition—and approved it with support from 52 percent of Maine voters. However the Maine Republican Party attempted to block implementation.
---
After the state legislature passed a bill, signed by the Republican Governor, to delay implementation of ranked choice voting, the people of Maine used public support to take the bill before the people for a people's veto. The voters of Maine reaffirmed their commitment to ranked choice voting.
November's midterm ballots in Maine became the first general election test for ranked choice. The process had already been used in the primaries, although the Maine GOP tried to get a court order to block having to use it in their own primaries. The judge ruled on the side of Maine voters in that case and in others the GOP brought to try to stop the will of Maine voters.
Currently, ranked choice voting in Maine is used only for federal offices. The race for US Senate and both of Maine's two US Congressional districts employed ranked choice on their ballots.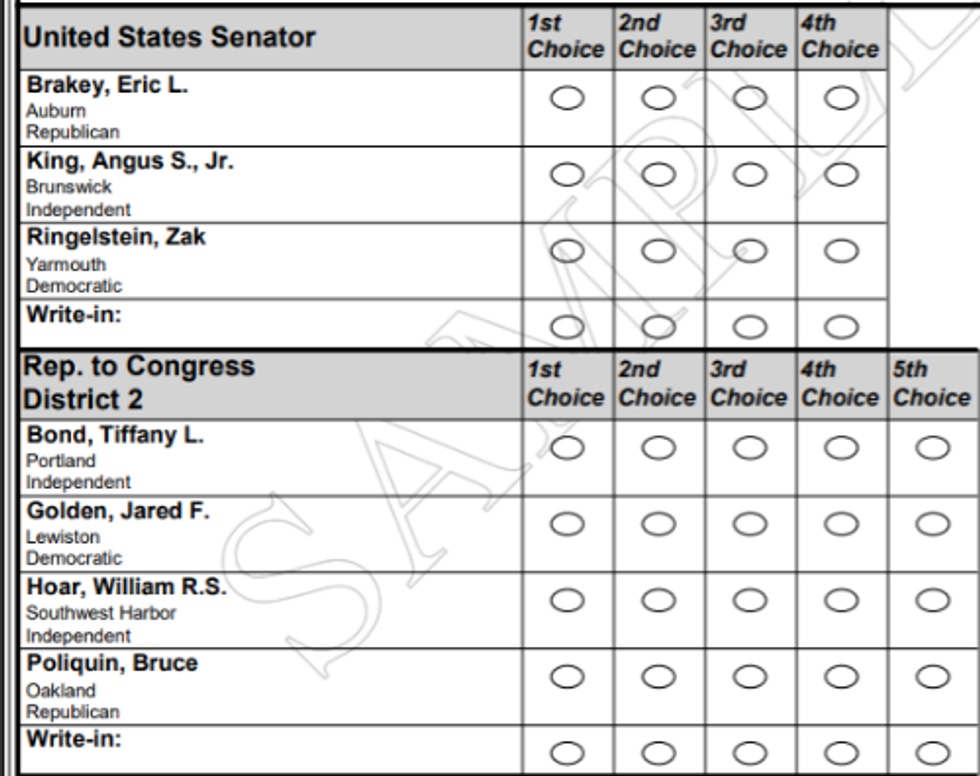 Maine sample ranked choice ballot (Maine.gov)
Ranked choice allows voters to rank candidates from the favorite to least favorite. Candidates must garner the support of over 50 percent of voters to win. If no one candidate attains the 50 percent mark, the rankings are used to determine which candidate has the support of 50 percent of voters.
The system is designed to ensure a ballot with over 2 candidates does not result in a win for the person most voters least want. In a six way race, with traditional voting practices, a person who is the last choice of 83 percent of voters can win with the support of just 17 percent of voters.
Maine's Senate race and 1st Congressional District races were decided in the initial vote tally, as incumbent independent Senator Angus King and incumbent Democratic Representative Chellie Pingree handily won their seats with over 50 percent of voters choosing them.
However in the 2nd Congressional District —covering most of the area of the state in the western, eastern and northern rural areas—the race between Republican incumbent Representative Bruce Poliquin and Democratic challenger Jared Golden remained close, with the lead swapped numerous times, as voting precincts reported their results.
As of Tuesday, November 13, Poliquin sits at 46.2 percent and Golden is at 45.5 percent. Only 0.7 percent separates the two candidates, 1,910 votes, with 399 of 418 precincts accounted for. It is still unclear which candidate would win in the old system of voting until all precincts report.
But what is clear is neither Poliquin or Golden could reach over 50 percent support from voters. The Secretary of State announced when the results showed neither candidate could reach the required support level, ranked choice voting would commence to determine the winner.
However Maine voters were surprised to see a notice on Facebook stating another court case was filed trying to block the will of the people of Maine, who petitioned and voted twice to support the use of ranked choice voting.
Reaction to the Secretary of State's announcement criticized the Maine GOP member Poliquin's choice to try to block ranked choice voting only after it appeared he may not win in the final tally.
People commented that the issue had already been voted on more than once by Maineiacs.

Facebook
People called out Poliquin by name.
Others cited the US Constitution as well as the Maine Constitution.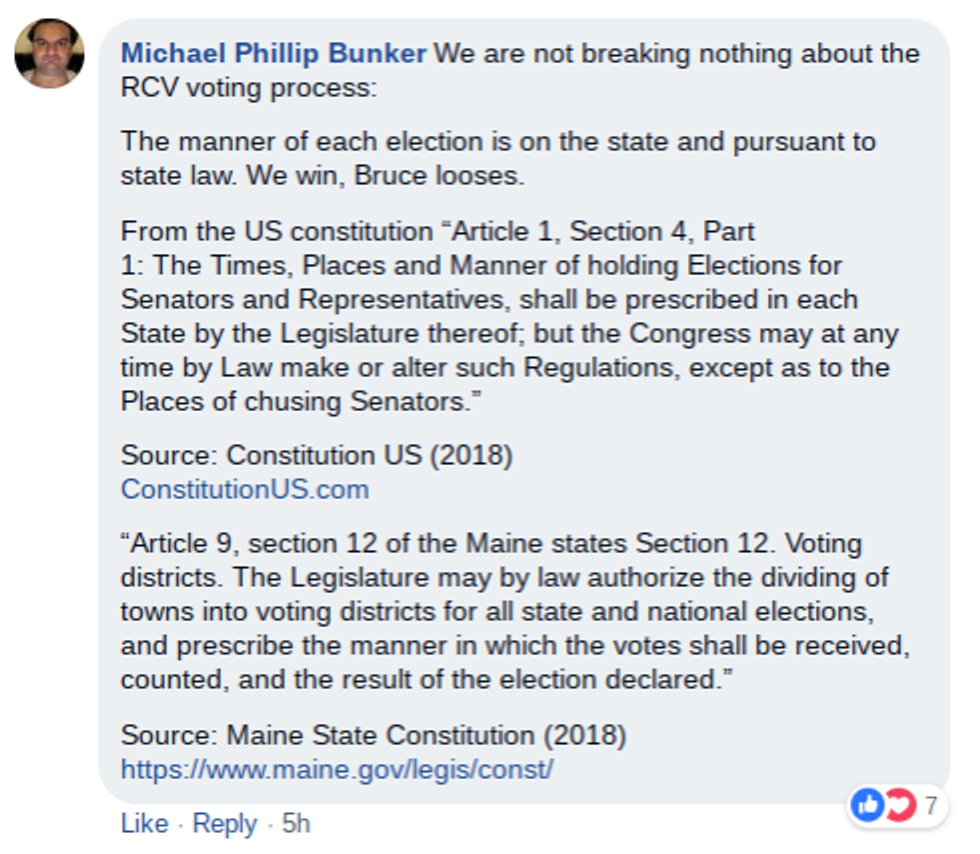 Facebook
Many thanked Maine's Republican Secretary of State, Matthew Dunlap, for following Maine law.
And for continuing to tabulate the ranked choice results.
Just before noon on Tuesday, the Maine Secretary of State informed Maineiacs that five of Maine's 16 counties remained to be tabulated.
Meanwhile, the state's largest newspaper, The Portland Press Herald , reported on Poliquin's attempt with other members of the Maine GOP to halt the ranked choice voting process. In a news conference Tuesday, Poliquin stated:
"The people of the 2nd District have put their trust in me to do what's right. Not addressing this important constitutional issue would be completely irresponsible. I'll tell you this would be a heck of a lot easier on me if I just walked away from this vote counting mess. But what kind of message would that send to our kids? Absolutely the wrong message."
In his news conference, Poliquin said Dunlap should cease the count and tabulation of results to "preserve the status quo." Dunlap replied:
"Just like we don't act on media reports, we also don't act on ex parte requests. If a judge tells us to stop, we'll stop . . . I think we have to obey the law, and the law says that we proceed."
In response, a spokesperson for Poliquin's primary opponent, Democrat Jared Golden, stated:
"Poliquin could have joined his Party's challenge to this law before this court last spring, or he could have moved expeditiously to file his own challenge on the same grounds he now raises when his party's challenge was not successful. Instead, he waited until after all of the ballots in the election had been cast, and now seeks to change the rules of that election, severely prejudicing the voters who relied upon RCV in casting their ballots, and the candidates who they supported, whether as their first or second choices."
Poliquin, a two-term Republican congressman, and Golden, a Marine Corps veteran and state lawmaker, each have roughly 46 percent of the vote. Dunlap, himself a Republican, added:
"I think it's intended to be a distraction, it's intended to cast doubt on this process. And I think it's irresponsible and a disservice to the people of Maine."