President Donald Trump has reportedly told White House guests that his predecessor, Barack Obama, used to "watch basketball all day" in the Oval Office dining room.
"He just sat in here and watched basketball all day," four people recalled to The Washington Post. Trump also claimed, without evidence, that Obama had left his private office in "rough shape," having left a hole in the wall.
---
Neither of Trump's stories is true, writes the Post.
A former Obama official confirmed to WaPo that there was no hole in the wall and that Obama rarely used the dining room for work or for watching basketball.
On Monday, Obama's official White House photographer shared pictures of the 44th president in the Oval Office dining room, and surprise, they refute what Trump said.
Instead, the pictures show Obama hosting guests - including former Vice President Joe Biden, then-House Minority Leader Nancy Pelosi (D-CA), Senate Majority Leader Mitch McConnell (R-KY), and other lawmakers - for lunch.
"Click through the pictures to see what President Obama actually did in the dining room with a variety of people: he had lunch," Pete Souza posted on Instagram. "If you spot the hole in the wall, you win a free trip to visit the medieval concrete wall in Mexico."
Photos below:
Here is Obama lunching with Biden and McConnell. No basketball.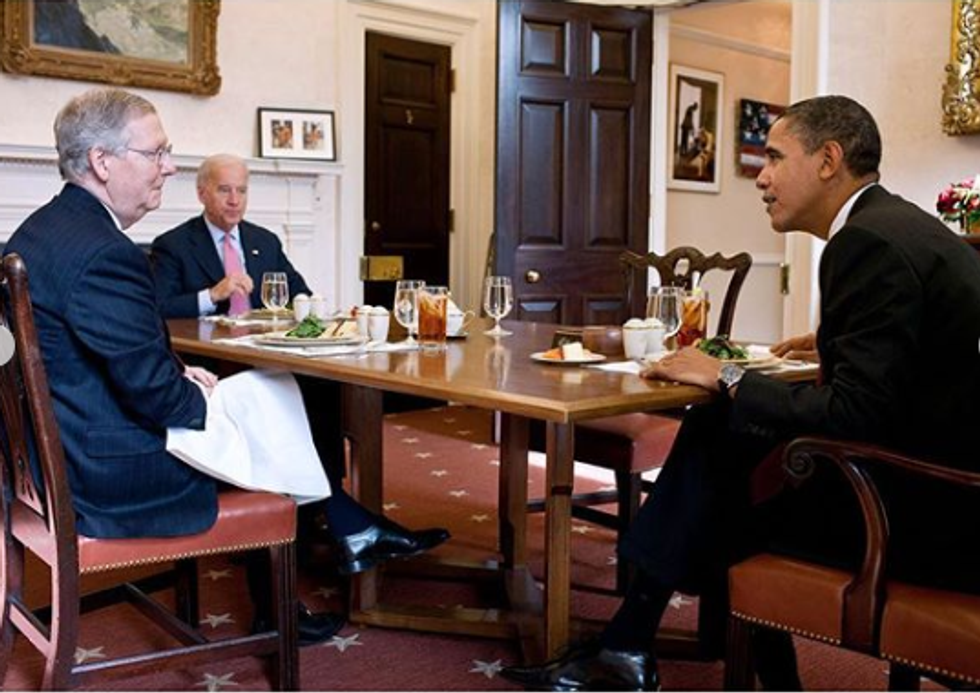 petesouza/Instagram
Look, John Boehner! No basketball.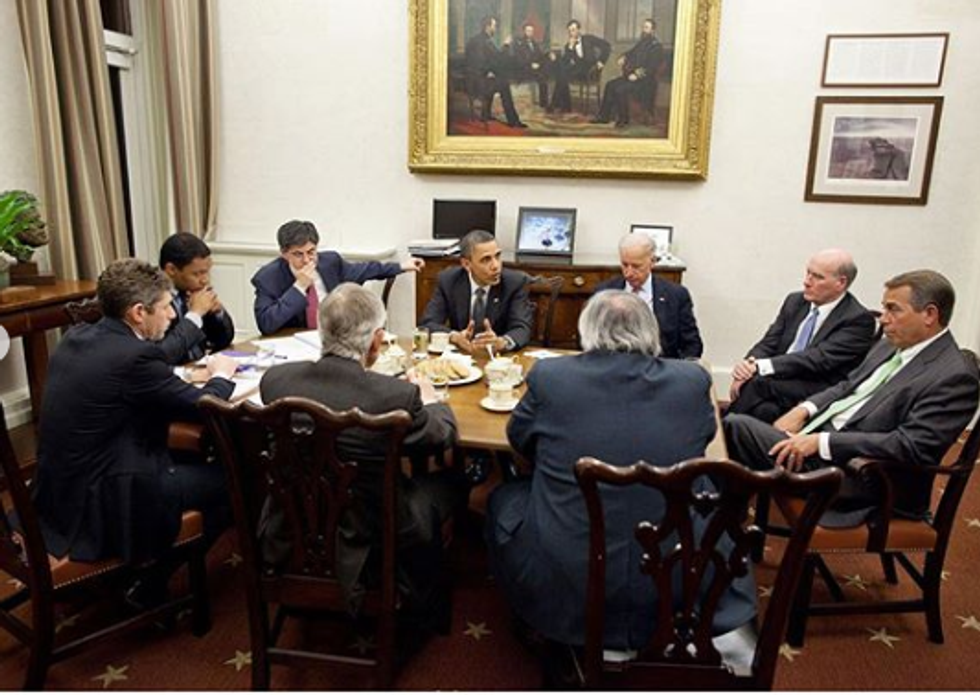 petesouza/Instagram
And here is Obama hosting now-Speaker Pelosi Biden, and House Majority Whip James Clyburn (D-SC). No basketball.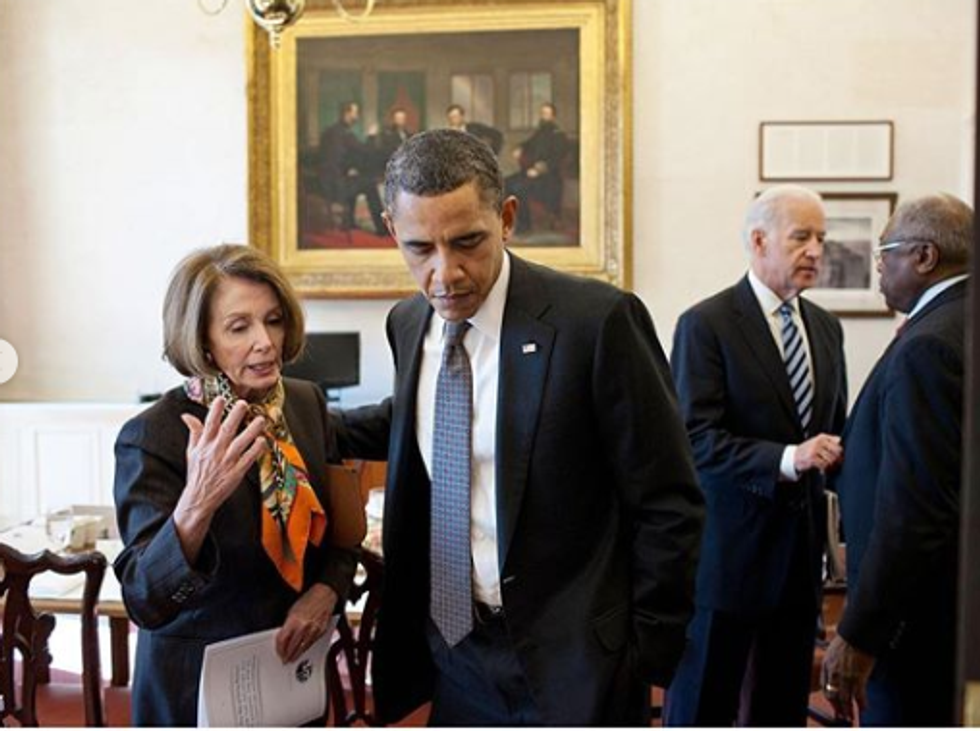 petesouza/Instagram
Some people think this is another example of Trump projecting. After all, every morning the president enjoys hours of "executive time," which is just code for watching Fox News.
@keithboykin As usual, talking about himself.

— Downward-facingKitty (@Downward-facingKitty)1548856839.0
@keithboykin Predictable from this tiny tiny man and his endless projection.

— DD (@DD)1548856441.0
@keithboykin Coming from that guy that has personal time to watch Fox all day

— Lord DavidC ☕️ (@Lord DavidC ☕️)1548856813.0
@GhostofGarvey @keithboykin This from the man who ACTUALLY served fast food to White House guests, and whose first… https://t.co/YrMG739QT7

— StuffedBunny🦃🍗🍖🍠🥕🌽🥔🍷🍷🍷🍷 (@StuffedBunny🦃🍗🍖🍠🥕🌽🥔🍷🍷🍷🍷)1548856619.0
@keithboykin @UWDawgFan88 It's called projection. From his projectile vomiting, we can discern that Donald just si… https://t.co/Ml3Op3tSoy

— Stardust Fiddlesticks ◇ IM🍑🤡 👌 (@Stardust Fiddlesticks ◇ IM🍑🤡 👌)1548857587.0
When Trump says Obama spent all day "watching basketball" don't get it twisted. He's making a classic abuser move b… https://t.co/4mGE9kdwjA

— Ⓐ Raccoon Jen 🏴 (@Ⓐ Raccoon Jen 🏴)1548863263.0
Others see a more sinister tint to Trump's remarks.
The animosity goes back years.
He's even lazy at being a racist. We are 15 minutes away from: "The White House chef told me Obama wanted grape s… https://t.co/8jlCCADZxU

— Don Lemon's baby Afro (@Don Lemon's baby Afro)1548779463.0
In between Tweets, President Trump likes to give White House tours during which he often says that Obama sat around… https://t.co/Pu2hAqZfEY

— Dave Pell (@Dave Pell)1548823516.0
@kylegriffin1 This is like the fucking media fact-checking Mrs. O on whether the White House was built by slaves. D… https://t.co/tpCHJw2tYa

— Regina Schrambling (@Regina Schrambling)1548787022.0
@kylegriffin1 This is just birtherism 2.0

— JCplanner (@JCplanner)1548788737.0
@kylegriffin1 @RacismDog

— Seattlético (@Seattlético)1548787076.0
There really is nothing too small for Trump to lie about.
@kylegriffin1 He never stops lying does he?

— Martin van Vuuren (@Martin van Vuuren)1548786961.0
@kylegriffin1 LIAR!!

— DrNurseProf (@DrNurseProf)1548792395.0
@kylegriffin1 He seems to live to lie. That's all he does. If his lips are moving, he's lying.

— Randi Ross-Quick (@Randi Ross-Quick)1548789554.0
Basketball games are not on during the day, either.