A Pentagon effort to recoup enlistment bonuses for thousands of California National Guard soldiers over a decade since they served in Iraq and Afghanistan has earned widespread condemnation, and lawmakers are calling for the Pentagon and Congress to waive their debts.
The Pentagon demands repayment of bonuses which reached $15,000 or more. California Guard recruiters gave the bonuses out between 2006 and 2008 when the National Guard faced a shortage of troops to fight two unpopular wars. The Pentagon conducted a federal investigation in 2010 which found that thousands of bonuses and student loan payments were improperly given out to California National Guard soldiers. (Army Master Sgt. Toni Jaffe, the California National Guard's Bonus and Incentive manager was sentenced to 30 months in federal prison after pleading guilty in 2011 to filing $15.2 million in false claims.) About 9,700 current and retired soldiers received notices to repay some or all of their bonuses. Soldiers who refuse to pay face "interest charges, wage garnishments and tax liens," according to one report. The federal government has recovered $22 million thus far.
---
Susan Haley, who served 26 years in the Army and now owes the federal government $20,500, considers having to repay her bonus a "total" act of betrayal. "I didn't knowingly accept money I wasn't supposed to have. They wanted me to reenlist, and I was assured everything was fine," she said. Haley says she received the first collection notice from the government in 2012 while at a Texas military hospital visiting her son, an Army medic who was seriously injured in Afghanistan. "It said I had improperly been given a signing bonus to reenlist and that I had to pay all the money back with interest or I would be in violation of federal law," Haley said. "I freaked out." Haley now sends the Pentagon $650 a month, a quarter of her family's income, and fears they will lose their home. "I haven't paid yet this month," she said. "I don't have the money."
Credit: Source.
"These bonuses were used to keep people in," said Christopher Van Meter, a 42-year-old former Army captain and Iraq veteran who was awarded a Purple Heart for his service. "People like me just got screwed." Van Meter was forced to refinance his home mortgage to repay $25,000 in enlistment bonuses and $21,000 in student loans the military says he should not have received.
The California National Guard says federal law bars them from erasing the debts: Only the Pentagon has that authority. "At the end of the day, the soldiers ended up paying the largest price," Maj. Gen. Matthew Beevers, deputy commander of the California Guard, told the Los Angeles Times. "We'd be more than happy to absolve these people of their debts. We just can't do it. We'd be breaking the law." Officials with the National Guard say they are helping soldiers file appeals with agencies that can erase the debts, but soldiers say
appealing the debts is a long process they are not guaranteed to win. "Everything takes months of work, and there is no way to get your day in court," said retired Army major and Iraq veteran Robert D'Andrea, who was told to repay his $20,000 enlistment bonus after auditors failed to find a copy of the contract he says he signed.
Lawmakers have openly condemned the Pentagon's actions. House Majority Leader Kevin McCarthy (R-California) called for a House investigation. "The Department of Defense should waive these repayments, and I will be requesting a full brief from Army and National Guard leadership," McCarthy said in a statement. "The House will investigate these reports to ensure our soldiers are fully honored for their service. Our military heroes should not shoulder the burden of military recruiters' faults from over a decade ago. They should not owe for what was promised during a difficult time in our country."
California Representative Mark Takano (D-Riverside), a member of the House Veterans Affairs Committee, called the Californa National Guard's "effort to claw back bonuses and benefits improperly paid to service members 10 years ago" appalling. "These service members — many of whom were sent into combat — are now being forced to make difficult and painful decisions to pay back thousands of dollars they never knew they owed," he said. "The solution to this ridiculous situation is an act of Congress."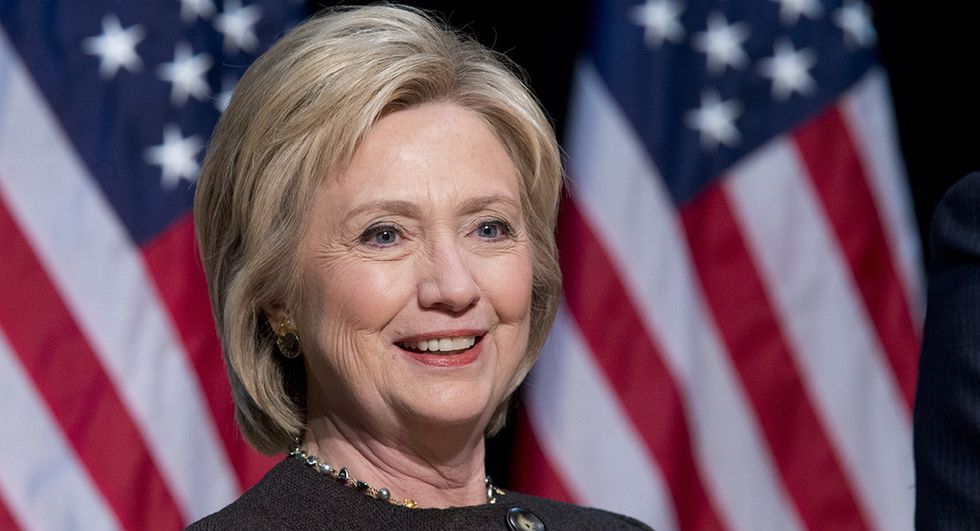 Credit: Source.
In a statement released yesterday, Democratic presidential nominee Hillary Clinton slammed the California National Guard and the Pentagon and called on Congress to "act swiftly" to waive soldiers' debts. "I am appalled that National Guard officials are attempting to recoup money from soldiers who accepted bonuses a decade ago," she said. "These troops deserve our support and our deepest gratitude; they served admirably and upheld their part of the bargain. It is unacceptable to now subject them and their families to undue financial burdens thanks to mismanagement from the California National Guard and rigid bureaucracy on the part of the Pentagon. We should assist these families in identifying and applying for relief as well establishing an expedited review process. We simply cannot allow this mistreatment of veterans, for any reason."