Before the government shutdown orchestrated by President Donald Trump in an attempt to force Democrats to fund his pet project, the President met in the Oval Office of the White House with Democratic leaders Senator Chuck Schumer of New York and Representative Nancy Pelosi of California.
While the GOP barely maintained their status quo in the Senate—where only nine Republicans were up for reelection compared to 22 Democrats—during the 2018 midterms, the Democrats took back the House gaining 40 seats. Pelosi—the only woman to ever serve as Speaker of the House—stood poised to resume that role and block Trump's border wall funding.
---
So the President decided shutting down the government was his best option. But since the meeting where Trump declared the shutdown would be his responsibility alone and he would be proud to do so, Trump daily blames Democrats for his choice.
But proving why she is and was the best choice for Speaker of the House, Pelosi announced her intentions to put the onus for the multi-billion dollar ill-advised and unpopular border wall back where it belongs: on the Republican Party.
Pelosi—after another round of meetings with the President—announced her intention to reintroduce spending legislation originally introduced and supported by the Senate GOP leadership. Leaving Senate Majority Leader Mitch McConnell to either pass his own spending bills on to the President or block his own solution to the budget crisis.
When last introduced, the spending authorities endorsed by McConnell failed to pass a Paul Ryan led House.
Watch Pelosi's announcement here.
Pelosi plans to introduce and pass the same funding legislation McConnell pushed through the Senate by voice vote two weeks ago. McConnell's bill includes no funding for Trump's wall. Should McConnell block his own legislation, he takes sole responsibility for the continuing government shutdown.
Should Trump refuse to sign the bill after it passes the House and Senate, full responsibility for the shutdown returns to the man who created it, President Donald Trump.
When asked to comment on negotiating with the President, Pelosi stated Trump's habit of lying and denying the truth makes negotiations difficult.
In addition to announcing the House legislative plans, Pelosi's counterpart in the Senate, Minority Leader Schumer told reporters in the following video of Trump's latest response regarding the government shutdown.
Schumer stated he asked Trump to give "one good reason" for continuing the government shutdown of eight cabinet departments while they debated over only one, Homeland Security.
Democratic Representative Steny Hoyer, House Majority Leader from Maryland, added:
In addition to acknowledging who created and maintains the government shutdown, people recognized why Pelosi was chosen twice to lead the House of Representatives.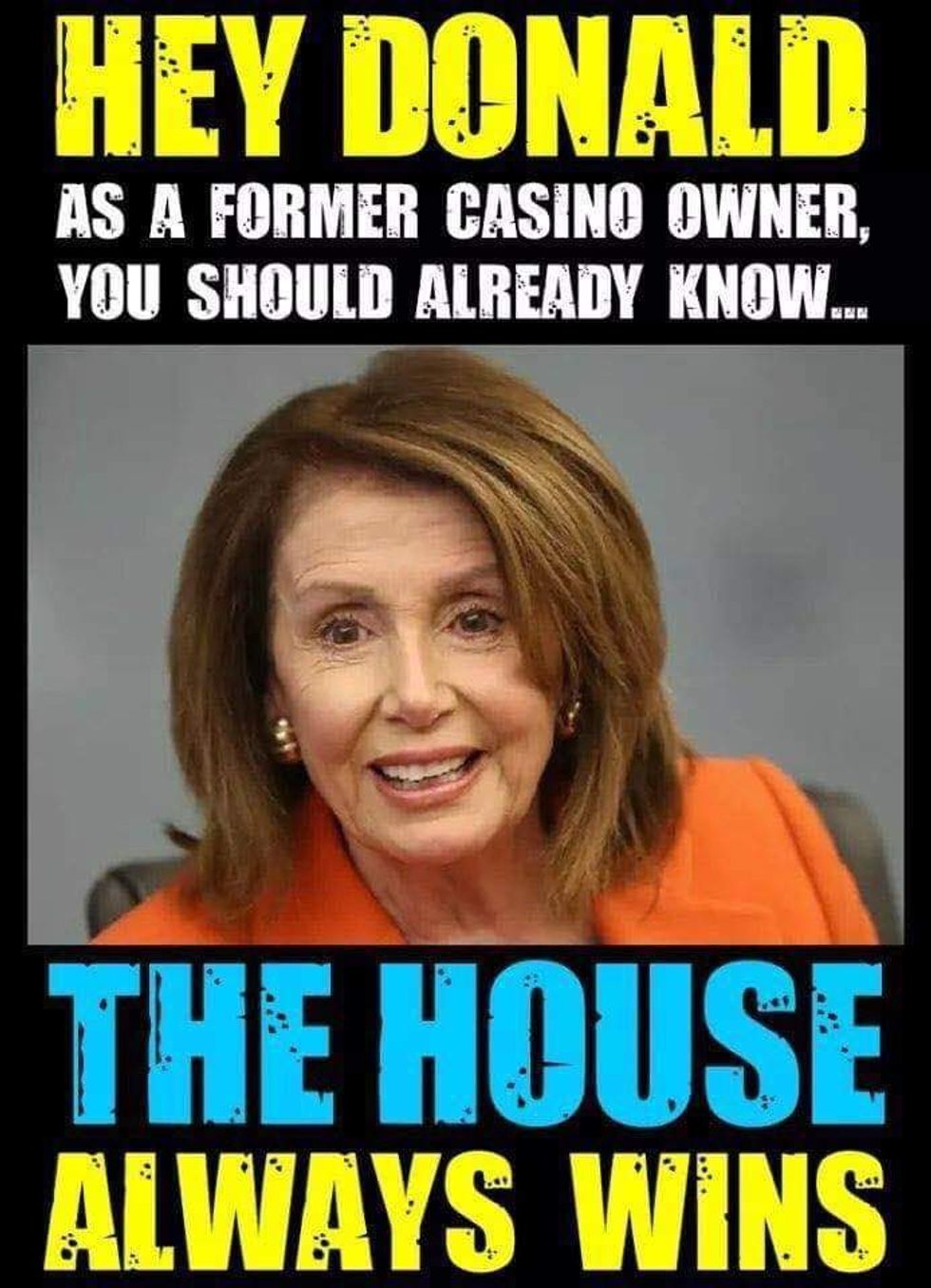 (@Eugenia62020609/Twitter)
And people just got it.
The 116th Congress was sworn in today. The vote for Speaker of the House is taking place today as well.
Pelosi is almost guaranteed to become Speaker, and for good reason.