Lawmakers in Congress are strengthening their call for an official and public inquiry into Russian interference in the 2016 election. Yesterday, Democratic Reps. Eric Swalwell (D-California) and Elijah Cummings (D-Maryland) proposed the "Protecting Our Democracy Act," legislation to create a 12-member bipartisan, independent commission to investigate Russian meddling. The commission would operate with an initial budget of $3 million, have members from both parties and chambers of Congress, and would draw upon outside experts in computer security, elections law, and foreign policy. The commission would have the power to interview witnesses, issue subpoenas, obtain documents, and hear public testimony.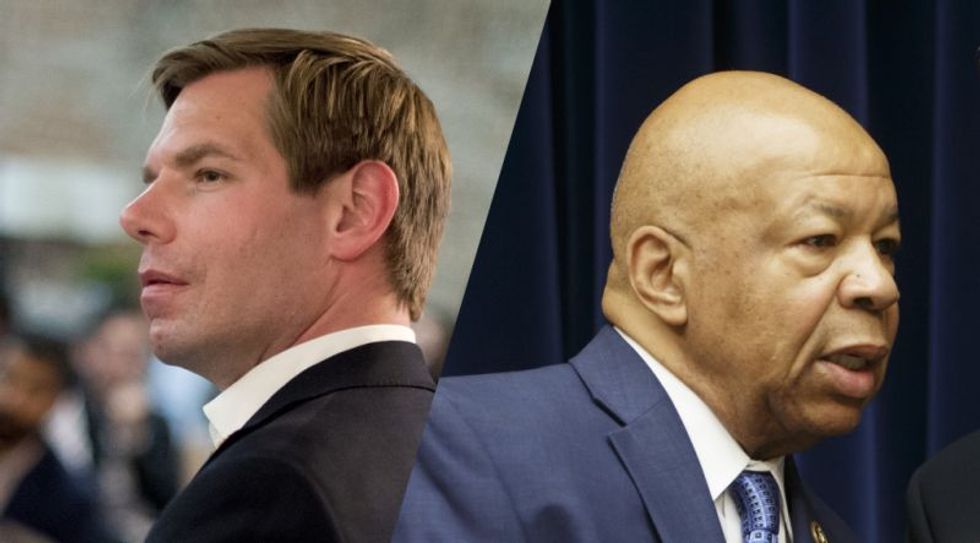 Representatives Eric Swalwell and Elijah Cummings. (Credit: Source.)
---
Concerns about hacking and voter manipulation are not unfounded.
Earlier this year, President Obama's administration accused Russia of hacking the Democratic National Committee. The denunciation came as individuals within the administration and lawmakers demanded the Office of the Director of National Intelligence and the Department of Homeland Security publicly name Moscow and hold it accountable for attempting to influence election results. But lawmakers have questioned how the Russian government transferred stolen emails to WikiLeaks, and have puzzled over Moscow's role in the production of fabricated news stories that appeared to sow distrust in this year's voting.
The push to convene the committee intensified following the publication of a TIME interview with Donald Trump, the president-elect. In it, he dismissed the assessment from U.S. intelligence that it was confident that Russia was behind the hacks. The president-elect called Russian interference "a laughing point" and indicated that the conclusion was politically motivated:
I don't believe they interfered. That became a laughing point, not a talking point, a laughing point. Any time I do something, they say 'oh, Russia interfered.'

Why not get along with Russia? And they can help us fight ISIS, which is both costly in lives and costly in money. And they're effective and smart.

It could be Russia. And it could be China. And it could be some guy in his home in New Jersey.

I believe that it could have been Russia and it could have been any one of many other people. Sources or even individuals.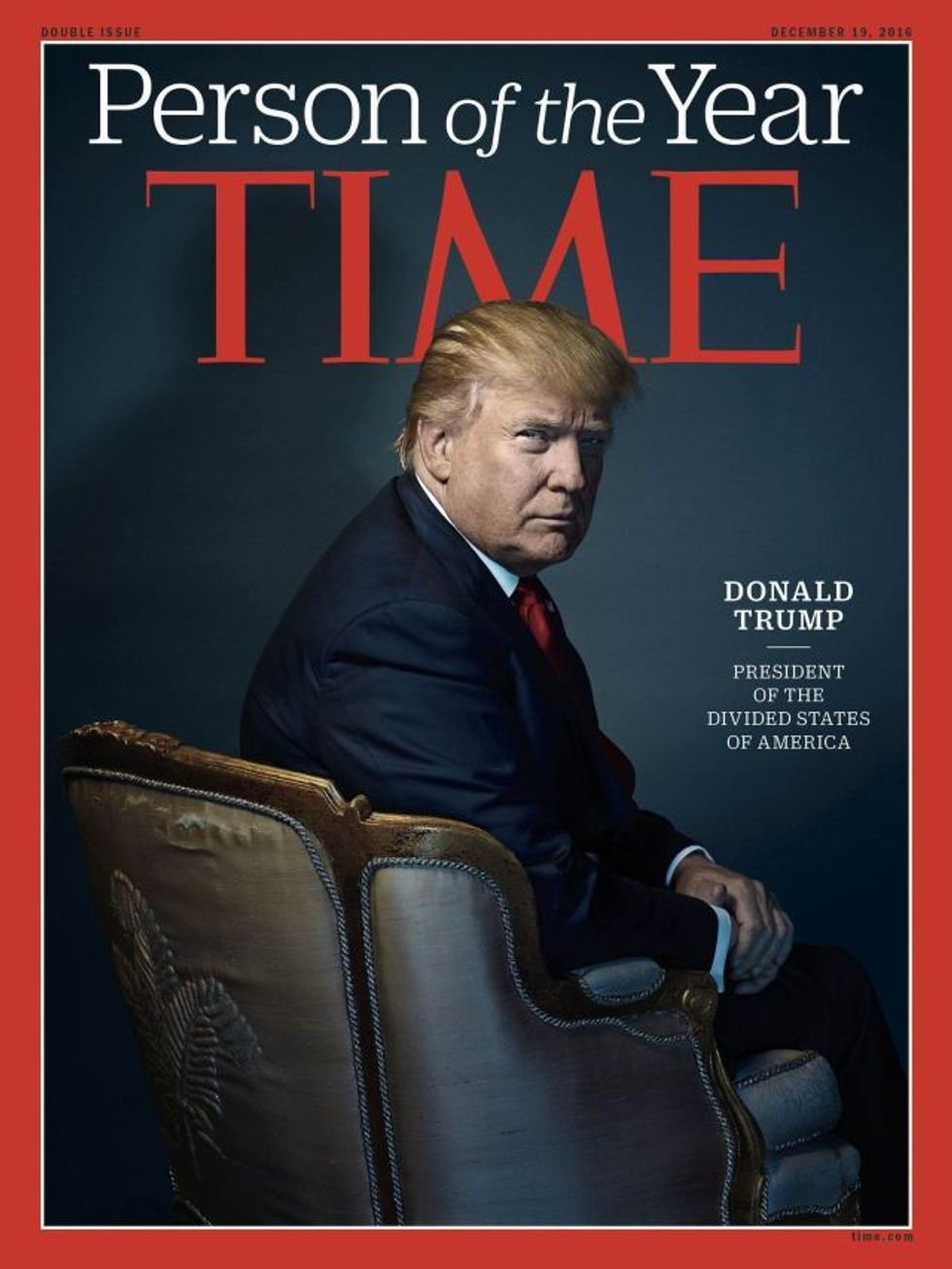 Credit: Source.
Trump's statements continued to raise questions about Trump's Russian ties and continued affinity for Moscow despite the concerns of 17 intelligence agencies that Russian interference has heightened geopolitical tensions. The president-elect's comments received sharp rebukes from both sides of the aisle, amid concerns that he would block inquiries from proceeding.
According to Politifact, the Pulitzer Prize-winning fact checking service:
The 17 agencies are: Air Force Intelligence, Army Intelligence, Central Intelligence Agency, Coast Guard Intelligence, Defense Intelligence Agency, Energy Department, Homeland Security Department, State Department, Treasury Department, Drug Enforcement Administration, Federal Bureau of Investigation, Marine Corps Intelligence, National Geospatial Intelligence Agency, National Reconnaissance Office, National Security Agency, Navy Intelligence and the Office of the Director of National Intelligence.

The 17 separate agencies did not independently declare Russia the perpetrator behind the hacks... However, as the head of the 17-agency intelligence community, the Office of the Director of National Intelligence, headed by James Clapper, speaks on behalf of the group.
The president-elect's comments received sharp rebukes from both sides of the aisle, amid concerns that he would block inquiries from proceeding.
"He is denying that the sun sets in the West," said Rep. Swalwell, who rejected Trump's notion that the intelligence assessment was politically driven.
Rep. Cummings also criticized the president-elect, saying that "experts agree that there is overwhelming evidence that Russia interfered with the 2016 presidential election." The evidence is "overwhelming," Cummings said. "It is not disputed, it's overwhelming."
Senator Lindsey Graham (R-South Carolina), an outspoken critic of the president-elect, told reporters that he believes Russia "did interfere with our elections." Graham, who will pursue his own investigations into the matter on his side of Congress, said it was "pretty clear" that Wikileaks was designed to hurt [Democratic presidential nominee Hillary] Clinton and it could be us tomorrow," referring to the litany of published emails hacked from the emails of John Podesta,
her campaign chairman, and published on the site. "I'm going after Russia in every way you can go after Russia. I want Putin personally to pay a price."
A spokesperson for Sen. Graham confirmed that he would join fellow GOP Sen. John McCain (R-Arizona) in visiting Eastern European countries whose elections have also been marred by Russian interference. U.S. intelligence analysts have kept a close eye on these efforts, which included a proliferation of fabricated news reports, and now view the U.S. hacking as part of an extensive effort by Russia to interfere and undermine the democratic process and its institutions.
Sen. Lindsey Graham (Credit: Source.)
Trump's comments also received a scathing response from Rep. Adam Schiff (D-California), the top Democrat on the House Intelligence Committee. (Schiff publicly identified Russia as the culprit before U.S. intelligence released its official statement.)
"President-elect Trump's comments this morning continue to contradict our intelligence professionals and carry water for the Kremlin," Schiff said, adding that Trump "is now peddling two fictions, that millions of illegal immigrants voted, and the intelligence community is lying."
U.S. intelligence officials have expressed their frustration with Trump's refusal to acknowledge evidence of Russian meddling, and have revealed that they showed the president-elect evidence in a pre-election intelligence briefing also offered to Hillary Clinton. It is not clear whether officials have since shown him more evidence to attempt to change his mind. Officials and congressional staff say they will attempt to disclose more information about the hacks to the president-elect, if possible, before his January inauguration.