Ohio state lawmakers have passed a controversial measure that would prohibit women from having abortions from the moment a fetal heartbeat can be detected (which usually occurs about six weeks into pregnancy). House Bill 69––the "Heartbeat Bill" which would make an exception in the event the mother's life is in danger but no exception in cases of rape or incest––now heads to the desk of Governor John Kasich for his signature. The bill, should it pass, would be one of the toughest restrictions on abortion nationwide.
The Ohio Legislature sent the bill to Kasich's desk on Tuesday after considerable legislative maneuvering. Republican legislators added the bill's language last minute to House Bill 493, a bill revising state child abuse and neglect laws. The Senate voted twice: First, they approved 20-11 the decision to include the "Heartbeat Bill" language in HB493. Senators then passed the bill with a 21-10 vote after they approved the amendment. Once the bill went back into the House, senators approved the revised bill 56-39. In a statement, Senator Kris Jordan (R-Ostrander) said "we are a pro-life caucus" and signaled that passing the legislation "demonstrates our commitment to protecting the children of Ohio at every stage of life."
---
According to State Senate President Keith Faber (R-Celina), legislators resurrected the twice-defeated bill following Donald Trump's presidential victory. He said that lawmakers expect the president-elect will fill Supreme Court vacancies with justices who are more likely to uphold stricter abortion bans. "He's changed the dynamic and there was a consensus in our caucus to move forward," Faber said.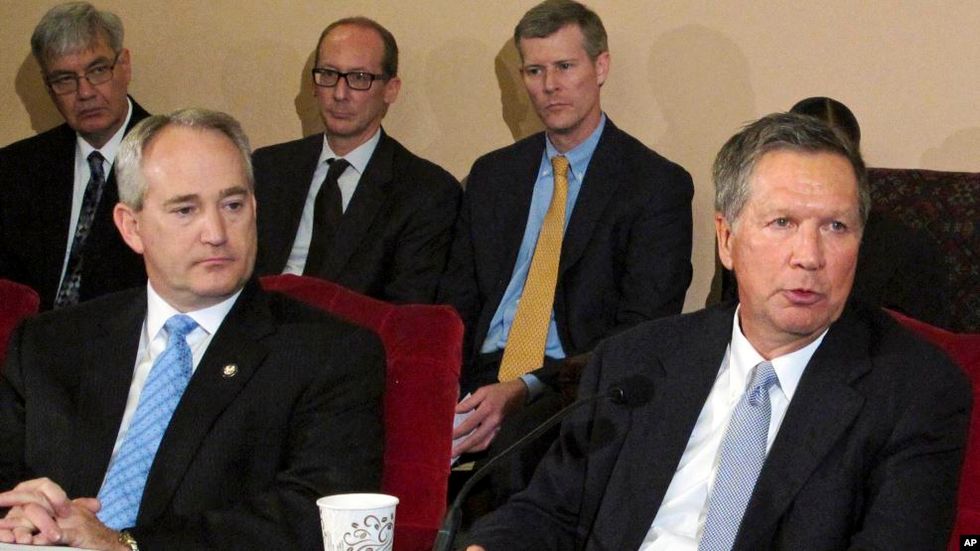 Ohio State Senate President Keith Faber (left) and Gov. John Kasich (right). (Credit: Source.)
Sen. Charleta Tavares (D-Columbus) had planned to vote on the child abuse bill as originally presented, ultimately voting against the measure after lawmakers approved the amendment. "I believe everyone has a right to their own body," Tavares said. "We allowed a good bill that protects the health and safety of our children to be bastardized into a government takeover of women's wombs." Tavares expressed her hope that Kasich would veto the measure.
When asked for a statement from the governor, Emmalee Kalmbach, a former Ohio Right to Life staffer who is now Kasich's press secretary, said Kasich does not typically comment on pending legislation. But Kasich has gone on the record with his opinions on abortion legislation before. Earlier this year, Kasich told reporters that he was "pro-life with the exceptions of rape, incest and the life of the mother." He has signed 17 anti-abortion measures into law since he became Ohio governor in 2011, including a bill that banned abortions once a pregnancy hit the 20-week mark except for cases where a doctor determined the fetus
could not live outside the womb. This year, he signed a bill to ban the state from contracting for health services with any organization that performs or promotes abortions. Opponents of the measure widely criticized the bill as an attempt to defund Planned Parenthood.
Critics of the bill claim the bill will not survive constitutional challenges. In fact, federal courts have blocked similar laws in North Dakota and Arkansas. The ACLU of Ohio indicated it would fight the bill should Kasich sign it.
Just a reminder, if the unconstitutional #HeartbeatBill passes and becomes law, we will challenge it in court. #ProChoice

— ACLU of Ohio (@ACLU of Ohio) 1481053437.0
Sen. Joe Schiavoni (D-Boardman) believes the bill would lead to "expensive lawsuits" that would hinder lawmakers from addressing more pressing issues, such as Ohio's long-standing opioid crisis. "To the taxpayers of Ohio, I am sorry that your money will have to be used to defend this bill in the court system," he said.
NARAL Pro-Choice Ohio said the bill would block access to abortion before most women realize they're pregnant. "This bill would effectively outlaw abortion and criminalize physicians that provide this care to their patients," said Kellie Copeland, the group's executive director.
Kasich has ten days to veto the measure. If he does not take action, the bill will automatically become law.