President-elect Donald Trump plans to spend more time with President Barack Obama learning how to assimilate into his new role after winning the most volatile election in decades.
According to one report, Trump seemed "surprised by the scope" of his new responsibilities as Commander-in-Chief. He and his team also apparently were unaware that they would need to replace the entire staff of the West Wing at the end of Obama's term.
---
A senior aide close to the president-elect confirmed that Trump's victory surprised even his closest advisers, and that Trump did not want to "jinx" his chances of winning the election if he planned the transition too early.
Trump is the first person elected to the presidency with no military or government experience. As a result, President Obama has personally pledged to spend more time counseling Trump than presidents typically do with their successors.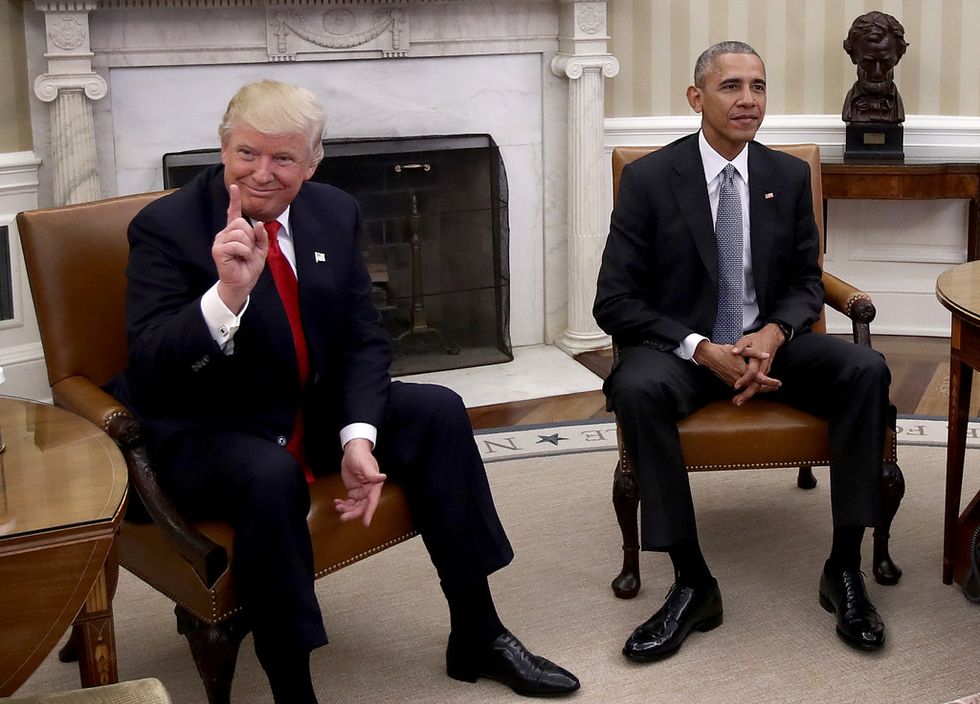 Credit: Source.
Obama and Trump met inside the Oval Office for a 90-minute meeting Thursday which concluded with the president-elect stating that he "looked forward to dealing with the President in the future, including counsel." After the meeting, Obama agreed to do "everything we can to help you succeed, because if you succeed, the country succeeds."
There is a bitter irony to all of this. Trump spent years criticizing the sitting president, most infamously when he perpetuated the long-standing rumors and conspiracy theories that have accused President Obama himself of not being an American citizen, despite incontrovertible evidence to the contrary.
Representatives for Trump did not respond when asked for comment and did not elaborate when asked for specifics on the meeting. Jason Miller, communications director for the Trump transition, said in a statement that  Trump, as a non-politician, "puts a premium on making the right decision, not the politically expedient one. President-elect Trump's excellent judgment and temperament has served him well in business and in life, and he's not going to be swayed by a bunch of political insiders responsible for filling up the swamp in the first place."