President Donald Trump's July 25 phone call with Ukrainian President Volodymyr Zelensky showed that Trump urged Zelensky to investigate Trump's political rival, former Vice President Joe Biden.
As Trump's Republican allies desperately tried to spin the damning contents of the rough transcript of the call, released by the White House itself, they kept asserting there was no "quid pro quo," meaning Trump hadn't stated explicitly that military aid to Ukraine would be contingent on whether or not Zelensky facilitated an investigation into Biden.
---
But in the transcript, Zelensky thanks Trump for the United States' aid as Ukraine faces conflict against Russian invasion on its eastern border.
Trump then said a phrase that will be studied for months, even years to come:
"I would like you to do us a favor though."
The President then goes on to ask Zelensky about investigating the hacked Democratic National Committee server and the business dealings of Biden's son, Hunter.
The word "though," to many implied a quid pro quo.
"[W]hat [the call's notes] reflect is a classic Mafia-like shakedown of a foreign leader," said House Intelligence Chair Adam Schiff (D-CA). "Like any Mafia boss, the president didn't need to say, 'that's a nice country you have, it would be a shame if something happened to it,' because that was clear from the conversation."
The New Yorker seems to agree—its latest cover portrays Trump and his personal lawyer, Rudy Giuliani, as mobsters sending Uncle Sam to sleep with the fishes.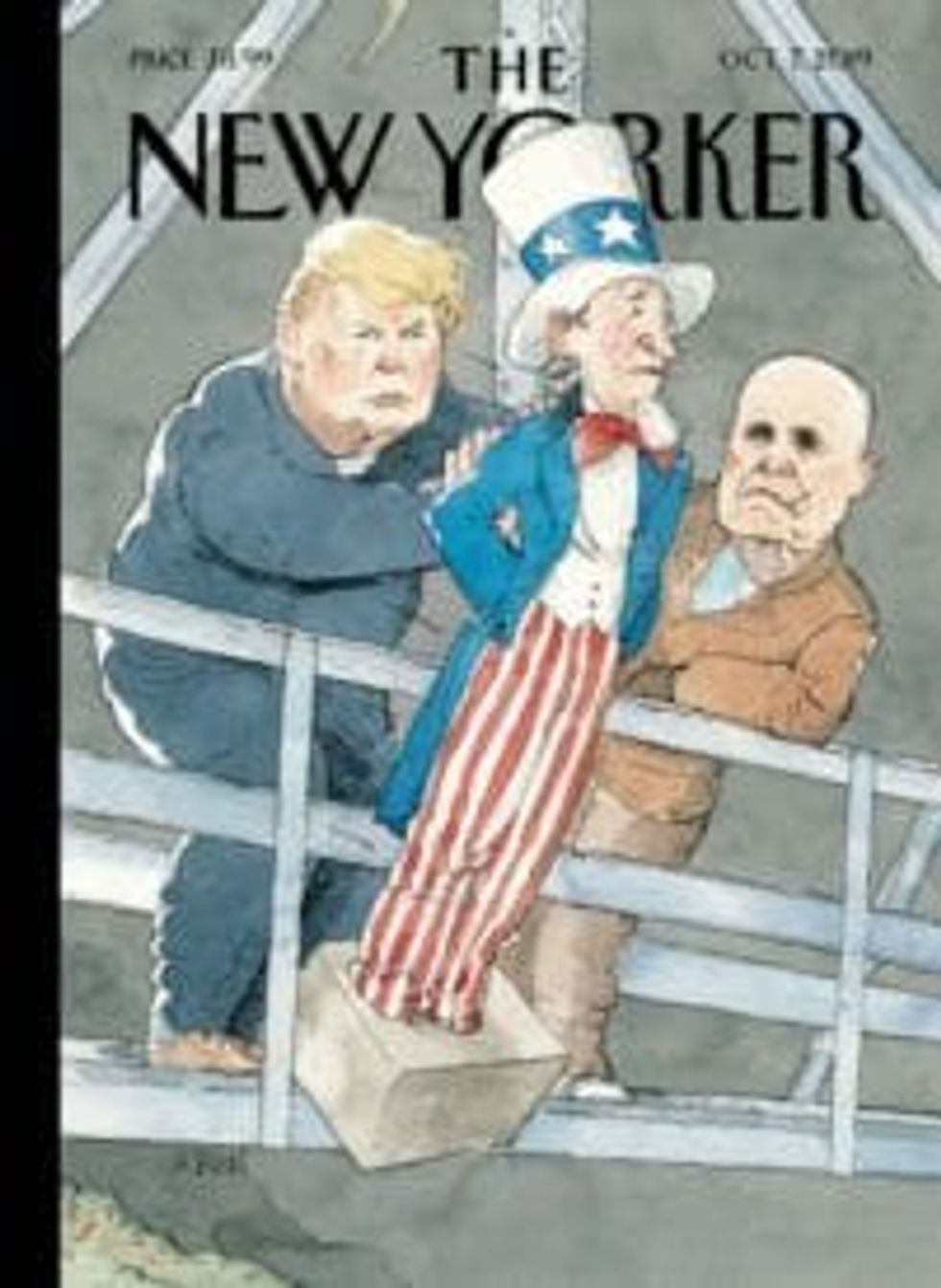 The New Yorker
Schiff and the New Yorker are far from the first to compare the President to a mob boss. One of the President's former allies and personal attorney, Michael Cohen, said Trump ran his businesses and campaign "much like a mobster would do":
 "He doesn't give you questions, he doesn't give you orders. He speaks in a code, and I understand the code because I've been around him for a decade."
One Twitter user put the transcript of the Ukraine phone call over a gif of the infamous "do a service for me" scene from The Godfather. It fits the scene perfectly.
People consider the New Yorker cover to be more than an accurate depiction.
This is far from over.