In a stunning about-face from her months of hesitation, House Speaker Nancy Pelosi (D-CA) announced a formal impeachment inquiry into President Donald Trump for pressuring Ukraine to investigate the family of his political opponent, former Vice President Joe Biden.
Various newscasters and reporters described the day as "historic," but how will the future remember it?
---
If the history books are anything like the front page of the New York Times, Trump will sound less like a disgraced President and more like Evander Holyfield—and people aren't okay with that.
A sub-headline on the paper's front page is the issue of contention. See if you can spot it.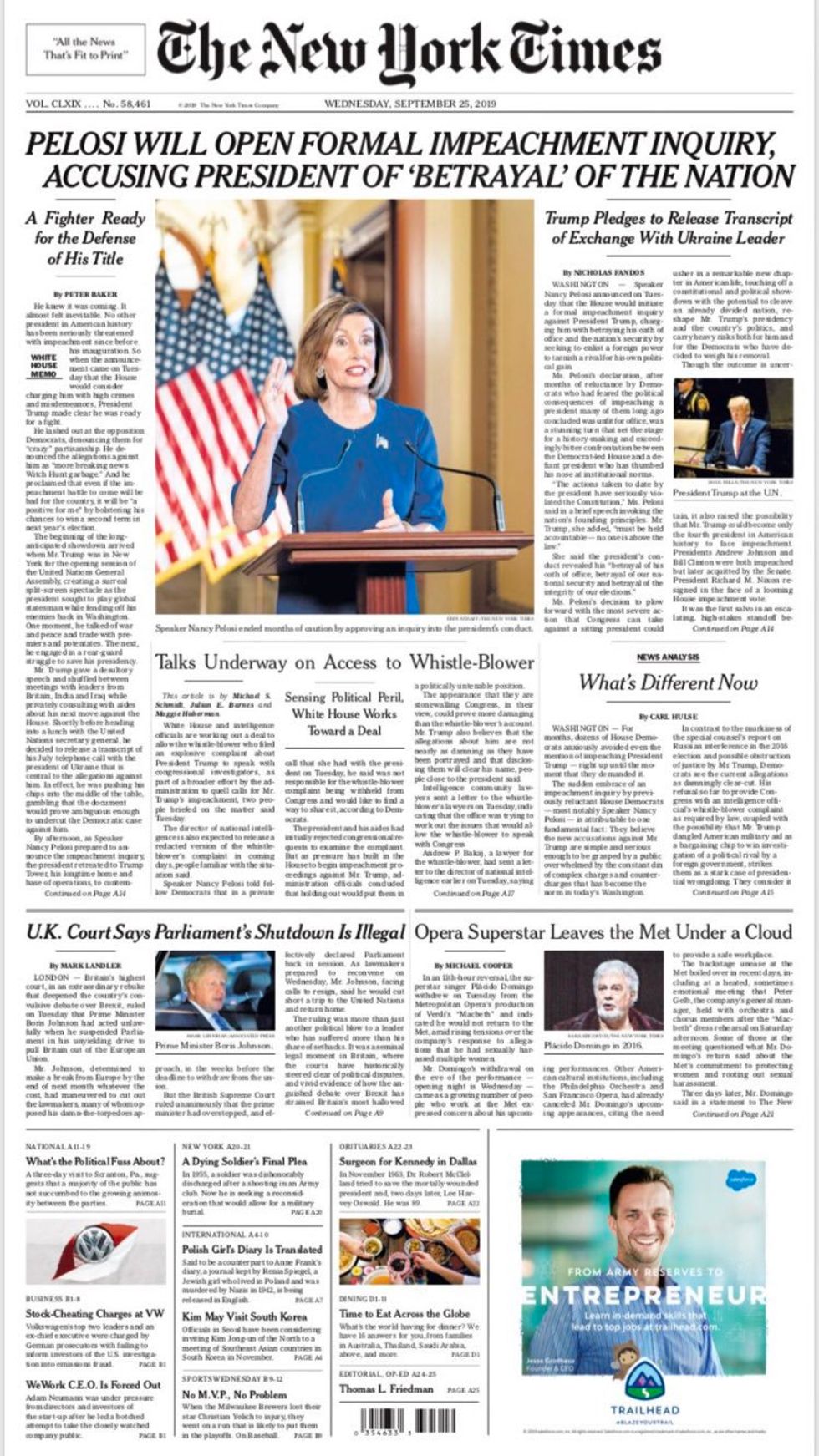 Here's a closer look.
@carolynryan @DCCajun @nytimes @TomJolly "Both sides-ing" impeachment, now https://t.co/ZSK53NdIok

— Leslie Molson (@Leslie Molson) 1569385339.0
The sub-headline, from an article by New York Times White House Correspondent Peter Baker, reads:
"A Fighter Ready for the Defense of His Title"
It's unclear whether or not Baker or one of his editors formulated the headline. The piece goes on to assert that Trump knew impeachment was "inevitable" and had been preparing for a fight. The portrayal sent eyes soaring into the backs of heads.
The Times' website layout wasn't much better than the print version.
These come just over a month after the Times printed a headline that read "Trump Urges Unity vs Racism," after a racist shooter inspired by Trump's rhetoric killed 22 people in an El Paso Walmart.
People weren't buying this latest portrayal of Trump.
@samswey @MelissaJPeltier Is a sports editor writing headlines while the regular headline writer is on vacation?

— DT Kieling (@DT Kieling) 1569388075.0
@samswey I'm exclusively Washington Post at this point and I live in NY.

— Cindy (@Cindy) 1569410979.0
"A Fighter Ready for the Defense of His Title." At least we're taking it seriously and not treating it like a tele… https://t.co/6jE6snBf1Q

— CarlyJ 🦋 (@CarlyJ 🦋) 1569388857.0
Believe it or not, this is the headline from @peterbakernyt : A Fighter Readies for the Defense of His Title. The… https://t.co/fysalmZnB3

— Michael Chandler (@Michael Chandler) 1569375863.0
Buried sub-head: "A Fighter Ready for the Defense of His Title." F*** off, New York Times. https://t.co/0SyUWPngzF

— The Modern Kingfish (@The Modern Kingfish) 1569385648.0
Cheating presidents are not champions.
------
Listen to the first season of George Takei's podcast, 'Oh Myyy Pod!' where we explore the racially charged videos that have taken the internet by storm.
Be sure to subscribe here and never miss an episode.