For years, Infowars host Alex Jones appealed to his listeners with conspiracy theories about the deadly school shooting at Sandy Hook Elementary School in Newtown, Connecticut. On April 16, two families who lost children that day decided enough was enough and filed a defamation lawsuit against Jones.
Jones repeatedly made statements on his program that the mass shooting, where 20 children and 6 adults were murdered, could not have happened. Jones' program was specifically mentioned during trial of a woman who issued death threats against family members based on these conspiracy theories. The woman was eventually sentenced for her crimes and forbidden to watch or listen to Infowars.
---
Hearing of the defamation lawsuit from the parents, Jones claimed he was the victim of defamation, not the families suing him. On Monday, Neil Heslin, the father of Jesse Lewis, who was killed in the mass shooting at Sandy Hook Elementary School in December 2012, responded in an editorial piece for NBC News.
Heslin previously appeared on NBC's Megyn Kelly Today, to state his reasons for filing suit against the Infowars host.
I'm suing Alex Jones for accountability and responsibility; he just can't go around spreading false propaganda. There are laws against defamation for a reason."
"The lies that he's told about me, as part of his effort to portray the tragedy at Sandy Hook as a hoax or conspiracy, are disrespectful to me," added Heslin.
But his larger efforts are also a disrespect to my son, a disrespect to the first responders who were so dedicated there that day, a disrespect to the FBI, a disrespect to the state police and a disrespect to the entire community in Newtown. The lies that Alex Jones continues to peddle about that day — saying that it never happened — affects them emotionally, too."
"And it's not limited to him: Alex Jones has got a big following, which is scary in a way," added the father of Sandy Hook victim Jesse Lewis. "You have people that follow him and act out on his statements and his remarks."
"For instance, I had a woman come up to me one day, give me a hug, and genuinely say how sorry she was for my loss. Then, she looked me straight in the eyes and said, 'Do you think Sandy Hook really happened? Do you think people died?' It just blew my mind; there are just no words for how I felt."
Both families suing Jones cited the fact that Infowars and Alex Jones profit greatly from the spread of these conspiracy theories. In his appearance on Megyn Kelly Today, the host raised the issue of Jones playing both sides to protect himself.
"Because what he does, I believe to protect himself," said Kelly, "he tries to protect himself legally, is he equivocates. He (Alex Jones) says 'I believe the whole thing is a hoax'. And then he says, 'But... it might have happened, but some people believe it didn't' and he tries to go back and forth... I believe that's him trying to cover his backside."
Heslin and his lawyer concurred with Kelly's assessment.
"It needs to come to an end; there needs to be consequences for the lies that he's told," Heslin states.
The fact that he's profiting off of these tragedies and our losses, it makes the lies even worse. It feels like his business model is to make a stupid statement and win a stupid prize."
"My lawsuit has nothing to do with a political agenda: It's simply about his wrongdoing and the false statements he's made."
"I do hope that, as a result of me coming forward and stepping up, it encourages other people who were afraid to come forward stand up against Alex Jones and the lies he's told about him. They're welcome to ride my coattails, and express to the public what pain and suffering Alex Jones' lies have caused," Heslin added.
The damage that Alex Jones has inflicted on so many people is just wrong."

"Alex Jones could make this lawsuit go away, and he knows what he's got to do: Tell the whole truth, make an unconditional apology, shut his mouth about it and move on. It hasn't happened yet. We'll see if it does."
"Honestly, though, he'll latch onto any big tragedy, because he (Alex Jones) feeds off the news attention that any event got. Parkland had a lot of news attention; he jumped right on that. Sandy Hook, he jumped right on that. The whole election thing, he jumped right on that."
"I understand that (a) lot of people distrust our government, and that there is a lot of paranoia in this country," the still grieving father states. "Alex Jones fuels that fire: He's a carnival barker, up there with a dog and pony show, and he's profiting. He's profiting off of the lies he tells."
I lost my son; I buried my son. There's no dispute there, and it's not fair to call me a liar about something that actually happened."
-
READ: The most distinctive causes of death in each state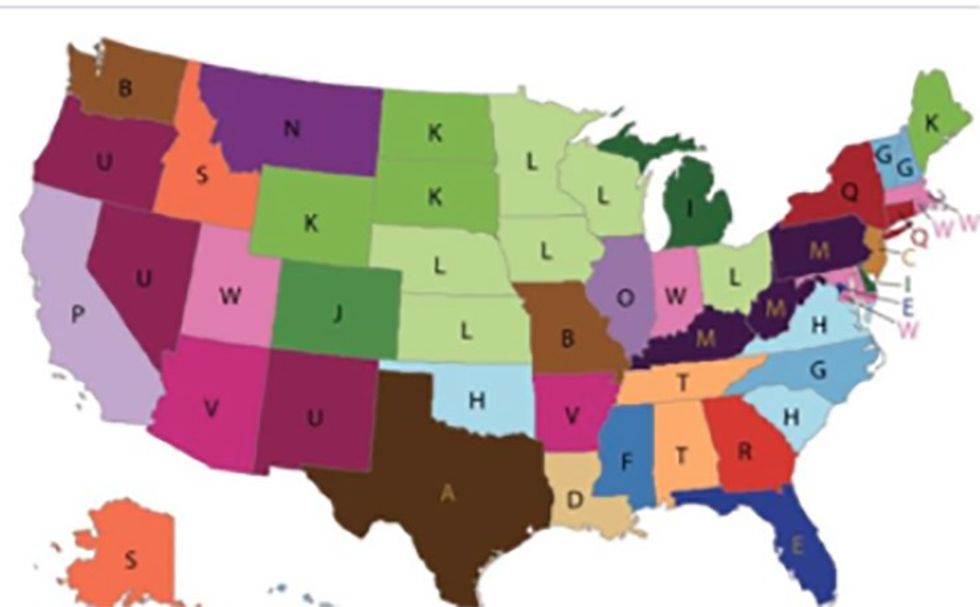 (Center for Disease Control)
IN AN EFFORT TO REMIND us of our own mortality, the Center for Disease Control has published a map of the most distinctive causes of death in every state. Seriously, they mention social media interest in their findings.
But what does "most distinctive cause of death" mean? Find out the answer and see the map:
Sponsored