Six days into his third government shutdown, President Donald Trump's approval rating appears to be waning, even among his own base.
A new Morning Consult poll of 1,992 registered voters from December 21-23 shows Trump with abysmal 39 percent approval and 56 percent disapproval, matching his all time low rating from the summer of 2017 after his response to Charlottesville.
---
That 56 percent disapproval includes 90 percent of Democrats and, perhaps most crucially, 57 percent of Republicans.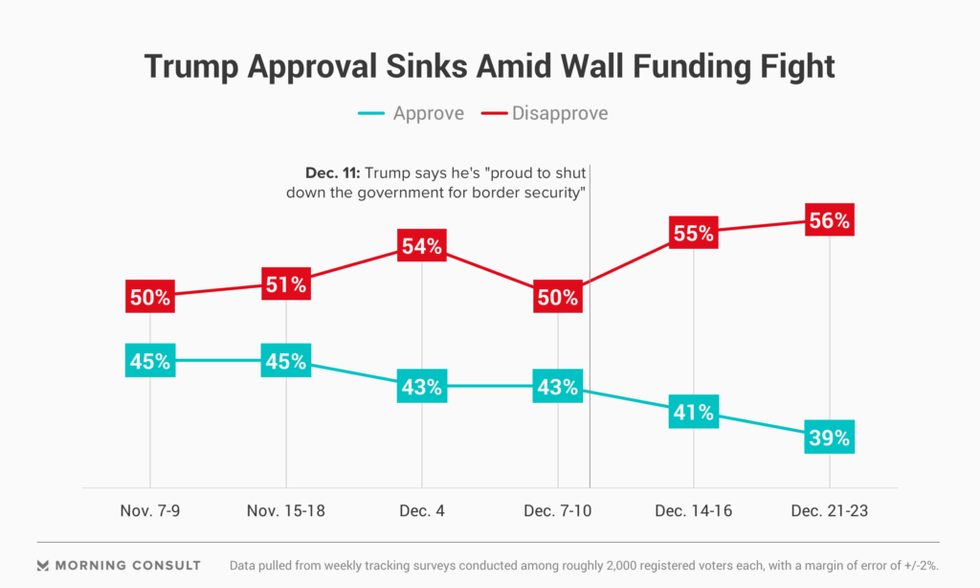 Morning Consult
Additionally, the poll found that 43 percent of Americans blame Trump for the government shutdown and a further 53 percent said Trump did not try hard enough to keep the government open.
A two-thirds majority of Republicans, on the other hand, pinned the shutdown on Congressional Democrats. This is in spite of Trump earlier this month saying he "would be proud to shut down the government over border security."
On December 21, Trump reneged on signing a bipartisan measure -- which included $5 billion in border security funding -- that would have funded the government through February 8. Democrats, set to take over the House of Representatives next week, are refusing to allocate any money toward a wall.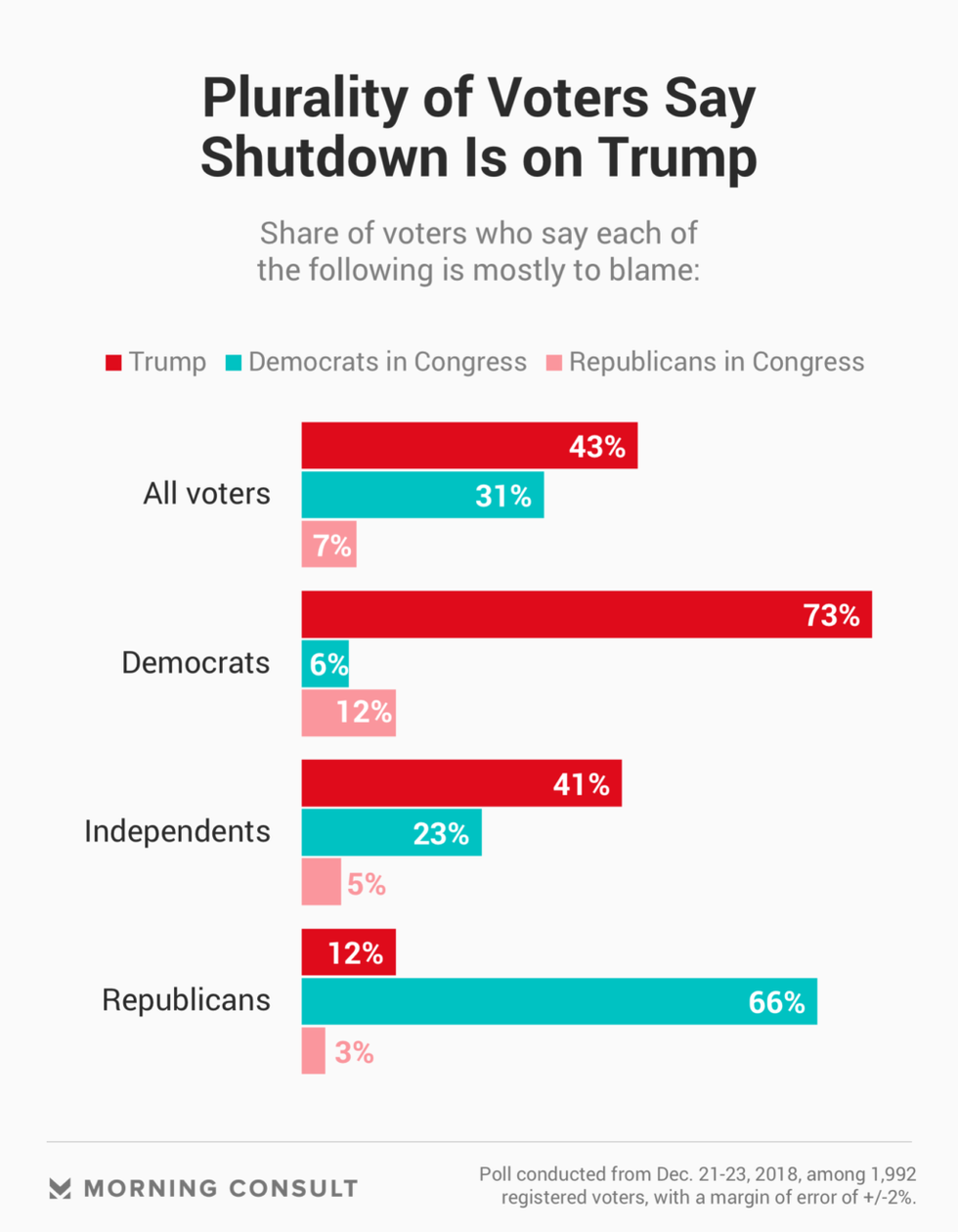 Morning Consult
Trump's biggest campaign promise, of course, was building a wall and having Mexico pay for it, but support for Trump's border wall has taken a hit, according to the Morning Consult survey.
Sixty-four percent of respondents do not believe Trump will get sufficient funding for a border wall. Among Democrats, that number jumps to 78 percent. Most notably, however, 54 percent of Republicans and 52 percent of self-identified Trump voters also said it was "unlikely" that Trump's border wall will ever come to fruition.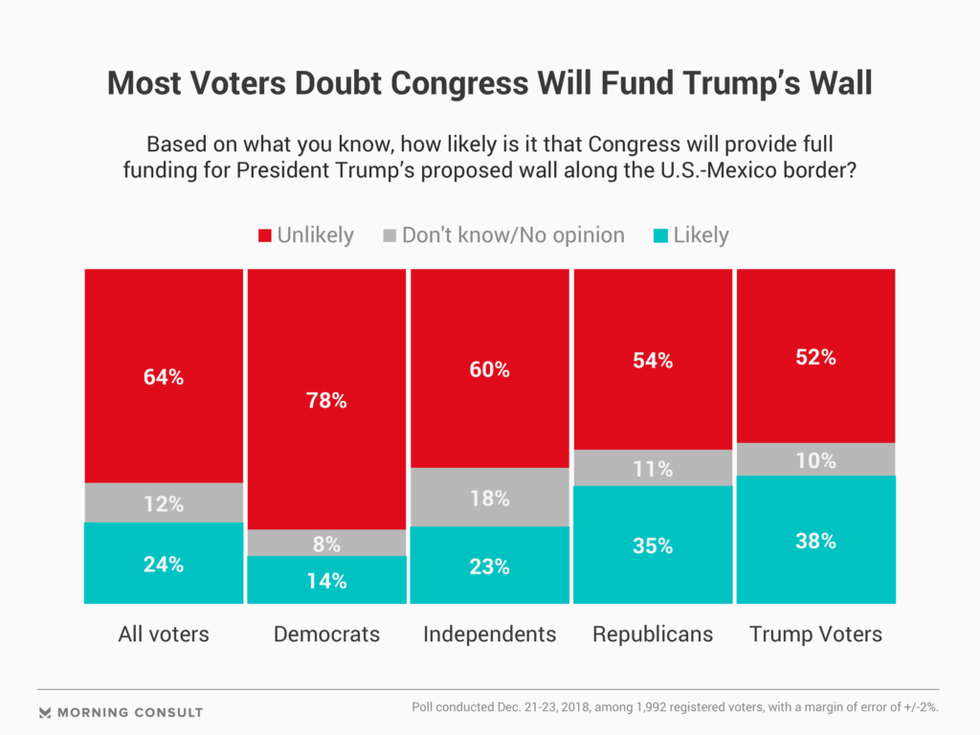 Morning Consult
"A similar pessimism was found among voters who said they cast their ballots for Trump in 2016," Morning Consult explains. "Thirty-eight percent said it was likely Trump would get full wall funding, compared with 52 percent who said it wasn't."
The Morning Consult poll had a margin of error of +/- two percentage points.
Some think a 39 percent approval is still bafflingly high.
On Thursday morning, Trump jumped on Twitter to make his increasingly desperate case for a wall. Then, in a twisted attempt to justify the shutdown, the president claimed without evidence that most furloughed government workers are Democrats.
"Have the Democrats finally realized that we desperately need Border Security and a Wall on the Southern Border," Trump tweeted. "Need to stop Drugs, Human Trafficking, Gang Members & Criminals from coming into our Country. Do the Dems realize that most of the people not getting paid are Democrats?"
Trump twice doubled-down on this point Thursday afternoon.
"The Democrats OBSTRUCTION of the desperately needed Wall, where they almost all recently agreed it should be built," Trump wrote on Twitter, "is exceeded only by their OBSTRUCTION of 350 great people wanting & expecting to come into Government after being delayed for more than two years, a U.S. record!"
"The reason the DACA for Wall deal didn't get done was that a ridiculous court decision from the 9th Circuit allowed DACA to remain, thereby setting up a Supreme Court case," Trump added. "After ruling, Dems dropped deal - and that's where we are today, Democrat obstruction of the needed Wall."
Twitter is not buying it.
Regardless of what the president tweets, the American people appear to be souring on Trump as he inches toward his third year in office.
A HuffPost/YouGov poll released on Wednesday showed Trump's approval rating at a chilly 36 percent. Trump's support among Republicans stood at 82 percent.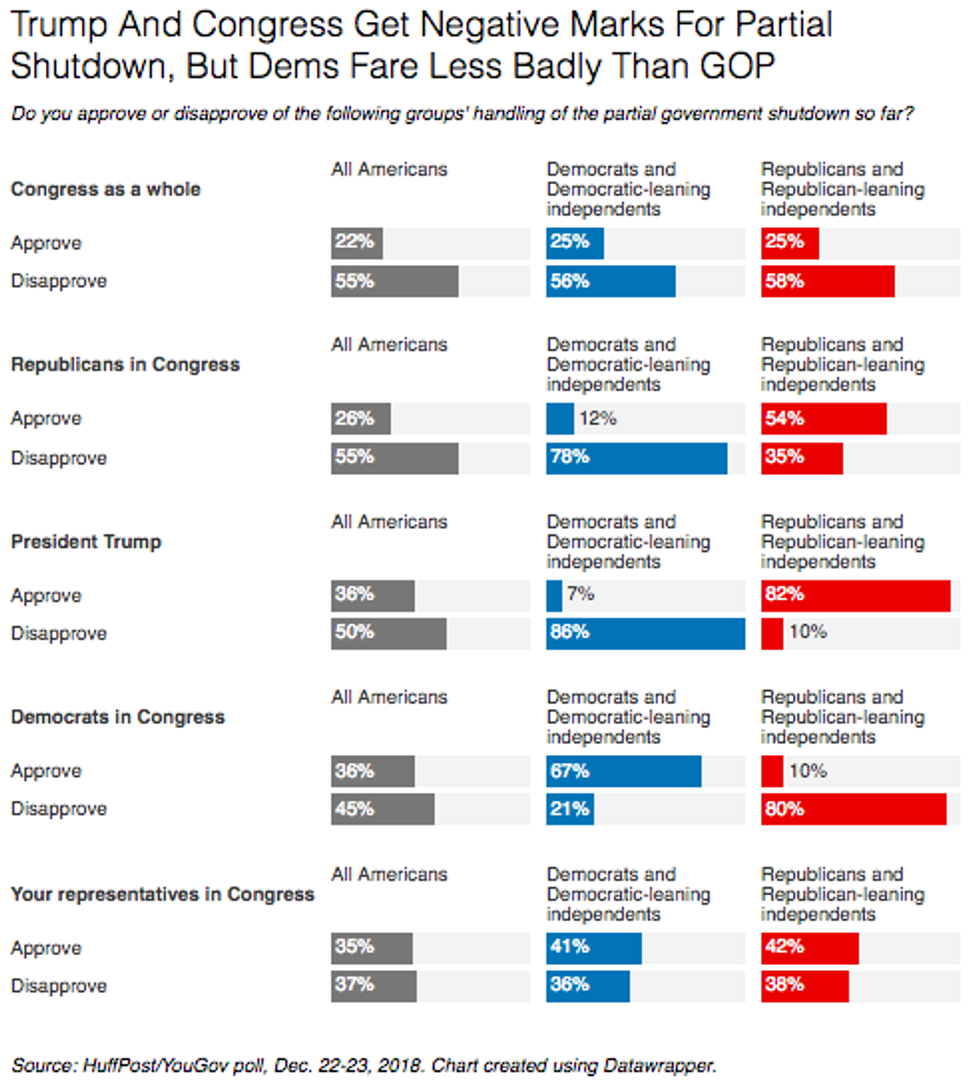 Trump has defended his decision to shut down the government, saying this week that federal workers "understand what's happening. They want border security. The people of this country want border security."
Tony Reardon, President of the National Treasury Employees Union, said Trump is wrong.
"I've been dismayed and frankly angered by suggestions that they shouldn't have a financial concern, that they signed up for disruptions in their lives," said Reardon, whose union represents federal government employees.
Some government workers surveyed by HuffPost/YouGov - including Republicans - echoed this sentiment.
"My husband is one of those non-essential employees that eventually gets paid for sitting home," one Republican woman wrote. "We are punished with the stress of waiting for a paycheck and living out of our savings because they want to play politics with people's livelihoods to work out details of how we spend taxpayer money."
One Democrat who was polled also expressed concern over the financial pinch federal employees are feeling as a result of the shutdown.
"My brother works for the Federal Government and his family and he will be directly affected," the man said. "We will send them money to help out."