In an interview Tuesday with Fox News' Tucker Carlson, President Donald Trump insulted the citizens of the small European nation of Montenegro and questioned the North Atlantic Treaty Alliance (NATO's) Article 5. Article 5 is NATO's common defense principle, which states that an attack against any member of NATO is an attack against all of NATO.
"Why should my son go to Montenegro to defend it from attack?" Carlson asked the President during his Fox News interview.
---
While Carlson phrased his hypothetical question as a what if venture using NATO's latest small nation addition, Montenegro, Trump responded with disparaging comments about the people of Montenegro as if the character or integrity of Montenegro was Carlson's point.
"I understand what you're saying," the President stated despite appearing to not understand the question. Trump then accused the people of Montenegro of having the potential to start WWIII because of their "very aggressive" nature.
I've asked the same question. Montenegro is a tiny country with very strong people ... They're very aggressive people. They may get aggressive, and congratulations, you're in world war three."
Not willing to take the insult quietly, Montenegro responded on Wednesday with an official statement. They titled their response:
Government of Montenegro: we are proud of our history, our friendship and alliance with USA is strong and permanent."
In it, they included:
In today's world, it does not matter how big or small you are, but to what extent you cherish the values of freedom, solidarity and democracy."
NATO grew out of the Washington Treaty signed after World War II. In Europe, Germany's Nazi forces invaded their neighbors one by one in their rise to power. The aim of NATO is to halt such acts of aggression when they begin instead of each nation waiting until they are personally threatened.
Under the terms of NATO, if such aggression should happen again, the aggressor would face more than just one country; they would face all of NATO. But President Trump disagrees.
Tucker Carlson posited to Trump the idea of the United States defending a small country, then used Montenegro as a possibly not so random example of a very small nation. Montenegro, roughly the size of Connecticut, joined NATO in June 2017. They are the 29th, and latest, nation to join.
Montenegro on the Adriatic Sea, east of Italy. (Pinterest)
Russia, who is not a NATO member, vocally disapproved of Montenegro's 2017 inclusion in NATO. Russia has also been charged with meddling in Montenegro's elections and staging a failed coup attempt in 2016.
The small nation was once behind the Iron Curtain as part of the communist Socialist Federal Republic of Yugoslavia, although they opted not to officially ally with the Soviet Union in 1948.
After the fall of communism and the death of Josip Broz Tito who ruled for 35 years, the republics split back into independent nations. Montenegro is bordered by Croatia to the west, Bosnia and Herzegovina to the northwest, Serbia to the northeast, Kosovo to the east and Albania to the southeast.
The nation of Montenegro. (Pinterest)
News of Montenegro's response hit the United States airwaves Thursday.
ABC News shared the small nation's official reponse on their Facebook page.
[facebook https://www.facebook.com/plugins/post.php?href=https%3A%2F%2Fwww.facebook.com%2FABCNews%2Fposts%2F10157476898613812%3A0&width=500 expand=1]
In their statement, Montenegro's 86th cabinet proclaims:
"The Government of Montenegro, taking into account the interest of numerous domestic and foreign media to comment on yesterday's statement by US President Donald Trump given in an interview with TV FOX, adopted at today's 86th Cabinet session the following stance:"
Montenegro is proud of its history and tradition and peaceful politics that led to the position of a stabilising state in the region and the only state in which the war didn't rage during disintegration of the former Yugoslavia."
"The country that has hosted and protected 120,000 affected people and families."
"The country that was the first in Europe to resist the Fascism, and today as a new NATO member and a candidate for the EU membership it contributes to peace and stability not only on the European continent but worldwide, along with US soldiers in Afghanistan."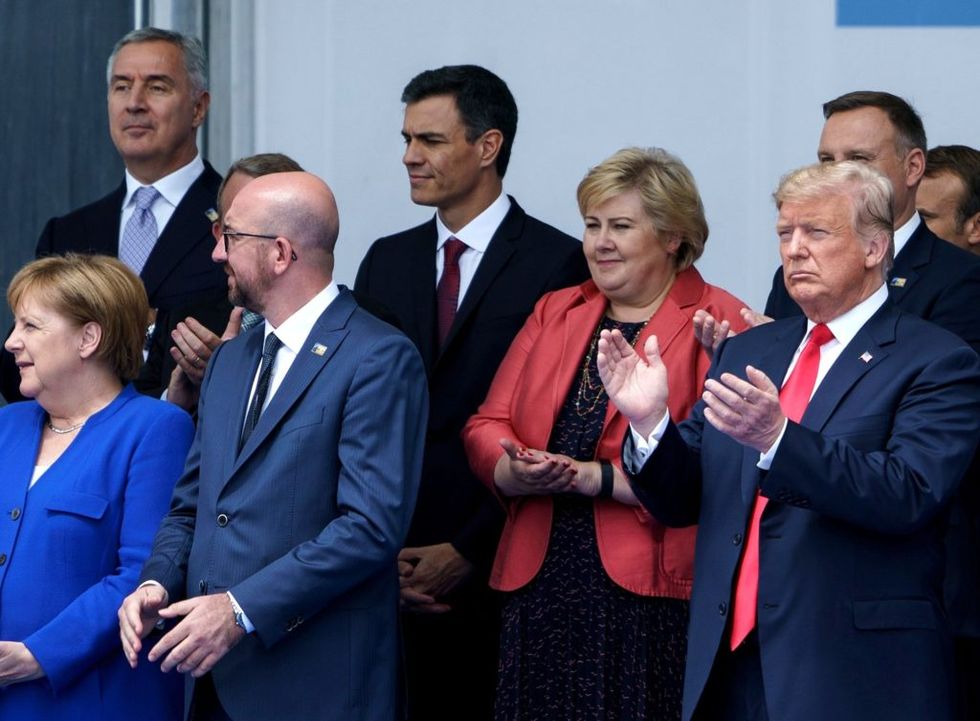 Montenegro President Milo Đukanović (upper far left) shares the NATO stage with President Donald Trump. (Photo by BRENDAN SMIALOWSKI/AFP/Getty Images)
We build friendships, and we have not lost single one, and at the same time we are able to boldly and defensively protect and defend our own national interests."
"In today's world, it does not matter how big or small you are, but to what extent you cherish the values of freedom, solidarity and democracy."
Therefore, the friendship and the alliance of Montenegro and the United States of America is strong and permanent."
Some have noted, in the wake of Trump's comments about the aggressive nature of Montenegrins, that the United States President famously shoved then Prime Minister of Montenegro, Duško Marković, out of his way to get to the front of a photo op at a 2017 NATO gathering.
During his visit to NATO headquarters, Trump moves in front of Montenegro Prime Minister Dusko Markovic to be in fr… https://t.co/KAlHX5w4YG

— POLITICO (@POLITICO) 1495728609.0
Pres. Trump tells Tucker Carlson "Montenegro is a tiny country...they are very aggressive people" (Below Trump w/ M… https://t.co/HiDB4DgQne

— Ryan Browne (@Ryan Browne) 1531880211.0
While others online made a Trump Putin connection.
Trump says tiny yet "aggressive" Montenegro, NATO's newest member with just 640,000 people & almost no military, is… https://t.co/gntLdMHB51

— John Schindler (@John Schindler) 1531935664.0
As former NATO Allied Commander, I know NATO's Article 5 exists to PREVENT war. That's why it's only been invoked o… https://t.co/VixCmtPUi0

— Wes Clark (@Wes Clark) 1531927862.0
Regardless of the reasons behind targeting the small nation of Montenegro, they gave a master class on diplomacy and taking the high road in their response.