As President Donald Trump promises the GOP tax plan benefits the middle class, a majority of Americans say they don't believe it according to a new poll. Most Americans feel Trump's policies don't help those who fall between rich and poor.
Among respondents in a Monmouth University poll conducted December 10 through 12, 53 percent said that middle class families have "not at all" benefited from Trump's policies. 25 percent said the middle class benefited "a little," 11 percent said "a lot," with 11 percent undecided. Republicans released the final version of their tax plan Friday, after the poll finished.
---
The numbers in the poll released on Monday represent another dip in confidence in Trump since his inauguration. In January, 29 percent of respondents said they thought the middle class would not benefit at all which jumped 24 percentage points to 53 percent by December. Back in January, 40 percent said they expected a little benefit and 26 percent anticipated a lot of benefit. Those Trump administration approval numbers both fell by 15 percent.
NEW NATIONAL POLL: Middle class families have benefited from @realDonaldTrump policies 11% a lot 25% a little 53%… https://t.co/9T0vfqkNeD

— MonmouthPoll (@MonmouthPoll) 1513621498.0
"Right now, the American middle class is not particularly impressed with the current administration's performance on bread and butter issues. A major task for congressional Republicans and President Trump will be convincing these voters that they will benefit from the plan," Patrick Murray, director of the independent Monmouth University Polling Institute, stated about the GOP tax bill.
Many Americans see this bill more as an attempt by Republicans to gain a political victory and would rather see Congress scrap this plan and start over."
Trump presented the tax plan as a "gift" to the middle class, but critics say it favors America's richest, including Trump's own family as well as numerous members of Congress.
The tax plan proposes permanent tax cuts for corporations and business owners with benefits for individuals that expire by the end of 2025. Trillions in tax cuts would be offset by unnamed revenue-raising measures. The bill would increase the deficit by about $1.46 trillion over 10 years, according to the nonpartisan Joint Committee on Taxation.
With the House of Representatives set to vote on the Republican backed tax reform bill Tuesday before sending it to the Senate and then the President's desk for signing on Wednesday, the GOP plan faces growing opposition. Most Americans fell it benefits the wealthy more than the middle class, according to a new CNN poll conducted by SSRS.
Opposition to the bill grew by 10 points since early November with 55 percent now opposed to it. Just 33 percent say they favor the GOP's proposals to reform the nation's tax code.

Source: CNN poll, Dec. 14-17 2017, 1001 adults, +/- 3.6%
63 percent see the tax bill as leaving the President and his family better off. Just 5 percent think it harms the Trump family. And disapproval of the President's handling of taxes has risen six points in the last month, to 57 percent, including renewed calls for Trump to release his tax returns.
66 percent see the GOP tax plan doing more to benefit the rich than the middle class. 37 percent say if the bill becomes law, their own family will suffer. That's up five percentage points since early November. Just 21 percent say they'll be better off.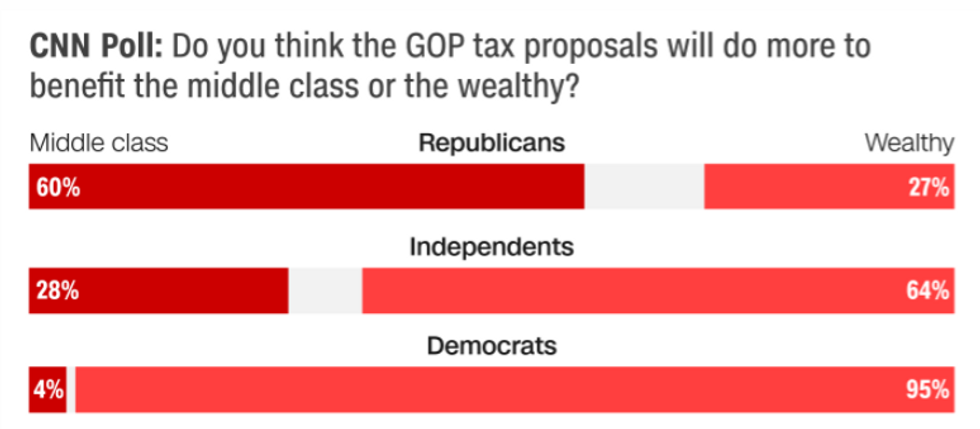 Source: CNN poll, Dec. 14-17, 2017, 1,001 adults, +/- 7.3%
President Donald Trump got an overall 35 percent approval rating in the CNN poll. Trump's approval ratings continue to be the lowest for any modern president at this point in their presidency. As of December of their first year in office, all first-time elected presidents back to Eisenhower received approval ratings of 49 percent or higher. President Trump's approval is 14 percentage points lower than the previous record low.