In a major shift, Republicans have not been shy about criticizing President Donald Trump's decision to abandon the United States Kurdish allies to Turkey in Syria including Trump sycophant Senator Lindsey Graham.
Now, the man that no one ever expects to criticize Trump has spoken up. The man who earned the hashtag #MoscowMitch over his unwavering support of the President, Senate Majority Leader Mitch McConnell issued an official statement Monday condemning Trump's Syria policy, although without naming the man whose policy he is criticizing.
---
A press release released by McConnell stated:
"I am gravely concerned by recent events in Syria and by our nation's apparent response thus far."
McConnell pointed out Turkey's current inclusion in North Atlantic Treaty Organization (NATO):
"Turkey is our NATO ally and has legitimate security concerns stemming from the conflict in Syria. But Turkey's offensive against our Syrian Kurdish partners is jeopardizing years of hard-won progress in the fight against ISIS."
But while the United States' Kurdish allies cannot join a treaty alliance like NATO without a homeland, the Senate Majority Leader pointed out the longstanding relationship with the Kurds.
"For years, the United States and our Syrian Kurdish partners have fought heroically to corner ISIS and destroy its physical caliphate. Abandoning this fight now and withdrawing U.S. forces from Syria would re-create the very conditions that we have worked hard to destroy and invite the resurgence of ISIS. And such a withdrawal would also create a broader power vacuum in Syria that will be exploited by Iran and Russia, a catastrophic outcome for the United States' strategic interests."
The Kentucky Senator who is up for reelection in 2020 reiterated the objections everyone gave for early military withdrawal from Syria.
"Withdrawing American leadership from this pivotal region would not serve our nation's short-, medium-, or long-term interests. It would only make a troubling situation much worse, not only for regional partners such as Israel and Jordan but for the United States as well."
However, McConnell provided no definitive plan for action beyond talking to other Senate Republicans and the White House.
McConnell finally criticizing the President however came a bit late for many.
People called out McConnell for being complicit, enabling and his obstructionism.
Others criticized the tepid response—lacking in urgency.
The House and Senate return on Tuesday, October 15. Whether McConnell takes further action remains to be seen.
Just say нет to McConnell with this shirt available here.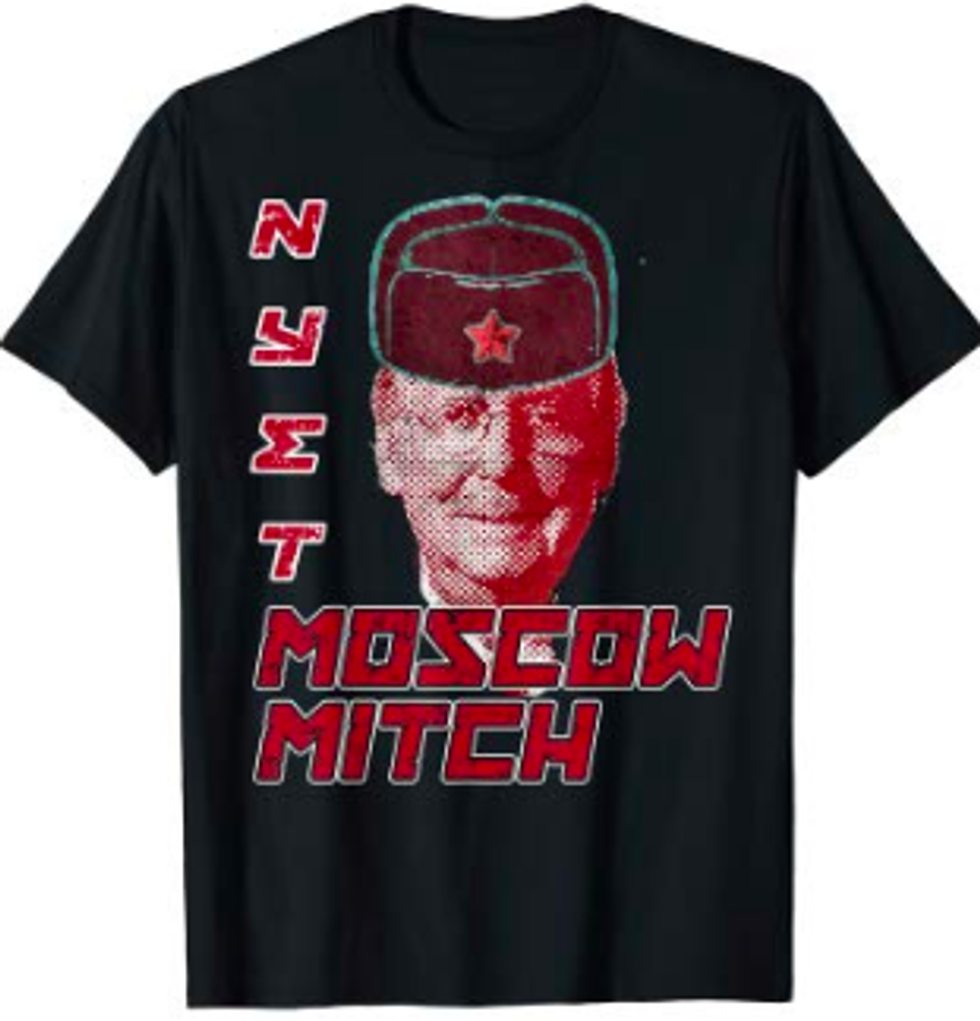 Amazon