Not all is cordial or civil in Republican ranks as evidenced by a Twitter spat between Kentucky Republican Senator Rand Paul and Wyoming Republican Representative Liz Cheney. If the last names sound familiar it's because the two are political legacies of powerful fathers.
Liz Cheney's father Dick Cheney was Vice President—and some would claim de facto President—with George W. Bush. Rand Paul's father Ron Paul served in the House of Representatives for Texas and ran for President in 1988 as a Libertarian then again in 2008 and 2012 as a Republican.
---
Now the children are trading barbs on Twitter.
Taking a note from President Donald Trump's playbook—while also quoting the President and invoking his name—Paul and Cheney traded insults via social media.
Senator Paul fired first—citing Trump—with:
"Hi [Representative Liz Cheney], President [Donald Trump] hears all your NeverTrump warmongering. We all see your pro-Bolton blather. I'm just grateful for a president who, unlike you, supports stopping these endless wars."
Representative Cheney fired back about two hours later with:
"Hi [Senator Rand Paul] I know the 2016 race was painful for you since you were such a big loser (then & now) with a dismal 4.5% in Iowa. No surprise since your motto seems to be 'Terrorists First, America Second'."
"Here's a TBT (throwback Thursday) courtesy of [President Donald Trump]. No truer words were ever spoken."
Her retweeted Trump post from August 2015—during the 2016 presidential campaign—said:
"Truly weird Senator Rand Paul of Kentucky reminds me of a spoiled brat without a properly functioning brain. He was terrible at DEBATE!"
The fracas seems to stem from the firing of National Security Adviser John Bolton—a noted hawk meaning he promoted military conflict over diplomacy. Cheney's father is well known for profiting off Middle East warfare through contractors like Halliburton.
On Wednesday, Paul shared an article critical of Cheney.
To which Cheney responded:
Both contended they were standing with President Trump. Where everyone was standing was less clear.
In a CNN interview later on Thursday, Paul said:
"They want to stay in Afghanistan forever, they're apologizing for John Bolton, they love John Bolton. Really they're part of this foreign policy swamp that has been trying to undermine President Trump."
Watch his remarks here.
Paul's potential motives are harder to nail down than Cheney's, although maintaining Trump's favor was the predominant theory. Whatever precipitated the spat on Twitter, neither found many supporters in their comments.

@cspamus1/Twitter
Many just found the entire thing childish.
While others just came to enjoy watching the GOP eat their own.
Paul was reelected in the 2016 election cycle and will face his next challenge in 2022 due to the six year Senate term of office. Liz Cheney is up for reelection in 2020—as are all members of the House of Representatives where terms are for two years.
As of Thursday, September 12 the 2020 election is 417 days away. Are you registered to vote yet?
Regardless of where you fall on the political spectrum, it is important to make your voice heard. Get out the vote with this shirt available here.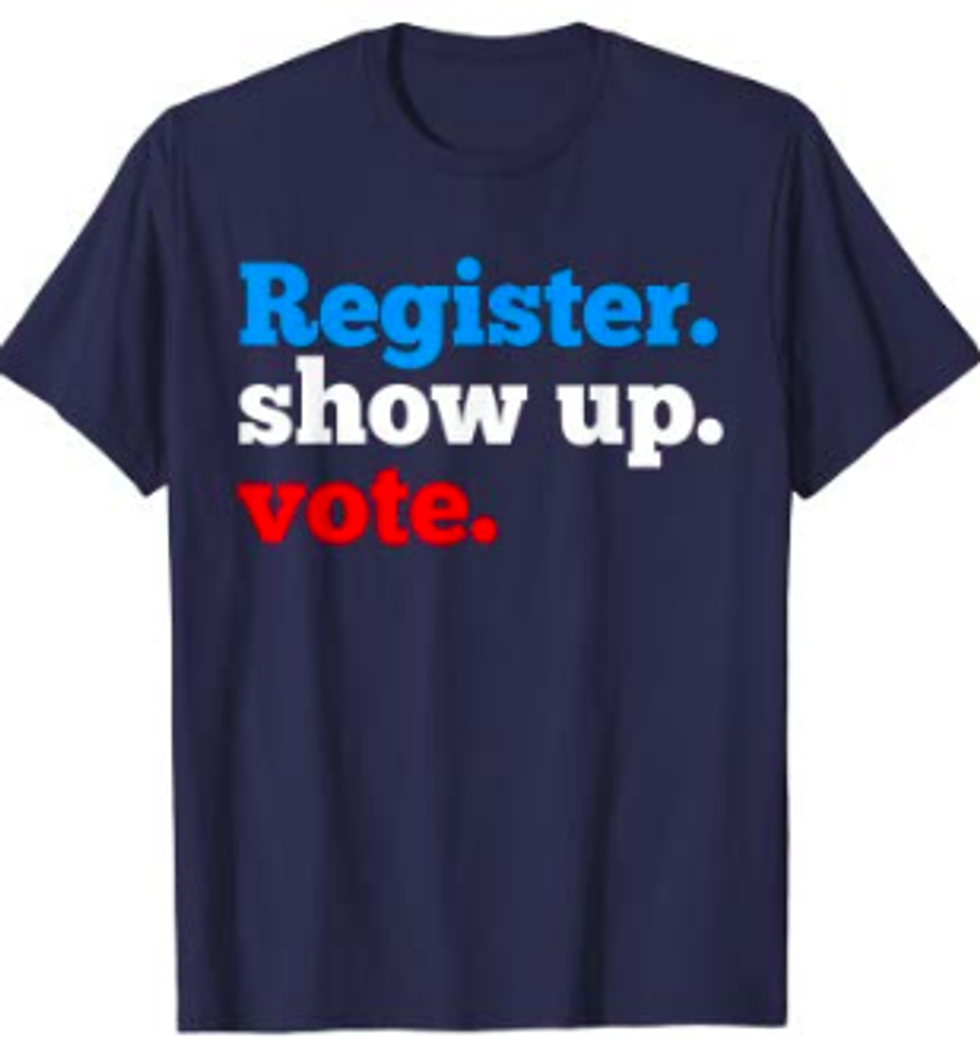 Amazon
********
Listen to the first four episodes of George Takei's podcast, 'Oh Myyy Pod!' where we explore the racially charged videos that have taken the internet by storm.
Be sure to subscribe here and never miss an episode.