[DIGEST: Huffington Post, NPR]
Kristin Armstrong turns 43 today. She works as the Director of Community Health for St. Luke's Hospital in Boise, Idaho. She is happily married to her husband, Joe, and has a five-year-old son named Lucas. And as of yesterday morning, she has three Olympic gold medals. She is the only cyclist to win three consecutive gold medals in the same discipline (she previously won at the Beijing Games in 2008 and the London Games in 2012).
---
"I think that for so long we've been told that we should be finished at a certain age," she said after her win. "And I think that there's a lot of athletes out there that are actually showing that that's not true." Her secret? "Working at a great hospital in Boise, Idaho, and being a mom has been my secret weapon," she said. "It provides me balance and it keeps me on track and it keeps me super focused."
Armstrong beat her closest competitor in the women's cycling road individual time trial, Russia's Olga Zabelinskaya, by six seconds, passing the finish line with a time of 44:26:42. It wasn't easy. Rain soaked the course overnight, making road conditions slippery. Armstrong was close to the lead throughout, averaging roughly 25 mph over the course. She recalled her coach radioed her to tell her, "You're in the medals. Now it's up to you what color you want to bring home." The news "hit me pretty hard," she said later. "All of a sudden, I think my speed went from about 48k an hour (nearly 30 mph) to 53k an hour (nearly 33 mph)." When she found out she won, Armstrong, whose nose started to bleed at some point during the race, fell to the ground.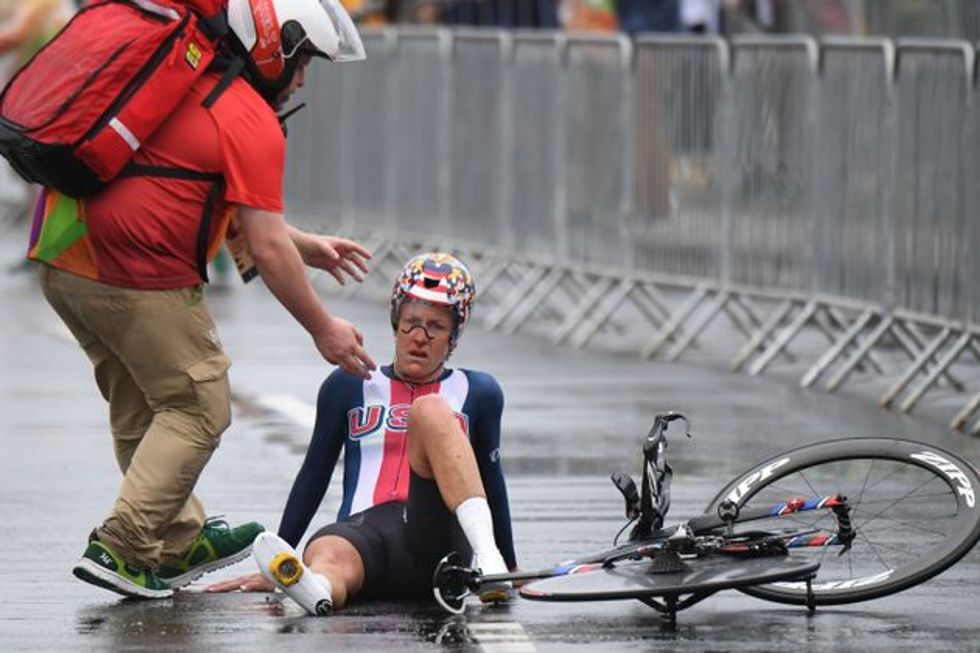 Credit: Source.
Once medics determined Armstrong was not hurt––merely exhausted––she went to hug her son.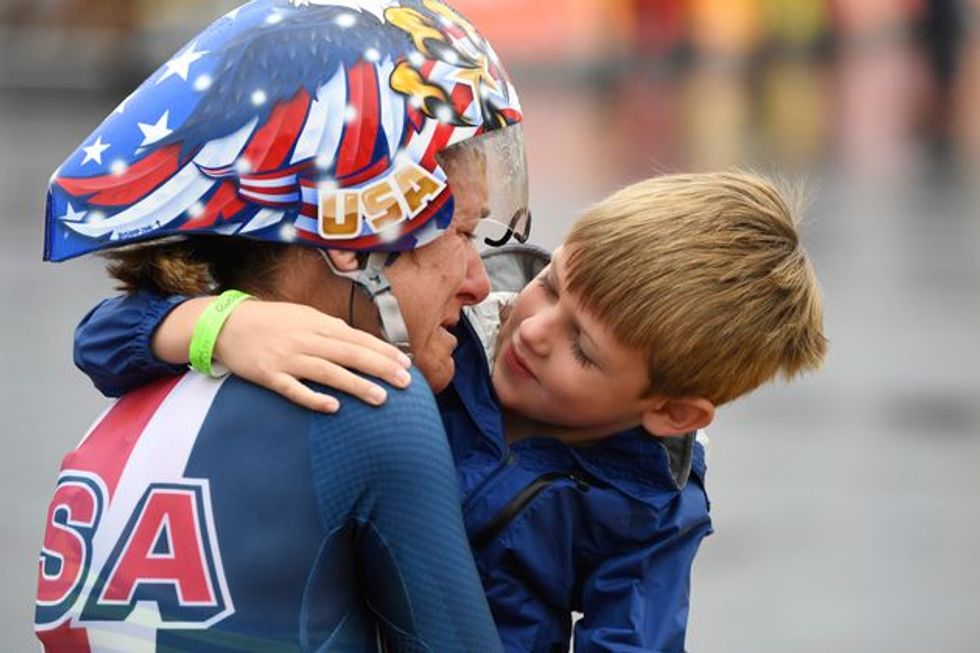 Credit: Source.
Armstrong, no relation to cyclist Lance Armstrong or his ex- wife, also named Kristin, had been a junior Olympian in swimming, a distance runner in college, and a triathlete before her professional cycling career. Her triathlon career ended when doctors diagnosed her with osteoarthritis in the hips at age 27, telling her she could no longer run at an elite level. Once she focused exclusively on cycling, she competed in the women's road race at the 2004 Summer Olympics in Athens, finishing in 8th place. When she competed in Beijing four years later, she was 25 seconds ahead of silver medalist Emma Pooley and nearly one minute ahead of Karin Thürig, who won the bronze medal. After temporarily retiring so she could start a family, Armstrong returned to cycling to defend her Olympic title at the 2012 London games. She became the oldest rider to win a time trial, passing the finish line with a time of 37:34:82, 15 seconds ahead of silver medalist Judith Arndt. She then retired again.
Armstrong's job allowed her to cut her hours down to 16 hours a week last fall so her family's health insurance could remain in effect while she trained for this year's Games. She has continued to field questions about why she's come out of retirement, she told reporters, with some critics citing concerns about her age and the surgeries she has had to ease a degenerative hip condition. When asked why she wants to continue to compete at an elite level, she said she always gives the same answer: "Because I can."